The 15 Funniest Celebrity Cameos in Music Videos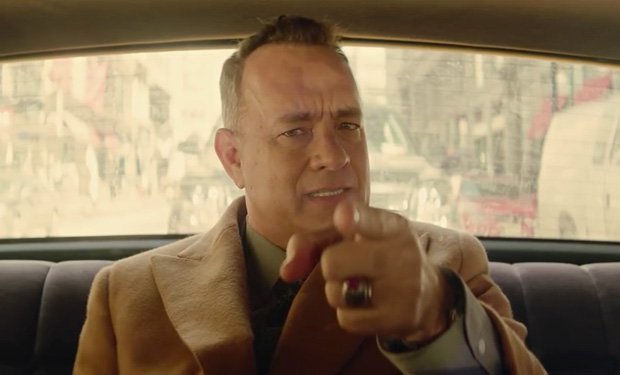 Posted by K Thor Jensen on
Directors have long used videos to play around and experiment, and it's not surprising that celebrities want to get in on that action as well. Before you catch Carly Rae Jepsen on this week's all-new Comedy Bang! Bang!, check out 15 videos where famous people took the opportunity to get loose for laughs.
15. Anne Hathaway, Kristen Stewart and Brie Larson in Jenny Lewis' "Just One of the Guys"
Hathaway, K-Stew, and recent Comedy Bang! Bang! guest Brie Larson spoof dudes in former Rilo Kiley member Jenny Lewis' video for "Just One of the Guys." How is this line-up not in that terrible looking Jem movie?
---
14. Dan Aykroyd, Malcolm Jamal Warner, Whoopi Goldberg and pretty much every '80s star in Michael Jackson's "Liberian Girl"
At the height of his '80s Bad-era fame, Michael Jackson called in some favors for a celeb-studded video that he barely appears in. It's basically every star you loved during the '80s hanging out on a set and it is glorious.
---
13. Sacha Baron Cohen in Madonna's "Music"
Before he broke big in the U.S., Borat star played his Ali G character in this 2000 Madonna video. Naturally he makes a joke about her "babylons." Wait, does this mean that Madonna was hip to Ali G before we were??
---
12. Seth Rogen, Danny McBride, Elijah Wood, Will Ferrell and many more in Beastie Boys' "Make Some Noise"
Rogen, McBride and Wood channel old-school Beasties in what is sadly looking to be group's music video swan song.
---
11. Ben Stiller in P. Diddy's "Bad Boy for Life" and Jack Johnson's "Taylor"
Stiller turns up in a funny cameo as Diddy's uptight neighbor in this classic hip hop video.
Meanwhile, Stiller's appearance in beach bum folkie Jack Johnson's "Taylor" video fails into the oft-repeated music video trope of "famous person directs music video and causes mischief in the process."
---
10. Zach Galifianakis in Kanye West's "Can't Tell Me Nothin" and Fiona Apple's "Not About Love"
Say what you will about Kanye West, he knows talent when he sees it. So when the time came to make a video for the lead track off of Graduation, West went to a very unexpected place: the farm of beardo comedian Zach Galifianakis, who had impressed Kanye at a Los Angeles stand-up show. The resultant video, which also stars folkie Will Oldham, is a balls-out exercise in surreal comedy.
A couple years before the "Can't Tell Me Nothin'" video, Galifianakis did the lip-sync thing in Fiona Apple's "Not About Love." Did Kanye steal from Fiona??
---
9. Chevy Chase in Paul Simon's "You Can Call Me Al"
This might be the original celebrity music video cameo, as Paul Simon brings in Chevy Chase (fresh off of Three Amigos) to lip-synch all of his lyrics in a Pepto-Bismol pink room. Chase's exaggerated mugging and horrible faux-trumpet playing seem to perplex Simon, who keeps himself busy by providing the instrumentation for the track.
---
8. Tony McHale in Lady Antebellum's "Bartender"
The video for Lady Antebellum's 2014 track also features Kate Upton, but really what form of media that year didn't? No, this video gets our nod for featuring Arrested Development and Veep star Tony Hale as a bartender with some incredible ideas for how to get you plastered.
---
7. Michael Cera in Islands' "No You Don't"
This track from Montreal indie-rockers Islands is all about bad comedowns. The video casts America's quirkiest quirk-ster Michael Cera as a young fellow who pops some pills and goes on a journey to the center of his mind courtesy of some gloriously cheesy '80s special effects.
---
6. Justin Timberlake in Elton John's "This Train Don't Stop There Anymore"
It's not uncommon to see Justin Timberlake in music videos – he was a member of *NSYNC, after all – but his role in Elton John's clip for "This Train Don't Stop There Anymore" from 2001 is one of a kind. Justin plays a '70s-era Elton, dressed as flamboyantly as you'd expect, and there's a double shot of cameo juice as Paul "Pee-wee Herman" Reubens plays John's manager John Reid.
---
5. Jack McBrayer in Mariah Carey's "Touch My Body"
Pairing the pop goddess Mariah Carey with Kenneth the Page from 30 Rock was a touch of inspired genius. The lead single from Carey's 2008 album was overflowing with sexuality, so director Brett Ratner tweaked the concept by casting McBrayer as a Geek Squad-esque tech who gets overcome with Mariah's mojo on a house call.
---
4. Jason Sudekis, Ed Helms, Will Forte and Jason Bateman in Mumford & Sons' "Hopeless Wanderer"
Insufferably twee British band Mumford & Sons earned at least a few cool points by tapping a quartet of very funny guys to impersonate them for the "Hopeless Wanderer" video. The guys do a remarkably inept job actually looking like they can play instruments, but it doesn't matter that much in the long run. Best thing with the name Mumford & Sons attached to it.
---
3. Jake Gyllenhaal in Vampire Weekend's "Giving Up The Gun"
The Wes Anderson-esque clip for this track from the second Vampire Weekend album takes place at a bizarre tennis tournament where a young woman coached by Wu-Tang mastermind RZA must face off against a samurai, Joe Jonas and Gyllenhaal. It's definitely a strange one.
---
2. Tom Hanks in Carly Rae Jepsen's "I Really Like You"
Carly Rae Jepsen is such a sweetheart that it's not a surprise that she could shanghai one of America's best-loved actors for a video. Tom Hanks shows up in the clip for "I Really Like You" lip-synching the tune before getting into a dance number with Jepsen in the streets of New York. It's an unconventional appearance but one that works very well.
---
1. Christopher Walken in Fatboy Slim's "Weapon Of Choice"
Electronic music really opens the doors for video directors to get crazy, because there's no "band" to show in the video. Spike Jonze directed the 2001 video for English big beat producer Fatboy Slim and had the genius idea to cast legendary character actor Christopher Walken as a businessman dancing through the lobby of the Los Angeles Marriott.