Scott Aukerman Talks Comedy, Kid Cudi, and "All Joking a Salad" in His Reddit AMA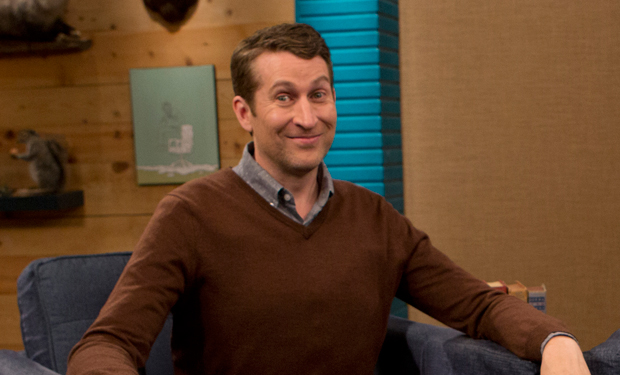 Posted by Melissa Locker on
A brand new season of Comedy Bang! Bang! kicks off this Thursday at 10:30p with a brand-new co-host (hi, Kid Cudi!) sitting behind a brand-new desk and 100% more llamas. If you fear change, don't worry, the same old beloved host Scott Aukerman a.k.a. Hot Saucerman a.k.a. Scoot Mockerman a.k.a. Bot Rockerman is still running the show.
Scott headed to Reddit today for an Ask Me Anything session about the new season of the show, his podcast empire, and his feelings about long-running Comedy Bang! Bang! jokes. Here are some of the highlights, but the whole AMA is worth a read. Head over to Reddit to check it out.
Have you ever had a particular guest on the pod/show that was very difficult to get in contact with? Was it worth the effort?


I tried for years to get Paul Reubens on, and it paid off in spades!
Heynong Man! If your career were to end today (which we all hope it won't, of course), what would you consider to be the highlight(s) of your career?

Mr Show / Comedy Bang Bang / Between Two Ferns / meeting Pee-wee
Reggie's last episode was fantastic, and I'm really looking forward to seeing how Kid Cudi turns out on CBB TV.

I think Cudi's first episode is going to thrill people – i can't wait for people to see it.
Have any of the guests ever come in with their own bits and you guys riff from that or do you usually have to write for most of the show?

Sometimes people will come in with a bit – Michael Cera came in with the Angry Birds bit from Season one. And Mark Duplass came in with the gun bit from this season. And Joseph Gordon-Levitt came up with the idea of the hitRECord bit from his episode. But most of the "celebrity" guests come on and just do whatever we ask of them.
How was your recent trip to France with your ex girlfriend?

You HAVE to go… every day they have this bicycle race that the entire country watches… it's so different from the USA
Which CBB joke(s) do you wish people would stop saying to you?

none – i wish the people who get mad at the people who say the jokes would chill!
How long will you allow the closing up the plug bag theme to get?

i imagine i will get sick of it at some point and reset… but not yet!
What are your plans to ensure that "all joking a salad" is not relegated to the dust bin of history?

Look for t-shirts for both this Monday!
Comedy Bang! Bang! returns to IFC on Thursday, July 9th at 10:30p