Comic Book Fan Scott Aukerman Wrote About the Hulk's Psychiatrist For Marvel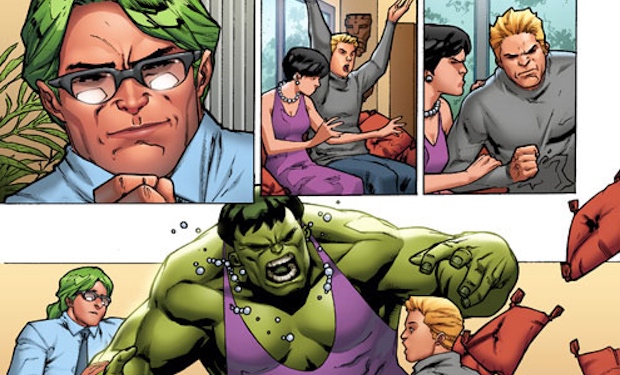 Posted by Derrick Rossignol on
Regular Comedy Bang! Bang! viewers know that host Scott Aukerman is an Auker-man of many names and talents, and when the first episode of the new season airs next Thursday, he might be introduced as Comic Book Writer-man: In issue #3 of the Marvel comic Secret Wars Journal that was released yesterday, Scott wrote a 10-page story about Doc Samson, a psychiatrist whose list of wound-up clientele includes The Hulk.
This isn't our favorite talk show host's first foray into comics: Earlier this year, he wrote a story in Issue #250 (actually #45) of Marvel's Deadpool, and he's discussed comics on various podcasts whenever the opportunity presents itself. Scott spoke to Comic Book Resources about how he has transitioned from comic fan to comic creator, saying:
When they were coming up with Deadpool #250, they went out to a lot of comedian friends that they knew read comics, and asked them if they would do short five-page stories set in the Deadpool universe. That's how I got started — I wrote that one pretty quickly, and the editor really liked it, and didn't have a ton of notes on it. I guess I did pretty well, because shortly after that, Jake Thomas at Marvel got a hold of me, and wondered if I could do a 10-page story for Secret Wars [Journal]."
Scott notes that his comic book writing endeavors are only getting starting:
I'm just going to keep doubling it up. At a certain point, I'm going to do a 20-page story, and then a 40, and then an 80-page giant. 160, 320, 640, 1,280. It goes on and on.
Our man Scotty is just the latest member of the Comedy Bang! Bang! family to contribute to big-time comics, as previous guests Paul Scheer and Patton Oswalt have also penned stories for DC and Marvel.
Marvel's Secret Wars Journal #3 is available now in fine comic book stores nationwide and digitally over on Comixology. And don't forget that Season 5 of Comedy Bang! Bang! begins on Thursday, July 9th at 10:30P on IFC with new bandleader Kid Cudi. He hasn't written any comics (yet), but, you know, we still like him.