6 Videos to Get You Pumped for Kid Cudi's Comedy Bang! Bang! Debut Tonight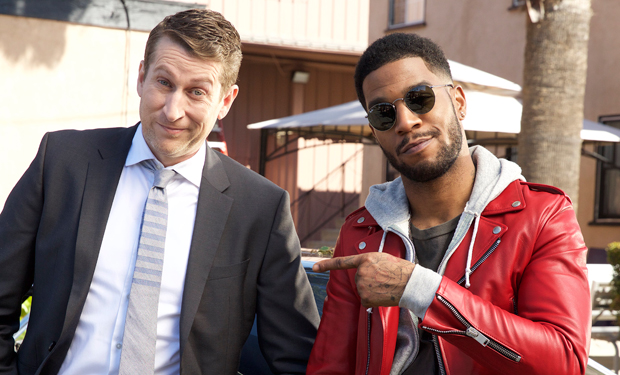 Posted by Derrick Rossignol on
Today's the big day: Arbor Day in Cambodia. Also, Kid Cudi makes his debut tonight on Comedy Bang! Bang! at 10:30P. Our good friend Reggie Watts brought a lot to the table and we all miss him, but we think Kid Cudi is ready — even though his hair isn't nearly as voluminous as Reggie's.
We don't just go around making baseless claims, so here are a few videos that have convinced us Kid Cudi can handle the pressures of his new gig, and that he's the Renaissance man Scott Aukerman needs in his life:
Cudi is no stranger to the Comedy Bang! Bang! set since he was a guest on Episode 7 of Season 4. And he knew how to make himself comfortable, so much so that he released three surprise albums during the interview and convinced Reggie he was prank-called by President Obama. Beyond the episode, Kid Cudi and Reggie also joined forces for a classic episode of Reggie Makes Music, which you can watch above.
---
video player loading
.
.
.
Scott has no quarrel with gifts, which is fantastic because Kid Cudi has mastered the art of gift-giving, bringing special goodies for everybody on set in this clip from tonight's episode.
---
Cudi has demonstrated skills in a TV comedy setting before, particularly when he starred in the short-lived HBO comedy-drama series How To Make It In America, where, among other things, he showed his entrepreneurial side by starting Canines & Cannabis, a dog walking/pot delivery business.
---
As Scott's arsenal of fine sweaters show, style is a crucial element of the Comedy Bang! Bang! vibe. Well, Cudi was a guest on Conan in 2011, and he dropped an absolute fashion bomb on the program, walking out in a pair of exclusive Back to the Future Nike sneakers . Plus, he gave Conan a highly trendy leather jacket that he designed himself.
---
It's hip to be funny all day every day, sure, but you have to be serious sometimes, which is no problem because Cudi can do and has done drama: He starred in "Maniac," a short film directed by Shia LaBeouf in which he plays a serial killer who has no ruth. He's ruthless, is what we're saying.
---
Almost anything can happen on the Comedy Bang! Bang! set, so anybody who hopes to be on it for a long time better be able to think on their feet and be ready for uncooperative guests, alien invasions, or worse: a surprise visit from the network boss. Cudi has proven that he's an adept improviser, like in this freestyle rap he did live for BBC a few years ago.
Yup, Kid Cudi's going to be just fine. Watch his Comedy Bang! Bang! debut tonight at at 10:30P on IFC.