5 Reasons Why Scott Pilgrim vs The World Is the Greatest Gamer Movie Ever Made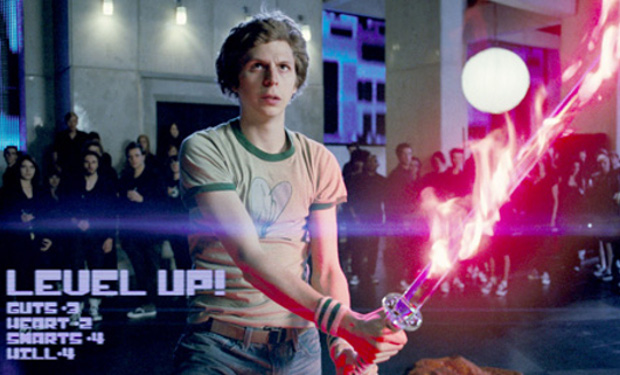 Posted by Luke McKinney on
Most video game movies are what happens when a B-movie can't find the B button. Amateur extras fitted with costumes more cheaply made than the original game's box, trained to repeat keywords with all the enthusiasm and understanding of a parrot perched on joystick. Except that parrot could conceivably still play Pac-man.
Scott Pilgrim vs. the World isn't just a better video game movie, it's by far the best video game movie. Possibly the only true video game movie, in the sense of being "a movie about video games" instead of "a terrible action movie which happens to share a title with a video game." With costar Brie Larson on this week's Comedy Bang! Bang!, we're looking at how Scott Pilgrim vs. the World totally KO'd the world of video game movies.
5. It's About Gaming, Not Just Games
Most video game movies make the mistake of thinking that a game is solely about plot. To find out how true this is, ask your friends how many of them sit through cut-scenes. Most mash the buttons to get back to the action, and the phrase "unskippable cutscene" has become a curse, an awful appendix to games many players can't wait to cut out.
A bad video game movie is an unskippable cutscene which lasts over an hour and a half. Video games are about interaction, which means movies break their very first rule by default. They miss the part of the game that people actually like — the gameplay. A video game movie should replicate the experience of playing the game while also offering a solid story. It's not enough to litter your script with a few lines of dialogue from the game and expect players to be impressed that you know how to say "Bloodrayne" without laughing.
Scott Pilgrim understands the problem of porting something to a new format, because it's already doing that. The filmmakers are adapting a black-and-white cult comic book for the silver screen, so they're already altering things to fit the format. Director Edgar Wright understands that if you don't use what the movie medium offers, there's no point in transporting the concept there at all. This movie doesn't just mention gaming culture in passing —  it animates it, projecting it on a larger scale than ever before. It lives and breathes its gaming references, instead of just offering them as treats for sitting through a dreary plot like ice cream for a kid forced to eat their vegetables.
---
4. It Understands Video Game Tempo
The most important aspect of gaming that Scott Pilgrim captures is tempo. This isn't a movie with 90 minutes to tell a story — it's got 90 seconds before it loses your attention. Each scene is studded with new beats, fast effects, and alternations in pace and angle designed to keep the viewer interested. This acceleration doesn't just look like a video game, it feels like one — fast and fun for a generation trained to take on a different theme every 10 minutes.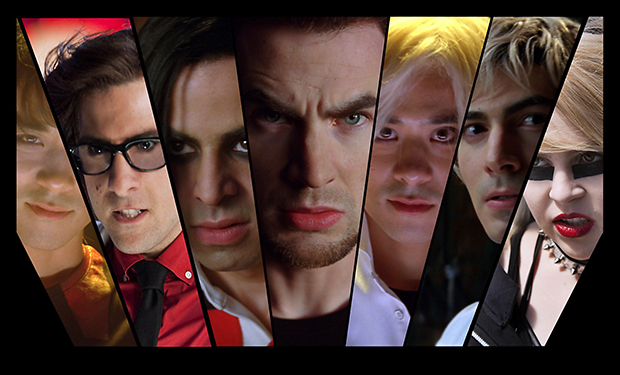 The most blatant gaming design decision is replacing the conventional three-act movie structure with the Seven Evil Exes from the comic. A lesser movie might have abandoned the comic's nod to classic video game levels in favor of a more traditional narrative. But Wright and co. kept faithful to the comic, and filled each sequence with wonderfully numbered references, forcing the film into endless escalation.
Even better, each Evil Ex celebrates a different style of gaming boss battle. After the basic beat-em-up level, Scott faces many more tropes of gaming. The army of minions, co-op tactics, summoning magical monsters, using a special item (instead of a jeweled sword of destiny it's a coffee with milk), even the unbeatable boss who has to be tricked into taking themselves out. Even Bowser from the Mario games once defeated himself by jumping where the hero told him, though Bowser wasn't trying to grind a skateboard. (Though now that we say it that's the best video game idea ever.)
---
3. The Special Effects Capture Video Game Tropes Without Being Overly "Realistic"
The fun, brightly colored video game aesthetic on display in Scott Pilgrim is an antidote to the current trend of ridiculously "realistic" comic book and geek culture movies. Even Superman has suffered from the current visual effects trend, which is to drag those effects into a rock quarry and throw them down a dark mine filled with blasting explosives. And Superman is a man who wears bright blue pajamas in public. Scott Pilgrim reveled in its heightened "artificial" nature and unleashed visual and sound effects from gaming culture like Ryu unloading special moves in Street Fighter.
Far too many video game movies feature sequences where obviously computer-generated sprites escape equally obvious computer-generated threats, resulting in less drama than stubbing your toe. These automatic sequences look like a PlayStation quick-time event with all the interactivity removed, reducing people to sitting and staring at a computer playing with itself.
Scott Pilgrim is brimming with imaginative special effects that put the viewer in a video game-influenced world without trying to make everything look awkwardly "realistic." This movie celebrates traditional video game graphics because it understand both the games and the generation that grew up loving them.
---
2. It Had A Brilliant Video Game
Making a good movie out of a video game is difficult, but making a good game out of a movie is outright sorcery. Video games based on movies are a modern alchemy, a process which should give rise to unlimited wealth but mostly pumps out awful sludge. Even Iron Man couldn't get a good game, and he's literally a man in an armored robosuit exploding his enemies. But Scott Pilgrim's sheer central joy shines so brightly it burned right through the bullshit to become a brilliant retro game. And we used "B" a lot in that sentence because, like all old-school fighting games, you'll "B" using it a lot too.
The Scott Pilgrim game wasn't a simple conversion, it was a triple distillation. The comic harvested author Bryan Lee O'Malley's lifelong love of retro gaming, the movie collected it and condensed it into a couple of hours, and the game distilled it into its purest essence. If a love of '80s gaming was whiskey, this would be the 25-year-old vintage. And it's just as glorious as that sounds.
---
1. Michael Cera Brings The Average Player to Life
The best representation of gaming culture is one that Scott Pilgrim achieved by accident. Or rather, Michael Cera achieved on purpose. Every other actor in the movie was perfectly cast to play their respective parts. Wallace Wells, Stephen Stills…they all looked like they strolled off the page and into the shot. Kim Pine is so perfect we still think a genie read the original comic and decided the character was too cool not to exist.
Michael Cera, on the other hand, is the player. He doesn't look exactly like Scott Pilgrim. He looks exactly like Michael Cera playing the part of Scott Pilgrim. He's the person inserted into this perfectly crafted world to make it work. He's there in part because Hollywood wouldn't authorize a big enough budget without at least one well-known actor in a starring role. He's the one who put the money in to get the game to start. He's the arcade player, the everyman, the one who decided to play this part and have some fun. He's the embodiment of the average gamer who starts off as a nobody, but once they enter the world of the game can suddenly bust off 64-hit combos, meet amazing characters, teleport from place to place and solve problems with a flaming sword. He took the weapon, and had great fun doing what we gamers always wanted to do in real life.
All the other non-player characters are perfectly constructed solely to assist Scott on his quest. Scott is the "player" who is just passing through, working his or her way through the game to unlock the ending before moving on to the next game. And that made Michael Cera the ultimate video game movie star.