8 Sitcom Character Farewells We're Still Not Over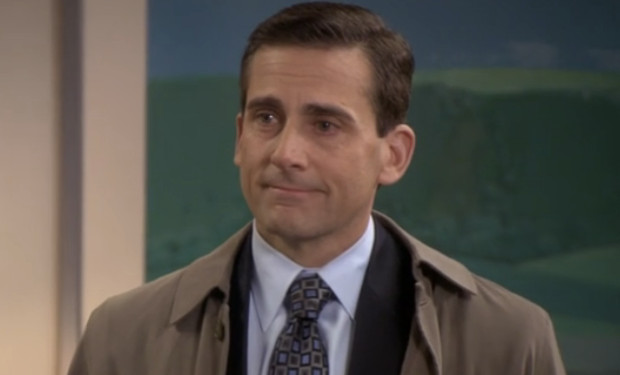 Posted by Nick Romano on
Tonight at 10:30P, EST, Reggie Watts will make his final appearance on Comedy Bang! Bang!. Judd Apatow will make a special guest appearance for the affair, which will probably be an extremely emotional and an all-around heartbreaking moment in television history. We don't want to be too dramatic, but it'll probably be as devastating as the final episode of Cheers.
There've been many TV shows that've had to say goodbye to some of their most beloved characters. But sitcom character farewells are particularly moving. Maybe it's the fact that we welcomed them into our living room every week.  These are characters that for one reason or another, left us and were sent off in the most glorious and tearjerking way possible. And we can only hope the same will happen for Mr. Watts. (Please note: WE ARE NOT TALKING ABOUT CHARACTERS WHO DIED. That's a different, even more depressing list. Please don't yell at us in the comments.)
1. Michael Scott, The Office
How do you possibly say farewell to the man who put his faceprint in drying cement, claimed the phrase "that's what she said" as his own, and treats every week like it's Shark Week? The Office team did a pretty great job by invoking Rent for a final musical tribute that was both moving and perfectly dorky, just like Michael Scott.
---
2. Richie Cunningham, Happy Days
Richie was the heart of Happy Days, so his goodbye to his family and The Fonz was particularly moving, awkward mustache notwithstanding.
---
3. Troy Barnes, Community
Donald Glover released a letter to his fans in the form of a series of Instagram messages to explain why he had to leave Community, and all of our hearts sank. It wasn't that he wanted to pursue his rap career, it was more that he "felt helpless" and needed to make his own path. The last episode where we had to say goodbye to Troy was an emotional time for the characters on the show and his fellow co-stars.
---
---
4. Eric Forman, That '70s Show
The That '70s Show gang just wasn't the same after Eric (Topher Grace) shipped off to Africa in the seventh season. The show wasn't the same either, for that matter. Remember when Seth Meyers' brother Josh joined the cast as Randy Pearson? Yeah, we don't either.
---
5. Ann Perkins and Chris Traeger, Parks and Recreation
Ann Perkins has been a mainstay of the Parks and Rec family since the pilot episode, and although her baby daddy Chris Traeger came in halfway through, he took up residence in our hearts. This speech of Leslie Knope saying her goodbyes to her best friend in the entire world, the lovable sunflower, the radiant unicorn, was just a precursor for having to watch her drive off to her new home.
---
6. Most of the cast, Scrubs
Zach Braff and pretty much the entire cast of Scrubs left the show before its final season on ABC. JD's final scene, where he remembers all the people who touched his life, is a fitting send-off for the series…provided you ignore that final season.
---
7. Diane Chambers, Cheers 
Cheers had many heartfelt moments (we still tear up over the Coach episode), but Sam and Diane fans still remember when Shelley Long's character said goodbye to the bar for a writing career in Los Angeles. Sam's last words as he watches Diane go ("Have a good life…") still resonate all these years later.
---
8. Mike Flaherty, Spin City
Mike Flaherty leaving the Mayor's office was doubly sad — not only did Spin City lose its lead character, but TV lost Michael J. Fox who left the show to deal with the effects of Parkinson's Disease. The ensuing Charlie Sheen era of Spin City had its fans, but the show was never the same again.