8 Musical Comedies That You Seriously Need to Watch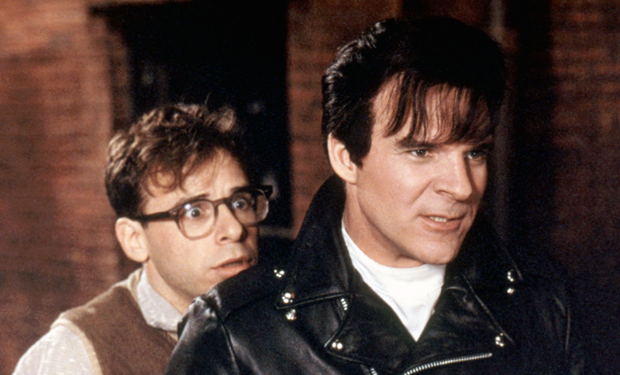 Posted by Nick Romano on
Skylar Astin is getting ready to reprise his role of Treblemaker Jesse in Pitch Perfect 2. But before he does that, he's going to bring his aca-amazing skills to Comedy Bang! Bang! tonight at 11p. We've already previewed how he'll — wait for it — reveal his actual age, but will his angelic pipes appear, too?
Astin in Pitch Perfect is one gear in a long line of musical movies that have debuted on the big screen. There have been a lot of disasters going the other way around — we still can't really talk about Legally Blonde, The Musical or any of that Shrek mumbo jumbo — but when it comes to the musical stylings of cinema, these take the cake.
8. Pitch Perfect
Anna Kendrick, Anna Camp, Rebel Wilson, Brittany Snow and the rest of the Bellas have created a revolution. Well, Glee technically did, and they're just piggy backing off of its success. Enough people still watched Pitch Perfect and dug its aca-awesome a cappella skills that a sequel has already been filmed and is coming this May.
---
7. Hairspray
High School Musical may have been an enjoyable disaster, convincing Modern Family's Phil Dunphy to learn all the dance moves to impress his kids, but Zac Efron redeemed himself with Hairspray. A big screen version of the hit musical that in turn was based on a cult John Waters movie from the '80s, Hairspray starred the then teen heartthrob as the lead male role, Link Larkin, while newcomer Nikki Blonsky became our new Tracy. Between them and John Travolta doing drag as Mrs. Turnblad, the film brought on a ton of laughs.
---
6. South Park: Bigger, Longer & Uncut
Do you know the truth about Kyle's mom? How about where The Devil wants to be, or who we should blame when everything goes awry? The South Park movie musical has the answers. Before Trey Parker and Matt Stone wowed us with their musical composition chops in The Book of Mormon on Broadway, they brought their signature brand of NSFW to the screen.
---
5. Tenacious D in The Pick of Destiny
The jury is still out on whether or not Tenacious D is the greatest band of all time (they are), but their movie is one of the funniest. In their search for the ultimate guitar pick, Jables (Jack Black) and KG (Kyle Gass) encounter fraternity life, Big Foot and the Devil himself.
---
4. Reefer Madness
Before she was singing about building snowmen, before she was investigating crime, Kristen Bell was a good girl who became corrupted by the ganja. This musical version of the classic anti-marijuana propaganda film is campy to the point where you need to get stoned off your ass in order to appreciate the musical about getting stoned off your ass.
---
3. Blues Brothers
John Belushi and Dan Aykroyd are on a mission from God, to save the orphanage where they grew up. The Blues Brothers one of the best musicals, nay, best movies of all time, featuring the musical stylings of Aretha Franklin, Cab Colloway, Ray Charles and, duh, the Blues Brothers Band.
---
2. The Rocky Horror Picture Show
It's the movie musical that inspired a generation. It's the historic pop culture event that made it cool for Tim Curry to become the best damn transvestite in the world. It's "fabulously freaky." Even with Fox remaking it as a two-hour televised musical event, nothing will ever compare to the hysterics of the original.
---
1. Little Shop of Horrors
Frank "Miss Piggy" Oz directed this hilariously twisted musical version of the classic Roger Corman B-movie of the same name. The cast is a who's who of comedy greats (Rick Moranis, Bill Murray, Christopher Guest) though the comedic cake is definitely taken by Steve Martin's lively turn as one seriously demented dental hygienist.
---
Watch a clip of Skylar Astin on Comedy Bang! Bang! below and tune in tonight at 11p:

video player loading
.
.
.