10 Reasons Why Michael Sheen Is the Embodiment of Awesome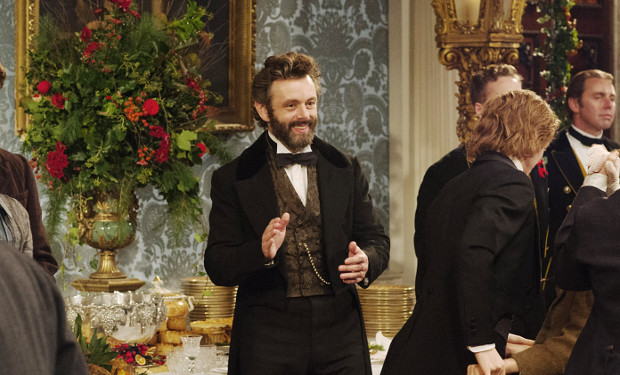 Posted by IFC on
By Leslie Schapira
When we think of Hollywood's sexiest men, certain names tend to pop up: George Clooney, Brad Pitt and Robert Pattinson for girls under 14 and your weird aunt who lives with seven cats. But it's Masters of Sex and Far From the Maddening Crowd star Michael Sheen — no relation to Charlie — who's currently the subject of much devotion on Tumblr and other parts of the Internet. So what is it about this 5'9," mousy Brit that makes the Internet's knees collectively buckle? Here are 10 reasons why Michael Sheen is your new crush:
10. He's the 'master' of sex.
It's not just that he's the star of the critically acclaimed Showtime show (although that always helps) about sex researchers, aka the people who have the best jobs in the world after cotton candy tasters. But after two years of playing Dr. Masters — a man who studies orgasms — he must've picked up a few tips.
---
9. He has a great dating track record.
Nothing like dating Kate Beckinsale or Rachel McAdams to prove that he's a catch – or maybe just really good in bed. Even Sheen's current girlfriend, Sarah Silverman, admitted that his past relationships make her feel even luckier to be with him. Bottom line: If he can pass Kate and Rachel's standards, he can pass anyone's.
---
8. He has the Tina Fey stamp of approval.
Sheen proved he had comedic sparks with Tina Fey when he played Liz Lemon's British paramour Wesley. The duo also brought their onscreen chemistry to the film Admission.
---
7. He's athletic.
It's not often that you can find an artist that knows his way around a ball. But Sheen is an exception. At 12, he was scouted to play in the Arsenal Football Club in London.
---
6. He has a sense of humor.
Despite Sheen's British properness, his girlfriend Sarah Silverman recently told the world that the thesp has named his penis the "Great Christine Baranski." Hopefully, this is a sign that his Baranski is as talented as the actress. He was also a perfect gentleman when he sat down with Sarah's ex Jimmy Kimmel, who expressed a bit of jealousy at Sheen's budding relationship with Silverman's dad.
5. That accent.
Maybe it's because it sounds aristocratic. Or maybe it's simply a refreshing change from the typical crass American. But there's something about that Welsh accent that can make a girl swoon.
---
4. He gives passionate speeches.
While Sheen is known for playing Tony Blair in film and TV, it's his real life role in the political sphere that adds to his attraction. Last March, Sheen made a speech where he told politicians to "By God, believe in something."
---
3. He's charitable.
While his Christine Baranski might be hard, at least we know his heart is soft. Sheen is involved in multiple charities including being president of TREAT Trust Wales – a charity that helps provide therapy centers from Swansea's Morriston Hospital.
---
2. He handles breakups well.
No need to fear any crazy ex girlfriends breaking in with a machete. He's so close with ex Kate Beckinsale, she even attends his birthday parties.
---
1. He survived the Underworld, Twilight, and Tron franchises…
Sheen has proven able to slide between prestige roles and supporting parts in genre franchises where he somehow manages to remain dignified while wearing ridiculous costumes.