10 Actors Who Found Life After Doctor Who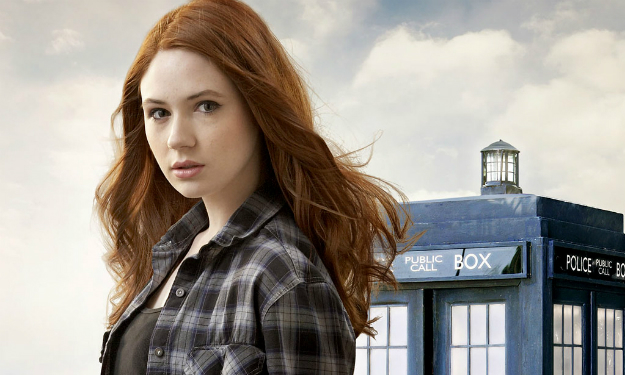 Posted by Nick Romano on
Doctor Who is one of those shows where it seems like everyone and their mothers have been featured in some capacity or another, and yet when you look back on the credits you're shocked to find some of your favorite stars.
Loads of actors have taken roles on the hit BBC series, and though their time may have been fleeting, they went on to make names for themselves. With Karen Gillan hitting up Comedy Bang! Bang! this week, we had some time to reflect on all those who have come and gone on Doctor Who, and there are some you'll be shocked to see.
10. Karen Gillan
Gillan, as we mentioned, portrayed Pond. In playing her, the actress became the first female since Billie Piper to appear regularly in two consecutive seasons, as well as the first since Sophie Aldred to appear with the same Doctor for more than a season. Since then, Gillan has gone on to land a role in the Marvel Cinematic Universe as Nebula, the bald, blue-skinned assassin daughter of Thanos and the sadistic adopted sibling of Zoe Saldana's Gamora in Guardians of the Galaxy. She'll return for Guardians 2, and we hope she's mad enough to chop off another appendage for no reason.
---
9. Gugu Mbatha-Raw
Gugu Mbatha-Raw portrayed Tish Jones, a PR executive caught up in Harold Saxon's schemes to trap the Doctor. The 31-year-old actress has been steadily on the rise, and she made some waves on the silver screen with roles in Belle and Beyond the Lights. The former saw her as the illegitimate mixed-race daughter of a British admiral who helps to abolish slavery in England, while the latter saw her as a singer struggling with her overbearing mother and her success. (You may have also seen her return to sci-fi in Jupiter Ascending if you were one of the five people who actually watched that movie.) She can be seen next in the Will Smith football drama Concussion and the live-action Beauty and the Beast.
---
8. Andrew Garfield
Andrew Garfield is one of those names in the Who roster that causes your jaw to drop. Yes, the actor had a role in Doctor Who as Frank in the stories "Daleks in Manhattan" and "Evolution of the Daleks." The actor's most recognized achievement to date is succeeding Tobey Maguire as everyone's friendly neighborhood web-slinger in The Amazing Spider-Man and The Amazing Spider-Man 2. Though he was slated to appear in a third outing, Sony struck a deal with the Disney-owned Marvel Studios in order to revamp the franchise once again and crossover with characters from the Avengers films. Unfortunately, Garfield won't be around for that. Still, we think he'll be just fine.
---
7. Thomas Brodie-Sangster
If you're like us, you probably still think of Thomas Brodie-Sangster as the little kid from Love Actually. Hard to believe he's now a successful fully grown actor. After popping up in the Doctor Who stories as Tim Latimer, he starred as Jojen Reed for a good run on HBO's Game of Thrones, lent his voice to the Phineas & Ferb cartoon on Disney Channel, and now shares the spotlight as a lead in The Maze Runner franchise.
---
6. Joe Dempsie
Skins star Joe Dempsie was on Doctor Who for a hot minute as Cline in the story titled "The Doctor's Daughter," but he's most known nowadays by another name: Gendry. The actor has been playing the bastard of King Robert Baratheon on Game of Thrones for a few seasons now, though the last time we saw him he was sailing out of the picture to the Lord of Light knows where. Hopefully, we'll be seeing him again soon, at least for the sake of his career.
---
5. Felicity Jones
Jones may not have won the Oscar, but starring in her own standalone Star Wars movie is the next best thing or better, depending on who you ask. The Theory of Everything star received an Oscar nomination for Best Actress this past year, though she lost to Julianne Moore while her co-star Eddie Redmayne won for Best Actor. She'll soon be working on Star Wars: Rogue One, the first of the new anthology films in the Star Wars universe, and she has a lead role! With all this success, it's easy to forget that she had a small role on Doctor Who as Robina Redmond.
---
4. Colin Morgan
Morgan's star has steadily been on the rise since he made his TV debut as Jethro Cane on Doctor Who. He starred as Merlin on the BBC series of the same for five seasons before cancellation, a pretty solid number if you ask us. Morgan followed that up with a brief stint on another hit BBC series, The Fall, and can be seen in the upcoming AMC/Channel 4 series Humans. He's also hitting the big screen in Legend, in which Tom Hardy plays the dual role of twin mobster brothers Ronald and Reginald Kray.
---
3. Arthur Darvill
Darvill burst onto the scene as the companion Rory on Doctor Who and as Rev. Paul Coates on Broadchurch. He'll soon join the growing ranks of British actors who play American superheroes when he takes on the role of time traveler Rip Hunter on The CW's Legends of Tomorrow.
---
2.Billie Piper
Piper rose to fame thanks to her role as the Doctor's companion Rose Tyler. She went on to star in Diary of a Call Girl and the current Showtime hit Penny Dreadful.
---
1. Freema Agyeman
Best known to Whovians as Martha Jones, Freema has found success in America with roles in The Carrie Diaries and Sense8.