Ranking the Acting Careers of Late Night Talk Show Hosts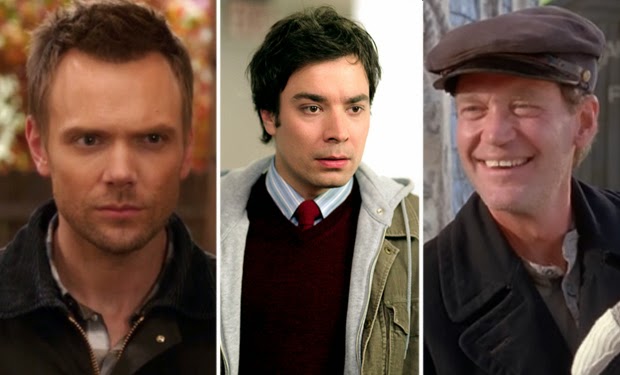 Posted by Brian Steele on
Late night hosts are no strangers to acting. They have to sell monologue jokes, appear in sketches, and pretend to find their guests interesting. But, from time to time, they all want to step out from behind the desk, and stretch their talents as far as a sitcom their producing or a former writer's movie project will let them. Here's a look at many of our favorite late night hosts playing parts other than themselves.
19. Larry Wilmore, The Nightly Show
Before taking over the post-Colbert slot, Wilmore served as The Daily Show's Senior Black Correspondent. But he also had a deep career in Hollywood as a writer and creator of shows like Bernie Mac and The PJs. He's also turned up in brief acting roles as everything from a racial sensitivity trainer on The Office to a cop on The Facts of Life.
---
18. Chris Hardwick, @Midnight
Hashtag game guru Hardwick is of course no stranger to game shows, having cohosted MTV's Singled Out during the '90s. He's also done a few acting roles, mostly voiceover work on shows like Sanjay and Craig and Back at the Barnyard.
---
17. Jay Leno, The Tonight Show
America's favorite least favorite late night host struggled for years trying to find the right fit for his talents. It helps explain why he would hide in a closet, eavesdropping on NBC execs, in an all-out attempt to win the coveted Tonight Show desk in 1992. This acting thing just wasn't working out.
After cycling through a collection of bit parts on sitcoms like Good Times and Laverne & Shirley, his nadir happened in the form of a supposed buddy cop comedy with Pat Morita called Collision Course. When the pitch for your movie is Rush Hour on a budget, starring, "two law men as different as hots dogs and sushi," you'd be desperate for a new gig too.
---
16. David Letterman, The Late Show/Late Night
David Letterman would be the first to tell you he's no actor. He wasn't even the best standup of his era, leaving that distinction to comics like Richard Pryor and a surprisingly edgy (in the '70s, at least) Jay Leno. Outside of his revolutionary, legendary work on NBC's Late Night and CBS' The Late Show, he's mostly popped up as himself in films like Man on the Moon and Private Parts. But there have been times when he's stepped outside of his comfort zone. The first seems to be as a bit player on an episode of Mork and Mindy, where you can sense his wry humor fighting to break through.
But most famously, he appeared in the cult classic box office bomb Cabin Boy, written by and starring his former writer and protégé Chris Elliot. It would prove to be the last bit of real acting he would do,  unless you count voicing a depressed dog on Spin City acting.
---
15. James Corden, The Late Late Show
When he recently took over The Late Late Show, Corden was an unknown to most Americans. But besides starring as The Baker in Into the Woods, Corden had quite the acting career in the UK on shows like The Wrong Mans and Horne & Corden. He also played Smithy on the hit show Gavin & Stacey, which he cocreated with Ruth Jones.
---
14. Jimmy Kimmel, Jimmy Kimmel Live!
Jimmy Kimmel came about his late night career through a less traditional route — he was a morning DJ for a series of radio stations, before landing a hosting gig on the Comedy Central game show Win Ben Stein's Money. (See, people tried to win money from Ferris Bueller star/former Nixon speechwriter Ben Stein and — it was the late '90s. We were more easily entertained back then.) This of course led to a cohosting gig on The Man Show and future talk show glory. Outside of a cameo on his then girlfriend's The Sarah Silverman Program, he mostly stuck to hosting gigs. The one exception was his voice work for Crank Yankers, a prank call show he produced in the early 2000s. He voiced two of its characters, the confused old man Elmer, and celebrity assistant Terrence.
---
13. Conan O'Brien, Late Night/The Tonight Show/Conan
Conan O'Brien has built a career on the back of his brilliant writing. In fact, it was a shock when he was handed the keys to Late Night in 1993, because no one has ever seen him perform much of anything, outside of extra work in the occasional SNL sketch.
But his unique blend of irreverent madness would slowly build a dedicated fan base. It was in these years, while still hosting Late Night, that he seemed to regularly pop up on friend's television shows, from Spin City to Andy Richter Controls the Universe and 30 Rock.
---
12. Jon Stewart, The Daily Show
Jon Stewart has earned a place on the Mount Rushmore of late night hosts, but he went through a lot of lean years to get there. Back in the '90s, as he struggled to front a show that would stick, he helped pay the bills with his acting work. For anyone who watches him these days, they know he takes great joy in mocking his big screen efforts. Still, while he never disappeared into his roles, he always did a serviceable job in movies like Half Baked, Death to Smoochy and Big Daddy. Jon, stop being so hard on yourself. Could be worse. You could've starred in Collison Course.
---
11. John Oliver, Last Week Tonight
John Oliver has only recently broken onto the late night scene, but he's made a big impression. But before he headlined his own show, he was still a comedian looking for work. Outside of The Daily Show, he's probably best known for his long-running role of Professor Duncan on Community. And, of course, a cameo in The Love Guru as Dick Pants that's best left forgotten.
10. Chelsea Handler, Chelsea Lately
Chelsea Handler had a sputtering acting career before creating her own late night hit on E!, Chelsea Lately. Since then, she's popped up on Web Therapy with Lisa Kudrow, and Are You There, Chelsea?, a short-lived NBC series based on her book of the same name.
---
9. Scott Aukerman, Comedy Bang! Bang!
Mr. Aukerman hosts IFC's own spin on a late night talk show, Comedy Bang! Bang!. But before developing this long running podcast for TV, he popped up in a who's who of famous comedians' projects. Many of them, he produced as well. From The Birthday Boys to Curb Your Enthusiasm, The Sarah Silverman Program to Austin Powers in Goldmember, Scott has been a player in underground comedy for nearly two decades. Even after all of that, he's perhaps best known for being a writer and performer on HBO's Mr. Show, which changed the game in comedy.
---
8. Arsenio Hall, The Arsenio Hall Show 
Arsenio Hall's acting career may have burned quickly, but it burned bright. For one shining moment, he was a part of the biggest comedy one-two punch of the 80s. As Semmi, Prince Akeem's loyal, scheming servant, he held his own against the hottest movie star in the world, Mr. Eddie Murphy. A talk show would get in the way of his acting career, but not before he'd get to voice the character of Winston in over 92 episodes of The Real Ghostbusters.
---
7. Stephen Colbert, The Colbert Report
One could argue that Stephen Colbert was acting for his entire run on The Colbert Report. What could possibly be harder than playing "Stephen Colbert," blowhard conservative, for 10 years straight? Here was a part that lived in the real world. That interacted with sitting Presidents. It's a feat unlikely to be duplicated. But it certainly wasn't his first brilliant performance.
After launching his career at Chicago's legendary school of improvisation, Second City, he and longtime collaborators Amy Sedaris and Paul Dinello created the sketch show Exit 57 for Comedy Central. That was quickly followed by the cult hit series Strangers With Candy, on which many viewers got their first taste of Colbert's signature humor. Unless they remembered him from The Dana Carvey Show, that is.
---
6. Seth Meyers, Late Night
Seth Meyers is only beginning his late night run, after a long and successful career at Saturday Night Live. Like many a host before him, he realized that his talents lay in just being himself. That's why we saw less of his SNL characters, like DJ Jonathan Feinstein and Boston Powers, over time, and more of him behind the desk at Weekend Update.
He also put together a forgettable collection of bit parts in big studio movies, like the terrified expectant father in New Year's Eve, and a sleazy agent in American Dreamz.
---
5. Jimmy Fallon, The Tonight Show/Late Night
Where to start with young Mr. Fallon? He was a popular SNL cast member in the early 2000s, but had just as many detractors for his unrelenting habit of breaking during sketches. His foray into film, after leaving the show, was an unmitigated disaster, rife with bomb after bomb. (The only people who saw Taxi and Fever Pitch were Blockbuster employees on break.) But he's turned it around, using his nice guy comedy to win over late night audiences, and has become one of the most powerful men on TV.
---
4. Craig Ferguson, The Late Late Show
Craig Ferguson started his career in a series on punk rock bands, including one with current Dr. Who Peter Capaldi. Soon realizing he was the funny one in the band, he found his way to comedy, and began booking work on BBC. One early part was on the cult hit Red Dwarf.
That led to American work, and perhaps his best-known role as Mr. Wick, Drew's boss — and at one point, husband — on The Drew Carey Show.
Between Drew Carey and the Late Late Show, Ferguson had a string of popular films that he wrote and starred in. (You might remember Saving Grace, aka that old people smoking pot movie your grandma liked.) In more recent years, he's guest starred on shows as diverse as Web Therapy and Hot in Cleveland. And with his talk show wrapped, he's signed to star on a new ABC network pilot, The King of 7B. For a host who made his mark with his effortless personality, he's also one of the more talented actors on this list.
---
3. Zach Galifianakis, Late World With Zach
Yes, Zach Galifianakis had a late-night talk show. You're forgiven if you don't remember Late World with Zach, which ran briefly on VH1 in the spring of 2002. But for those of us who were lucky enough to catch it, the show was an early showcase for Zach's offbeat humor and musical stylings. Sadly, no one ever heard from him after VH1 dropped the show for repeats of I Love the '80s.
---
2. Greg Kinnear, Talk Soup/Later
After hosting Talk Soup and Later (the NBC show that eventually became whatever Carson Daly hosts now), Greg Kinnear was on the verge of becoming a major player in late night comedy. Instead, he walked away, booking parts in movies like Sabrina and As Good As It Gets, earning an Oscar nomination for the latter. He has continued to work steadily in film for the last two decades, appearing in movies as diverse as Little Miss Sunshine and Auto Focus.
---
1. Joel McHale, Talk Soup
Perhaps the most proficient actor/late night host this side of Greg Kinnear, Joel doesn't just pop up on a show here and there. He's anchored the long running, seemingly unkillable sitcom Community through more speed bumps than a Greendale Community College loading zone and appeared in films like Spider-Man 2 and Merry Friggin' Christmas.