The 8 Most Spot-On Reality Show Spoofs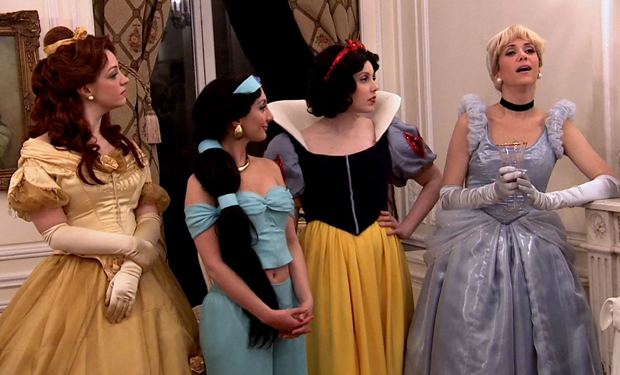 Posted by Nick Romano on
Reality TV shows practically beg viewers to make fun of them. I mean, Teresa Giudice couldn't have been serious when she flipped over a table… right? This genre is filled with over-the-top moments like this because who would watch otherwise? And that's why there are so many parodies and spoofs out there.
Take Comedy Bang! Bang!, for example. IFC brought together some actual reality TV stars for a hilarious spoof of Big Brother meets Top Chef meets The Bachelor meets…does it matter? Because as the video points out, they're all the same. But that doesn't mean all reality TV spoofs are created equal.
Here's to the videos, TV shows and movies that upped the ante in poking fun at the real-world casts we love to mock.
1. "Reality House," Comedy Bang! Bang!
video player loading
.
.
.
Reality House might be the most confusing fake reality show out there. Val Chmerkovskiy from Dancing with the Stars, Lucy Aragon from The Bachelor, Nadia Turner from American Idol, Ozzy Lusht from Survivor, Reza Farahan from The Shahs of Sunset, and Brooke Williamson from Top Chef had no idea what they were supposed to do when they were all brought together to live in a house. Was it a competition show? A Bad Girls Club-style spinoff? A cooking show? Who knows?
---
2. American Dreamz
Remember when Mandy Moore was a thing? Well, when she was, she became the next American pop singer…in the movie American Dreamz, a big-screen spoof of the American Idol-obsessed culture. Now it's all about The Voice, but this was back when American Idol, too, was a thing. So, what happens when the President of the United States (Dennis Quaid) needs to prove to the country that he's not having a mental breakdown by guest judging the hottest reality singing competition show? A terrorist plot to eviscerate him happens, that's what.
---
3. America's Kidz Got Singing, 30 Rock
Jenna Maroney makes Simon Cowell look like a saint. At least he didn't suggest the American Idol singers go jump back up their mothers when they went flat. This show-within-a-show brought out the worst in us. At one point, we were practically egging Maroney on to further annihilate the kids with her words. It just goes to prove that people don't always come to watch the talent. They come to watch them get knocked down a couple pegs.
---
4. Real Housewives of New Jersey, South Park
The most famous and hilarious lines to ever come out of a Real Housewife of New Jersey was, "muff cabbage." And they didn't even say it! That's how good South Park's spoof is of the reality spin-off. It's so famous and, actually, pretty accurate that it's now permanently linked to Teresa, Carlina, Dina and Danielle. What can they say? It's a Jersey thing. You non-Jersians wouldn't understand.
---
5. The Onion's Sex House
The Real World, Real World/Road Rules Challenge, Jersey Shore and Big Brother are all really just about getting a bunch of horny people together to have sex. So the folks behind The Onion decided to cut out all the extraneous dialogue and drama, and cut right to the chase. Sex House sees what happens when a group of sex fiends are forced to live with each other in one house with nothing else to do than to get it on with each other. Sounds great, right? I can't imagine why MTV or VH1 didn't want this one for their slates.
---
6. Burning Love
If we had a nickel for every time someone got busy with The Bachelor, let's just say we could retire and move to our own private island by now. But there's even way more scandals to be had on Burning Love. It's the same old story: a handsome firefighter is looking for love, so, naturally, he dates 15 women at once and slowly sends home the ones he doesn't want. As you can see, he develops some real connections with these ladies.
---
7. The Hotwives of Orlando
Tawny, Shauna, Veronica, Phe Phe, Crystal and Amanda are not your average housewives. They are so catty, so ruthless, so into throwing cocktails at each other that the Real Housewives ain't got nothin' on them. If you cross these gals from Hulu, they won't hesitate to reduce you to the scared little person you are. They always speak their minds, and their minds think your "not a whore."
---
8. "The Real Housewives of Disney," SNL
Lindsay Lohan may have been a hot mess, but she helped make this SNL sketch gold! There are so many bankable moments and GIF-worthy lines that we're overcome by all the hilarity. If being a lush is as fun as Cinderella makes it out to be, then sign us up for a lifetime membership. But, life isn't a Disney movie, and The Real Housewives of Disney have real-world issues to deal with…like dealing with the fact that you have to drink because your Prince Charming husband is living a lie. It sure does make for some huge laughs, though!