10 of Joel McHale's 'Classic Wingers' From Community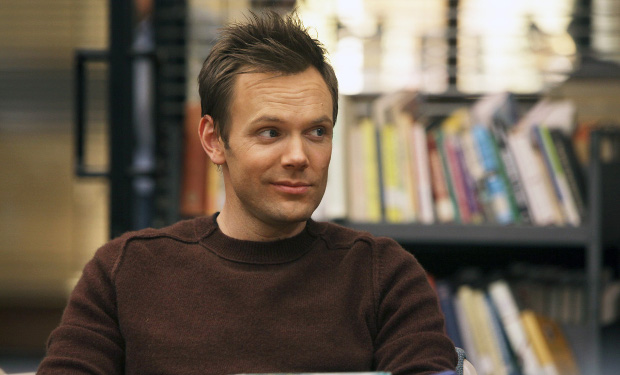 Posted by Nick Romano on
Jeff Winger is a mentor. A life coach. No, a sage. He's full of sound wisdom and isn't afraid to share it with those in need…no matter the cost it might inflict on his pupil's, shall we say, ego. As he admits in one of his "classic Wingers," he's "an exceptional narcissistic."
It's often difficult to separate Joel McHale from his Community counterpart; Winger seems born from the depths of the comedian's subconscious. But we're going to have to in the coming week, since McHale is guesting on Comedy Bang! Bang! this Friday. We're sure he'll make his performance his own, but we're also positive some of his Winger-isms will leak out of the woodworks.
In anticipation of McHale's guesting on the show this Friday at 11 pm EST, here are some of his best quotes, pieces of advice and classic zingers, er, "wingers."
1. "What's the complex called when you're wrong about everything?"
Winger knows everything about everything. That's why his ego is so big. But in-depth knowledge of the world's inner workings comes at a price. Everyone else is so inferior that it seems like a mental complex.
---
2. "For your information, I don't have an ego. My Facebook photo is a landscape."
Oops! We were wrong — Jeff Winger does not have an ego. Why would you even suggest something so heinous? That's crazy! After all, just look at his Facebook profile. You can tell a lot about a man from his Facebook page. Like, for instance, that he takes a great deal of pride in his perfectly framed landscape photo.
---
3. "With all due respect…which is none…go to hell!"
What's great about Winger is his musical sensibilities. His words have their own unique sounds. His longer phrasing is poignant and well thought out, but sometimes the occasion calls for something sharp, quick and concise. Like whenever he's talking to Pierce, for instance.
---
4. "You're going to have to come back later. I'm trying to prove a point."
Winger is the master of getting rid of people quickly. If you ever need to pull off the same feat without explaining yourself, think of Winger. Though, in this particular instance, he's probably bedazzling everyone within a five-foot radius with his fierce eyelashes.
---
5. "Wrong! WROOONG!"
One word. It rhymes with schlong, and it's what you always are. But as Winger demonstrates, it's not about the product in this case. It's about how you sell it.
---
6. "Is there a pill that makes the word 'no' clearer?"
If the person you're talking to is basic, sometimes "no" isn't enough. You have to strip them of all their dignity, resolve and sense of self in 10 words or less. How does one accomplish this? It's an art form that can't be taught to everyone.
---
7. "I am so amazing. But I'm not perfect."
For as incredible as Winger is, he's not perfect. I mean, as far as we're concerned, he can walk on water. That doesn't mean the pressure doesn't get to the man who's given the world so much sass. It's not easy being the divine conduit through which the world gets its steady stream of insults.
---
8. "Oh hey, is that a reason to leave?"
Biggest life lesson from Winger: become so adept at the spoken word that you can manipulate those around you. Need them to turn around? It's all about confidence and determination, mixed with a side of "get the f*ck out of my face."
---
9. "Will your reality ever come out on Blu-ray so we can enjoy it?"
If you're like Winger, you're one of the few people out there who sees the world as it truly is: a world where you're awesome and everyone else is lame. There are those heretics who claim otherwise, and you can do your best to tolerate them. But at the end of the day, their realities will never make it to a Blu-ray release.
---
10. "It's called chemistry. I have it with everybody!"
We expect whatever comes next to sound something like, "I'm sorry everyone is so jealous of me, but I can't help it that I'm popular." You either have it or you don't. If you have to force it, sorry, folks, you're just not a Winger.