The 11 Best (and Worst) Actors Who Moonlight as Rock Stars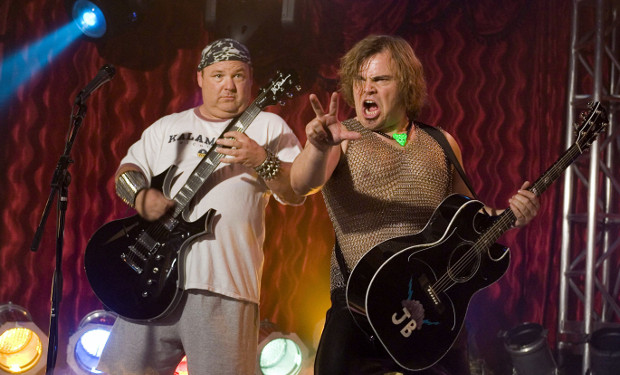 Posted by Brian Steele on
There comes a time for all of us when the world makes us grow up. We aren't going to make the NBA with our one-inch vertical. Our garage band probably isn't going to open for Bon Jovi, unless we learn what a C chord is. But for Hollywood superstars, no one ever says no. Just look at Keanu Reeves, whose band Dogstar did just that, performing as the opening act for the "Wanted Dead or Alive" rockers on their 1995 World Tour. Join us below for a look at a few actors' musical projects, and help us determine which are legit, and which get by on a big name and an even bigger ego.
11. Worst: Corey Feldman, Corey Feldman's Truth Movement
Oh boy. It's hard to criticize a band when it's clearly the result of some disturbing childhood traumas. Lord knows what made Mr. Feldman want to become a second rate Michael Jackson impersonator, vamping his way through a rental house in the Valley, with ads for an off-brand energy drink hanging in the background. Whatever it is, we wish him luck in his recovery so we never have to see anything like this again.
---
10. Best: Zoey Deschanel, She & Him
Love her or hate her, Zoey Deschanel is much more than her adorkable persona suggests. Singer-songwriter M. Ward met Deschanel on the set of The Go-Getter, and quickly discovered a kindred spirit. Deschanel admitted she loved to write music, but was embarrassed to share it because of her acting career. He encouraged her to do just that, and She & Him, a charming band that combines elements of indie pop, doo-wop and R&B, was born.
---
9. Worst: Jim Belushi, The New Blues Brothers
On a certain level, you've got to respect the hustle. I mean, a brother's got to work. But aren't we all a little uncomfortable that Jim Belushi has basically become a professional impersonator of his late, great brother? Sure, it looks like he's having fun up there, but doesn't he have enough According to Jim checks in the bank to just front his own band and not tarnish John's legacy?
---
8. Worst: Bruce Willis and the Accelerators
Hey, if you were drunk in a South Jersey bar at one in the morning, maybe this is the type of music you'd want to hear. But this band, which is made up of one superstar, and a group of studio musicians who like money, goes on nationwide tours and headlines Netflix concerts. If there isn't a dartboard within five feet of Bruce's hip shaking harmonica moves, something is very wrong.
---
7. Best: Maya Rudolph, The Rentals
The Rentals is a rock band fronted by Weezer bassist Matt Sharp. It's had a revolving door of musicians over the years, but one of the most popular was Maya Rudolph, who played keyboard and sang backing vocals on tour with the band before she broke out on Saturday Night Live. Since then, we've all gotten a taste of her powerhouse talents, but it just goes to show you, this was no vanity project. She's the real deal.
---
6. Worst: Johnny Depp, The Hollywood Vampires
Before Johnny Depp put on pancake makeup and turned into a living pile of scarves, he was a musician in bands The Kids and Rock City Angels. 21 Jump Street would change that, to the point that he complained earlier this year about actors moonlighting in bands, saying it "made [him] sick." He then immediately went and formed a new band, the aptly named Hollywood Vampires, with Alice Cooper and Aerosmith's Joe Perry.
5. Best: Donald Glover, Childish Gambino
Few would have thought that Troy from Community would become one of the most interesting rappers working today. While many of us with too much time on our hands may have plugged our names into an online Wu-Tang rap name generator, Donald somehow turned his results into a flourishing career in hip hop. Somehow, in a few short years, he's written for 30 Rock, starred on Community, had his own Comedy Central stand-up special, and been the focus of an online campaign to make him the next Spider-Man. But his rap career has increasingly become the thing he's known for, and with good reason. Renaissance man, meet the Internet.
---
4. Worst: Billy Bob Thornton, The Boxmasters
Oh Billy, maybe just lighten up a bit, and you'd be left alone to play your rockabilly music in peace. The actor, who can most recently be seen blowing the lid off the joint on FX's Fargo, is clearly passionate about his band. Maybe a little too passionate. When an interviewer deigned to ask him about his acting career, and not his tour with Willie Nelson, Thornton shut down, but not before insulting his Canadian audience, calling them "mashed potatoes without gravy." The band ended up canceling shows rather than being booed off the stage.
---
3. Best: Steve Martin, Steep Canyon Rangers
Steve Martin first burst onto the American comedy scene with a banjo in his hand and an arrow through his head. The arrow was long ago retired, but the banjo has become a prominent part of his life. No longer in the service of a laugh, Martin is a two-time Grammy winner, and even set up the "Steve Martin Prize for Excellence in Banjo and Bluegrass," an award established to reward artistry and bring greater visibility to bluegrass performers.
---
2. Worst: Russell Crowe, 30 Odd Foot of Grunts
Another misfire, at least in terms of the music. If Russell Crowe wants to throw back a few pints and belt out a song with some friends, then more power to him. But if he stuck to karaoke night at the local pub, we might all be better off for it. (It might've spared us his tone deaf turn in Les Miserables.)
---
1. Best: Jack Black, Tenacious D
Jack Black's whole identity is tied up in his comedy/rock band Tenacious D,  which he rocks out in with his band mate Kyle Gass. The two made their names by rocking as hard as any metal band ever, while also managing to make us laugh. It's no easy feat. The band has fronted its own TV show, its own music and comedy festival, and its own movie. They even won a Grammy for Best Metal Performance at the 2015 Grammys which puts them in the same category as such luminaries as Metallica and Jethro Tull.
---
On the Fence: Jared Leto, Thirty Seconds to Mars
Despite their critics, there are many people (particularly 12-year-old girls wearing too much eyeliner) who legitimately love this band. You have to admit, what probably started out as a vanity project has become the real thing. Hit records. Sold out tours. They were so successful, Mr. Leto seems to have forgotten he was an actor for a few years there until Dallas Buyers Club brought him back to the big screen. We'll call this band a Rorschach test. Good or bad is in the eye of the beholder.