Read This, Gently: 10 Things You Didn't Know About Tenacious D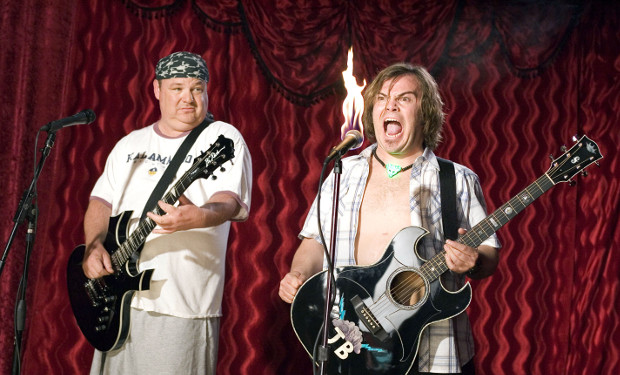 Posted by Mike Schuster on
In 1997, HBO granted airtime to a little known pair of acoustic rockers who went by the name Tenacious D. Comprised of two chubby musicians (Jack Black and Kyle Gass) with hearts made of pure metal, the band went on to recruit a legion of fans with their offbeat songs and white hot exuberance. They soon sold out massive concert venues, made their own feature length film, and played alongside some of music's biggest names.
But even the most dedicated fans may not be aware of the whole story behind Tenacious D. Here's a list of ten things you didn't know about history's most famous folk-metal duo.
10. Tim Robbins was instrumental to their genesis.
Tenacious D's origin story dates back to 1985 when the duo met as members of the Los Angeles-based theatre troupe The Actors' Gang, which was cofounded by Tim Robbins. Although there was animosity at first due to Black's larger-than-life persona, the musically charged performances in the plays helped bring them together.
---
9. They got their name from Marv Albert.
Yes! Ol' Back-Biter himself is responsible for dubbing Jack and Kyle Tenacious D. As the story goes, the duo were jamming, smoking weed, watching basketball, and in search of a name. When all of a sudden, sportscaster Marv Albert exclaimed after a particularly impressive play, "They're showing tenacious D out there!" And so it was said, so it was done.
---
8. Their first on-screen performance is in one of the worst movies of all time.
Currently standing at 5% on Rotten Tomatoes, 1996's Bio-Dome earned co-star Pauly Shore his third Razzie Award alongside Stephen Baldwin (admittedly, one of the lesser Baldwins) in a movie that's a go-to reference for truly awful cinematic abominations. But in a blink-and-you'll- miss-it appearance, Jack and Kyle perform as the folk-metal duo for the first time on-screen.
---
7. Dave Grohl has played on every one of their albums.
Dave Grohl, the obscure musician who performed in lesser-known bands like Nirvana, Foo Fighters, and Queens of the Stone Age, sat in on the drums for each of the duo's three studio albums. Grohl met the D when he was taken by the energy of a Tenacious D live show at the Viper Room, which led to the three sharing the stage at concerts, as well as many mutual cameos in music videos like "Learn to Fly" and "Tribute." (He also played The Lord of Darkness himself in Tenacious D in The Pick of Destiny.
---
6. Ren and Stimpy creator John Kricfalusi directed one of their videos.
Renowned curmudgeon and animator John Kricfalusi, who created a high-energy duo of his own, was tasked to direct the risque video for the song "F*** Her Gently" off Tenacious D's debut album. Produced for $40,000, the video was animated by Kricfalusi's studio team at Spümcø and features Jack and Kyle as cherubic angels who give the Devil pointers on, well, how to pleasure his lady friend.
5. Inward singing exists.
According to Jack during a skit on their debut album, his creation of inward singing — where the melody continues during the inhale as well as the exhale — would be responsible for non-stop rocking. Little did he know that the technique has been around for quite a while, most notably in Inuit Throat Singing where vocalizing the inhalation is a key to the distinctive sound.
---
4. Their firm stance on maintaining creative control led to their movie.
When it came time to order more episodes of the band's eponymous cable show, HBO stipulated that the duo must relinquish their roles as executive producers in order to get ten more episodes. Jack and Kyle balked and opted for making a feature-length film rather than continue the show. Thus, The Pick of Destiny was born.

---
3. They are politically involved and very, very pro-cannabis.
No surprise to their stoner comedy fans, Jack and Kyle are vocal proponents of the devil's plant and have performed at a benefit concert for the National Organization for the Reform of Marijuana Laws (NORML). They've also played alongside the Beastie Boys, David Crosby, and Graham Nash at a benefit concert for Barack Obama's presidential campaign, and in 2010 boycotted performances in Arizona due to the state's harsh views on immigration.
---
2. But they hate performing big venues.
In an interview with Relix, Black admitted to the band's reticence to get on stage before huge crowds and that they're always looking for loopholes to back out. "Pretty much every concert we've ever done, we're trying to find a way to cancel the show at the last minute. There's people out there chanting, 'D! D! D!' And that's something that causes nauseous-ness when you hear it backstage." However, once they come out, he admits, they're transformed into Gods of Thunder and the bravado returns.
---
1. They were criticized for winning a Grammy for Best Metal Performance.
Much like the gripes that followed Jethro Tull's 1988 win for Best Hard Rock/Metal Performance, Tenacious D's 2015 Grammy win in the same category wasn't well-received. After being nominated for Best Comedy Album in 2012 for their album Rize of the Fenix, music critics like Vice's Kim Kelly called the D a "joke band" and denounced the Grammys as being "utterly clueless" when it comes to music.
But, come on… they rock.