10 Dysfunctional TV Families We Can't Believe Haven't Killed Each Other Already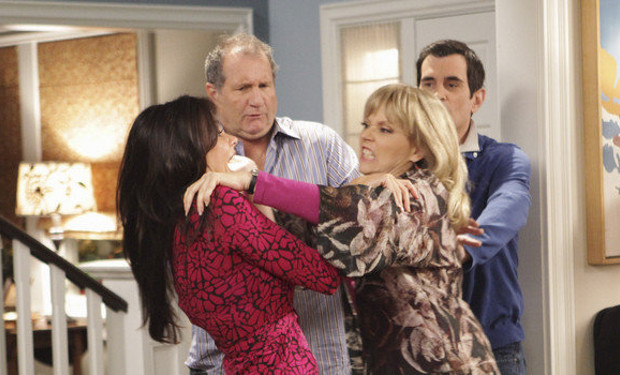 Posted by Nick Romano on
Families can be unbearable. That's why holidays are so hard to deal with —  they're full of family members! But when your clan is as off-the-walls crazy as the folks on Modern Family, you need lots of breaks. Jesse Tyler Ferguson is getting his break this week, as the actor will make an appearance on Comedy Bang! Bang! this Friday at 11 p.m. ET. We know what you're thinking, if you weren't already…
We're happy to have one-half of the Cam-Mitchell dynamic duo over at IFC, but it's no wonder he needs a break. Between his mother-in-law Gloria's unique way of pronouncing "helicopter," his sister's never-ending paranoia and pride, and his own daughter's commanding finger snaps, his sitcom family is too much to handle. In honor of them and all of the most insane families, here are our favorite TV families we're shocked haven't strangled each other in their sleep yet.
10. Modern Family
As we said, Mitchell has a burgeoning family. If you count close friends as part of the family, as well — we're looking at you, Elizabeth Banks — then there's even more to love…and feel smothered by. Just look at Lily. She may be one of the youngest members of the Duffy family, but she's already getting as saucy as her two dads.
---
9. Arrested Development 
The Bluth family has been through it all — lawsuits, treason charges, alcoholism, kleptomania, death, crazy exes and even more crazy ex-assistants. (Remember Judy Greer's off-the-wall Kitty Sanchez?) Some people say that children are a reflection of their parents. Well, if Lucille and George are any indication, then their kids are royally screwed. Actually, forget about George. You just need to look at Lucille's fabulously flawed self to get the picture.
---
8. Family Guy
Seth MacFarlane is the master of family dysfunction. He's got three shows with three equally outrageous dynamics, but it all started with Family Guy. When the patriarch is legally considered mentally deficient and pals around with his alcoholic dog, sex-crazed next-door neighbor and a wheelchair-bound cop, that's gonna have an effect on the rest of the family. Not to mention poor Meg could've sued her family for emotional abuse around episode five.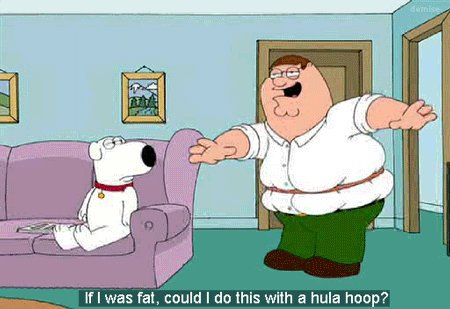 ---
7. American Dad
Stan's a CIA agent, Francine is his stay-at-home wife, Steve and Haley are their children, and Klaus is their goldfish who has the brain of a German athlete. But what makes this family special is the alcoholic alien living in their attic who loves dressing up and being super lame to everyone. Without him, their lives would fall apart. But with him, they're likely to become accomplices in his dastardly plot to get back at the J. Crew retail boy who called him basic…or whatever.
---
6. Shameless
What do you get when you combine a bum dad with good intentions, a super-smart con-artist-type son, another son who's gay and has some anger management issues, two snappy younger children, and the eldest who's trying to hold the entire family together? Great TV. The only question we have is, how do they keep managing to survive?
5. Bob's Burgers
Bob and Linda are great parents. Sure, Bob takes things a bit too far when it comes to the success of his restaurant. Sure, Linda is a tough-as-nails momma bear with an accent and personality befitting one of the Real Housewives of New Jersey. Sure, their kids are…unique — one has mental breakdowns when you take off take her bunny ears, another writes erotic zombie fiction in her journal, and the other once believed a toilet could be sentient. But they love each other, and that's what counts.
---
4. Boy Meets World
When Boy Meets World was on the air, Cory and Eric drove their mother and father to the brink of insanity without pushing them over the edge. Thankfully, Eric had Mr. "FEE-HEE-HEE-NAY!" and Cory had his BFF Shawn to lighten the load. Now that Cory's all grown up on Disney's Girl Meets World series, he's getting a taste of his own medicine.
---
3. Malcolm in the Middle
It was clear who wore the pants in the Cleavers' household: mamma Lois. She was the one we all loved to watch blow her lid off, but who could blame her when she had three mischievous boys and one adult-size child to look after? If only she knew that one day her husband would become Heisenberg, maybe she wouldn't have lost her cool so often.
---
2. Family Matters
R.I.P. Family Matters. This was one of the sitcoms we were especially sad to get the ax of cancellation. Their message was clear: family above all else. But the road to reaching expressing this was bumpy, especially when you have a persistent neighbor who's been over so many times that you've seen him coming out of the shower. And don't even get us started on Urkel-Bot.
---
1. The Simpsons
The Simpsons has been on for 26 seasons and they've managed to stay together through thick and thin. When Homer almost destroyed the Power Plant (and the entire town), his family was there. When Bart attempted to escape the po-po after skateboarding in the nude, his family…well, they were close by. When Marge was losing her hair and was planning her trip to the nuthouse, her family was there. Maybe George Bush Sr. was on to something when he said American families should be more like the Waltons and less like The Simpsons. But then we wouldn't have had hilarious moments like this: