8 Dating Shows You Won't Believe Existed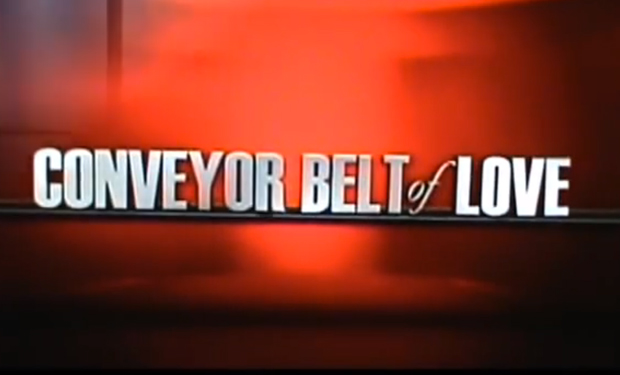 Posted by K Thor Jensen on
Love is strange, and even stranger when it's on TV. On Comedy Bang! Bang! this Friday, Reggie tries to mend his broken heart as a contestant on Scott's new dating show. That got us thinking about dating shows of the past, especially the super weird ones. Here are 8 dating shows you won't believe existed.
8. Conveyor Belt of Love
This ABC one-off took the discount sushi model and applied it to dating, with prospective bachelors brought on set by a conveyor belt.

---
7. Ex-treme Dating
The absolute worst person you can bring on a first date is an ex-lover, which was the whole premise of this syndicated nightmare.

---
6. Farmer Wants a Wife
This oddball CW series took ten city girls and had them vie for the affections of a Missouri bachelor on his family farm.

---
5. Kept
Jerry Hall, most famous for marrying Mick Jagger, had her own VH1 show where she looked for a "kept man" to be her boytoy love slave.

---
4. Married by America
Another brainstorm from Fox, this one took five guys and five girls and let the viewing public vote on who would marry who.

3. Adam Zkt. Eva
Other countries are a little looser about what they can show on TV, as evidenced by this bizarre Dutch show that puts naked daters on a desert island. Unfortunately, we can't find a clip that isn't super NSFW, so you're on your own with this one!
---
2. Sexy Beasts
Plenty of dating shows have tried to take looks out of the equation, but the BBC's Sexy Beasts covers daters with movie-quality monster makeup.

---
1. Chains of Love
A contestant gets literally chained to four prospective romantic partners in this demented update of a Dutch series.