7 Reasons Why You Can't Take Eric Andre Anywhere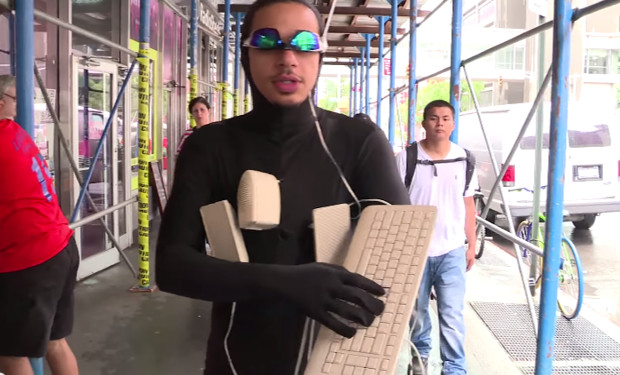 Posted by Cher Martinetti on
Eric André has taken being weird to the next level, and that level is pretty effin' hilarious. However, he kicks it up a notch (or ten) whenever he's released into the general public. It's all still super funny, but it also makes a pretty compelling case for never allowing him to roam the streets without adult supervision. To get you ready for his no doubt insanely hilarious appearance on Comedy Bang! Bang!, are a few examples of why you can't take Eric André anywhere.
7. He's been known to reach out and touch a stranger
Because nothing is creepier than a random dude touching your hand and assuring you that everything will be okay.
---
6. He makes pedestrians "pay the toll"
Scratch that. A random street cyclops is far creepier.
---
5. He brought us Bird Up, the worst show on television
Leave it to Eric André to reveal what happens when "putting a bird on it" goes horribly wrong.
---
4. He's leading a campaign to "legalize ranch"
We have no idea what a "bro-tendo" is, but we're definitely freaked out right now.
3. He annoys pedestrians as the "Google Robot"
To be fair, this actually isn't the craziest thing we've seen on the subway.
---
2. He interrupts Civil War re-enactments
The only time a Civil War re-enactment is worth watching is when Eric André crashes it with some historical truthiness, thus scaring all the Southern Belles in attendance.
---
1. He ruins Ronald McDonald for children everywhere
Oddly, this isn't the first time we've seen a grown man dressed in a clown suit crying into his burger at a McDonald's.
Watch a clip of Eric André from this week's episode of Comedy Bang! Bang!:

video player loading
.
.
.