9 Most Awkward Family Dinners in Movies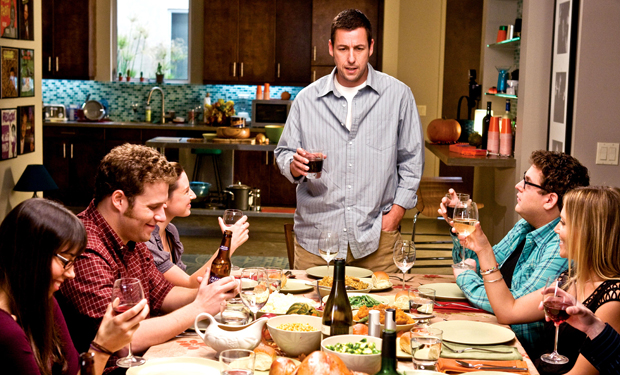 Posted by K Thor Jensen on
This Friday on Comedy Bang! Bang!, Scott and Reggie are cooking up something special. It's a Thanksgiving-tacular episode, so expect some turkey roastin', some pumpkin pie bakin' and a friendly, slightly terrifying visit from Fourvel.
video player loading
.
.
.
In honor of the holiday, we thought we'd take a look at 10 legendarily awful cinematic family meals. So read on and remember how good you've got it.
---
9. Pineapple Express
The only thing worse than a family dinner is a dinner with someone else's family, especially when you're eating with your girlfriend's parents… and you're super high.

---
8. Edward Scissorhands
Minding your manners is important, even if you have giant blades where your fingers should be and you were raised in a creepy castle.

---
7. A Very Brady Sequel
When Alice unwittingly doses the Bradys with spaghetti sauce made with psychedelic mushrooms, things get very trippy indeed.

---
6. Drag Me to Hell
When a family meal ends with an eyeball popping out of a harvest cake, you know that things are getting awkward.

5. Scent of a Woman
Frank Slade shows up uninvited to his brother's house for Thanksgiving dinner and all Hell breaks loose as Al Pacino puts the pedal to the overacting metal.

---
4. American Beauty
Pretty much every scene in American Beauty is awkward, but the family dinner after Lester quits his job is seething with humiliation and resentment.

---
3. Festen
This oddball Danish flick revolves around the elderly patriarch of a family getting his relations together around the dinner table, only for it to degenerate into chaos.

---
2. Funny People
The best Adam Sandler movie boasts a particularly hard-to-watch Thanksgiving dinner in which comedian George Simmons waxes morose about the dead.

---
1. Back to the Future
We can't think of anything that's more awkward than having your teenage mother try to put the moves on you during dinner.