Scott Aukerman Killed It on @midnight Last Night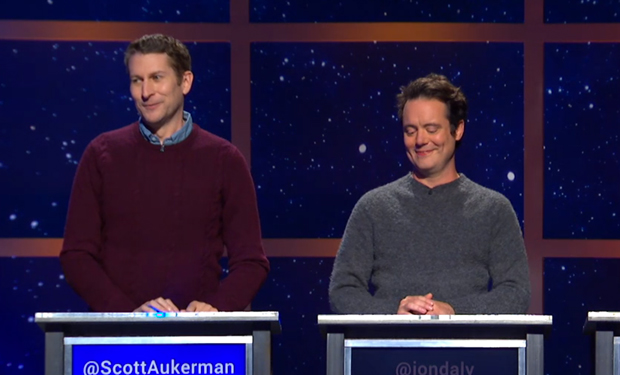 Posted by Melissa Locker on
Scott Aukerman stopped by @midnight last night to play a few rounds of Chris Hardwick's fast-paced game show alongside comedians Brett Gelman and Jon Daly, because we all have to do something to fill the empty hours before Comedy Bang! Bang! returns tonight at 11p.
They came up with the lamest mobsters they could think of, causing Hardwick to beg contestants of the present and future to stop referencing Joe Piscopo:
---
Then it was time for a lighting fast round of #FML or #YOLO, which Scott nailed with a little help from a grown man dressed as Buzz Lightyear:
---
The night ended with a round of The Blunder Years where they were encouraged to mock other people's embarrassing school photos:
Want the latest news from Comedy Bang! Bang!? Like them on Facebook and follow them on Twitter@comedybangbang and use the hashtag #cbbtv.
Comedy Bang! Bang! returns to IFC on Friday, October 17 at 11p