8 Biggest "Oh Sh*t" Moments From The Walking Dead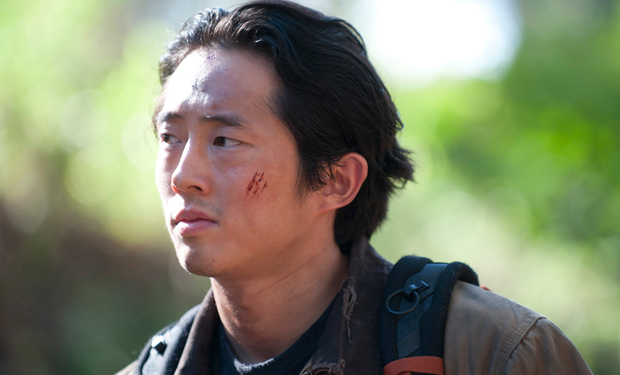 Posted by Nick Nadel on
Few TV shows have provided as many "Oh Sh*t!" moments as The Walking Dead. Over the course of the series, the stakes have only gotten bleaker and more gruesome for everyone's favorite dwindling band of zombie apocalypse survivors. So let's welcome Comedy Bang! Bang! guest Steven Yeun, aka The Walking Dead's Glenn, with a look at some of the moments from the hit AMC series that had us leaping from the couch and exclaiming "Oh Sh*t!" to no one in particular. (Seriously, our cat is starting to get freaked out.)
Oh, and in case it isn't obvious, SPOILERS AHEAD.
8. Rick Kills a Young Walker, Season 1
The Walking Dead kicked off with a literal bang when Rick gunned down a kid in the first episode. Granted, it was a bloodthirsty zombie kid. With one shot, The Walking Dead creators proved they wouldn't be pulling any punches.

---
7. Michonne Kills Penny, Season 3
The reveal that The Governor was keeping his zombie-fied daughter alive was pretty shocking. But the moment when Michonne drove a sword through her head really had us gasping.

---
6. Shane Kills Otis, Season 2
At the time, Dale and the rest of the group frowned on Shane shooting Otis in order to save Carl from a pack of Walkers. But considering what's happened sense, it seems like more of a mercy killing.

5. Sophia Comes Out of the Barn, Season 2
For much of season 2, viewers were holding out hope that little Sophia was just lost in the woods. Turns out she was in the zombie barn all along. We know better now than to assume things will turn out okay.

4. Lori Gives Birth, Season 3
Baby Judith's birth is also the end of Carl's childhood as the young man is forced to shoot his dying mother Lori in the head to prevent her from coming back as a Walker.

---
3. Hershel Loses His Head, Season 4
Ever since his first appearance at the farm in Season 2, Hershel Greene has been a calm presence amid a storm of bloody chaos. So it was particularly shocking to witness his death, and the calm manner in which he accepted his fate, at the hands of the Governor last season.

---
2. The Terminus Slaughterhouse, Season 5
Leave it to The Walking Dead to include one of the series' most shocking moments in the first episode of the new season. We figured that Rick and the other survivors were in for it once they were tossed in a trailer upon arriving at Terminus, a so-called sanctuary that is in fact home to some bloodthirsty survivalist cannibals. But nothing could've prepared us for the grim brutality of the Terminus slaughter room and everything that came after.

---
1. Lizzie Kills Mika, Season 4
Fans are still talking about the harrowing moment when Carol and Tyrese found young Mika murdered at the hands of her unstable sister Lizzie. It's an episode that divided fans (had the show officially gone too far?) but still has us all talking today.