Comedy Bang! Bang! Returns Friday, Oct. 17 11p with Tons of Guest Stars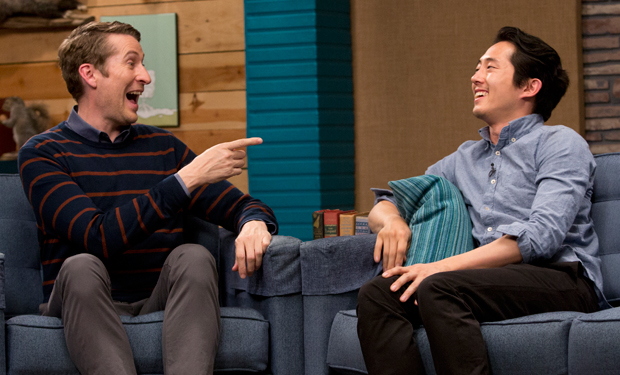 Posted by FIX Staff on
Fridays are about to get TGIF'ed up. Comedy Bang! Bang! returns on Friday, Oct. 17 11p with the second half of season three. Joining host Scott Aukerman and his musical cohort Reggie Watts are a whole slew of stars, which you can check out in the handy gray box below:
James Adomian, Eric Andre, Dane Cook, Rob Corddry, Andy Daly, Jon Daly, Chris Hardwick, Ellie Kemper, Lauren Lapkus, Bobby Moynihan, Horatio Sanz, Kevin Smith, Amber Tamblyn and Steven Yeun. Also, be on the look out for special appearances by Ronnie Adrian, Matt Besser, Ben Blacker, Neil Campbell, Whitney Cummings, Rhys Darby, Erinn Hayes, Anthony Jeselnik, Jay Johnston, Jaime King, Bruce McCulloch, Kevin Nealon, Tig Notaro, Lennon Parham, Jeff Ross, French Stewart, Nick Thune, Alan Tudyk, James Urbaniak and Baron Vaughn.
Also, guest stars from the world of music this season will be musician Wayne Coyne from The Flaming Lips, comedy music group The Lonely Island, indie rock band Future Islands, indie rock band The National, punk rock band The Vandals and comedic musician "Weird Al" Yankovic.
After Comedy Bang! Bang!, stick around for season two of The Birthday Boys, which premieres right after at 11:30p.
Remember: watch responsibly!