Scott Aukerman Dishes on the Comedy Bang! Bang! Musical Extravaganza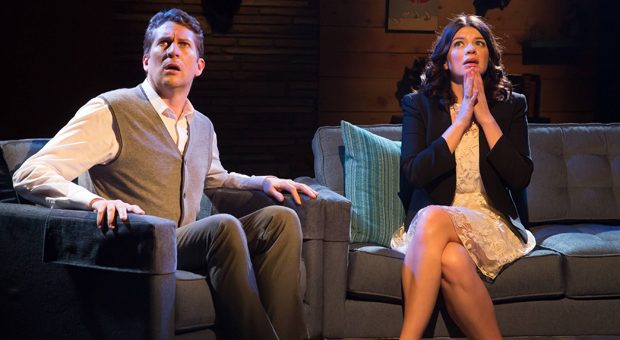 Posted by Vincent Genovese on
Do you hear the people sing? This Friday you will, as Comedy Bang! Bang! takes a page from the Great White Way. Casey Wilson—along with special guests Thomas Lennon and Paul F. Tompkins—joins Scott Aukerman and Reggie Watts for musical extravaganza inspired by the works of Andrew Lloyd Webber, who also happens to make an appearance (sort of). We spoke with Scott about the influences behind the episode, his background in theater and why he thinks Les Mis is "strange."
When studying musical theater, were you planning on taking the comedy route or did you have interests in dramatic acting?
When I was studying acting, I was mainly focusing on musical theater. I did productions of Jesus Christ Superstar, Joseph and the Amazing Technicolor Dreamcoat, Oklahoma, and West Side Story. But I also studied Shakespeare (aka "The Immortal Bard") and dramatic acting as well. Additionally, I would write dramatic plays in my spare time and put up productions of them. But, being so interested in comedy, that's where my interests mainly lied. My friends always told me that my comedic writing was way better than my dramatic writing, and that I should maybe go into comedy. And the rest is her-story!
When did the idea strike you for a musical episode of Comedy Bang! Bang!? Is it something you wanted to do since the first season?
It's kind of a long-standing tradition for a TV show to do a musical episode. Lots of series have done it. So it's something that's been in the back of our minds for a while. The Buffy the Vampire Slayer one is a recent standout. They came up with an excellent reason WHY it was happening, which was something we were very concerned about as well. We wrote about ten drafts of the script, and, in the early ones, there was no rhyme or reason to it—we all just were singing all the time. But once we hit on the storyline that ended up in the episode, everything else fell into place.
What are some of your Broadway influences?
I was super-into Mandy Patinkin as a high schooler—I would sit in my room, singing "Finishing the Hat" all day. We put him into the Mr. Show movie because I was so obsessed with him—and I got to act in a scene with him. About a year ago, Kulap and I went to see him and Patti LuPone do their two-person Broadway show, and it was fantastic! I've always wanted to do Sweeney Todd, as well.
There are hilarious parodies in the episode of famous Les Misérables songs (ex. "I Dreamed a Dream"). Are you a fan Tom Hooper's film adaptation?
I think that's generally just a weird musical. I've seen three different productions of it, and the movie, and it's just so strange. The plot doesn't make a lot of sense, when you think about it. I think the cast of the movie falls into two different catagories—those who can sing, and those who can't. It's pretty painful when you're listening to the latter.
What's your favorite Andrew Lloyd Weber song?
I love Jesus Christ Superstar—I got to understudy the part of Jesus once, and it was always my dream to play it. I would probably say "Gethsemene," which I would sing all the time. When I was in my old band, I used to play a mash-up of that song, along with XTC's "Dear God," which have similar chord structures and themes.
Want the latest news from Comedy Bang! Bang!? Like them on Facebook and follow them on Twitter @comedybangbang and use the hashtag #cbbtv.
Comedy Bang! Bang! airs on IFC on Fridays at 10/9c