Watch the Premiere of Comedy Bang! Bang! Season Two in The Stream Room Now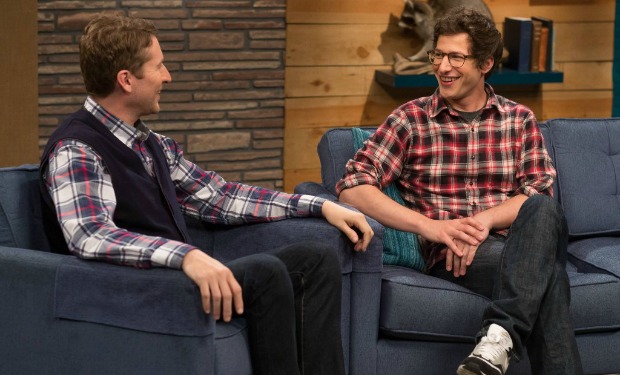 Posted by Melissa Locker on
As you may have heard or seen or smelled or tasted (we aim to be accessible to all), Comedy Bang! Bang!is back. The second season of the wacky variety talk show hosted by Scott Aukerman and musical cohort Reggie Watts is filled with nonstop action and, perhaps more importantly, nonstop comedic absurdity with some of the biggest names in Hollywood including Jessica Alba, Aziz Ansari, David Cross, Zach Galifianakis, Bill Hader, Pee-wee Herman, Rashida Jones, Anna Kendrick, Jason Schwartzman, Sarah Silverman & more.
We know you wanted to watch the premiere of the second season, but maybe you were abducted by aliens on Friday night and they forced you to make crop circles next to an Iowa trailer park instead of watching Comedy Bang! Bang!. Maybe you were in a medically-induced coma and couldn't rouse yourself to watch Andy Samberg stop by. Maybe you were being held hostage in the back of a Safeway by a crazed gunman demanding the return of Jolt! cola, because that would be the only reasonable excuse to not watch Scott's and Reggie's triumphant return to television. Don't worry, we have your back. You can now watch the premiere episode of Comedy Bang! Bang! in The Stream Room.
In the season premiere, we got to find out what Scott and Reggie have been up to since last season and then there's that whole thing where Reggie enters a cybernetic computer world. That would totally happen on The View, right? WRONG. That's just part of the reason why we love Comedy Bang! Bang!. Watch the season two premiere now and then tune in for a new episode of Comedy Bang! Bang! on Friday at 10/9c:
video player loading
.
.
.
Want the latest news from Comedy Bang! Bang!? Like them on Facebook and follow them on Twitter@comedybangbang and use the hashtag #cbbtv.
Comedy Bang! Bang! airs on IFC on Fridays at 10/9c