Scott Aukerman Is Doing a Q&A on Uproxx Today from 2–3 PM ET/11-12 PT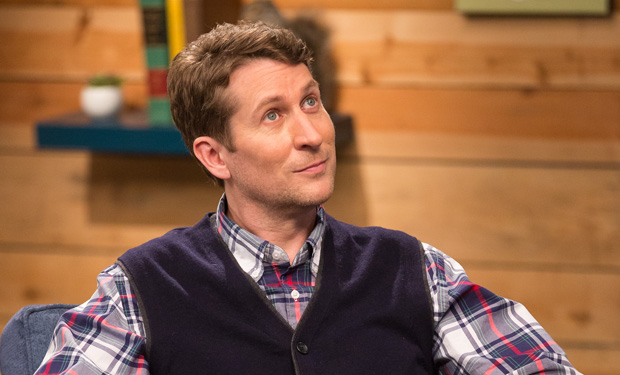 Posted by Melissa Locker on
As you may have been able to guess, Scott Aukerman is a very busy little beaver of a man. Not only is he knee-deep in the second season of Comedy Bang! Bang!, a new episode of which airs this Friday at 10/9c with guest star Anna Kendrick, but he also has a stellar podcast of the same name Comedy Bang Bang: The Podcast on the Earwolf podcast network, which he co-founded. Scott was also a writer on Mr. Show with Bob and David and is the director/producer of the always hilarious Between Two Ferns with Zach Galifianakis.
But just because Scott is busy making pretty much everything that we love doesn't mean that he doesn't have time for you! That's why you (yes, YOU!) need to head over to Uproxx today at 2 p.m. ET/11am PT to talk to Scott.
As some of you may recall, Scott did a Q &A at Uproxx a year ago when the TV show was just a wee little baby and he had such a good time that he wanted to do it all again. What should you ask him about? Ask him how he packs so many character cameos, sketches and nonstop comedic absurdity into one episode of Comedy Bang! Bang! Ask him how he got some of the biggest names in Hollywood including Jessica Alba, Aziz Ansari, David Cross, Zach Galifianakis, Bill Hader, Pee-wee Herman, Rashida Jones, Anna Kendrick, Jason Schwartzman, Sarah Silverman and more to be on the show's second season. Ask him whatever you want! Just make sure he opens the floor to questions first.
The Comedy Bang! Bang! host Scott Aukerman will be swinging by the discussion on Uproxx from 2 PM to 3 p.m. EST, to answer your queries.
Want the latest news from Comedy Bang! Bang!? Like them on Facebook and follow them on Twitter@comedybangbang and use the hashtag #cbbtv.
Comedy Bang! Bang! airs on IFC on Fridays at 10/9c