Download A Free Episode Of Comedy Bang! Bang! Starring Sarah Silverman Now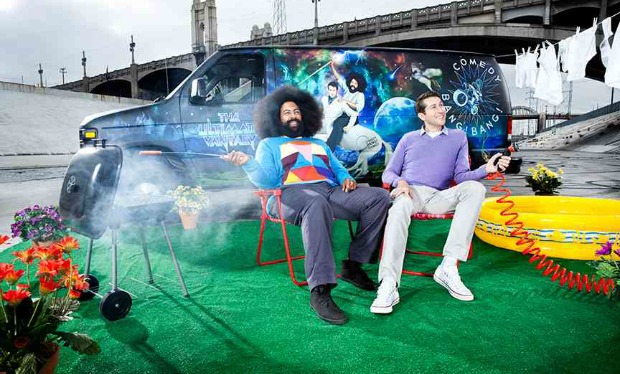 Posted by Melissa Locker on
As fans of Comedy Bang! Bang! – television show or podcast– know, there aren't too many times that we get to see host Scott Aukerman at a loss for words. That's why the episode where Scott gets tongue-tied during his interview with Sarah Silverman during Comedy Bang! Bang!'s second season is mandatory viewing. Luckily, it's really easy to watch, because if you head to iTunes right now, you can download the episode titled "Sarah Silverman Wears a Black Dress with a White Collar" for absolutely free.
While you're there, sign up for a season pass on iTunes, so you won't miss a single episode of Comedy Bang! Bang!'s upcoming second season, which returns to IFC on Friday, July 12 at 10/9c The second season is filled with more Scott, more Reggie Watts, more character cameos, more sketches, and more nonstop comedic absurdity with some of the biggest names in Hollywood including Jessica Alba, Aziz Ansari, David Cross, Zach Galifianakis, Bill Hader, Pee-wee Herman, Rashida Jones, Anna Kendrick, Jason Schwartzman, Sarah Silverman & more.
Want the latest news from Comedy Bang! Bang!? Like them on Facebook and follow them on Twitter@comedybangbang and use the hashtag #cbbtv.
Comedy Bang! Bang! returns to IFC on Friday, July 12 at 10/9c