Watch Aziz Ansari Introduce His Emoji Movie on Comedy Bang! Bang! on Friday at 10/9c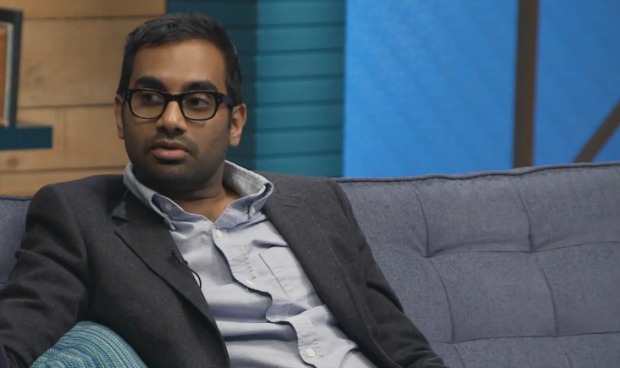 Posted by Melissa Locker on
Comedy Bang! Bang! is back with a completely contextually appropriate bang! On the premiere of the brand new season, The Lonely Island's Andy Samberg stopped by the show to chat about guns, girls and going pee with host Scott Aukerman and his one-man house band Reggie Watts. It went pretty much like you would expect:
This Friday, things get even more Comedy Bang! Bang! if you know what we mean (and we think you do). When host Scott Aukerman asks guest Aziz Ansari (Parks and Recreation) to explain how Twitter has changed his life (in 140 characters or less, obviously), little did he know he opened up a can of "emoticon" worms. As it turns out, Aziz just wrote a screenplay based on the "lady in a red dress" emoji starring A-listers Jennifer Lawrence, Dustin Hoffman and Blake Lively. Even Scott is offered his own starring role.
Watch this clip now so you can start spreading buzz about the emoji movie and then tune in for the full episode of Comedy Bang! Bang! on Friday, July 19 at 10/9c with featured guest star Aziz Ansari and special guests include Nick Kroll, Cedric Yarborough and Chris Meloni (Law & Order: SVU):
video player loading
.
.
.
Want the latest news from Comedy Bang! Bang!? Like them on Facebook and follow them on Twitter@comedybangbang and use the hashtag #cbbtv.
Comedy Bang! Bang! airs on IFC on Fridays at 10/9c