Watch Sarah Silverman on Comedy Bang! Bang! Now in The Stream Room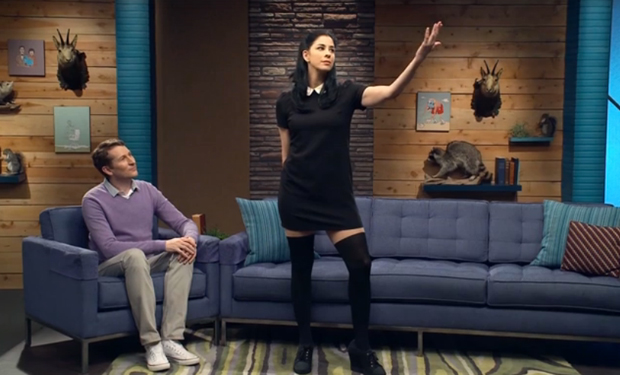 Posted by Melissa Locker on
We know that fans of Comedy Bang! Bang! are eager for the show's return on Friday, July 12 at 10/9c. We hear the heart-wrenching pleas of fans yearning for a hint of what happens next every day via Twitter and Facebook and passenger pigeons carrying coded messages. And we wish we could answer those cries with a new crop of sneak peeks, quirky characters, and punchy one-liners. However, the creation of the show is cloaked in the utmost secrecy and only Scott Aukerman and Reggie Watts know the exact location of the set and they keep the coordinates locked in metal-lined attache cases that are handcuffed to their wrists even when they sleep.
Yet we could not leave unanswered the cries of fans clamoring for a hint of what was to come in season two of Comedy Bang! Bang! forever, and as Scott and Reggie make their way across the country in their sweet ride, we did what any dedicated cable network would do: We snuck out some sneak peeks. Yesterday we released Parks and Recreation star Aziz Ansari singing about being vegan in a sneak peak at Reggie Makes Music. Since we weren't raided by the FBI or Paul F. Tompkins, today we are going big: If you go to the The Stream Room right now, you can watch a full episode ripped straight from the second season of Comedy Bang! Bang! starring none other than Sarah Silverman. The episode was smuggled out of the set in a manner that only fans of Quentin Tarantino's Pulp Fiction can truly understand. Just think Christopher Walken and The Watch. We hope you enjoy them.
Head to The Stream Room to watch now.
Want the latest news from Comedy Bang! Bang!? Like them on Facebook and follow them on Twitter@comedybangbang and use the hashtag #cbbtv.
Comedy Bang! Bang! returns to IFC on Friday, July 12 at 10/9c