Some of the things we learned from Reggie Watts' Reddit AMA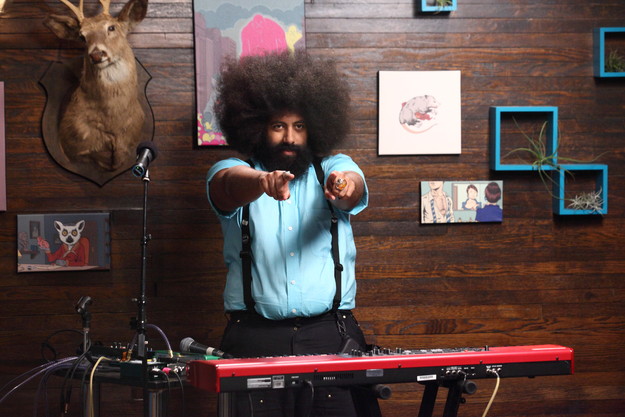 Posted by Melissa Locker on
Comedy Bang! Bang! one-man band Reggie Watts hopped on Reddit yesterday for an Ask Me Anything (AMA) and answered all the questions lobbed at him. Apparently he had so much fun doing the JASH AMA that he couldn't wait to go back for more.
* Comedy Bang! Bang! season two is underway (we knew that already) and Scott and Reggie apparently "goof around" on set. Get back to work, guys!
"Yes, we're halfway through filming season 2 of Comedy Bang Bang. Scott is one of the smartest, funniest guys I know and it's a pleasure to work with him. We goof around and make bad puns to each other a lot."
* Reggie is planning on doing an album:
"Yes, the plan is to do some straight-up music stuff this year and release it this year. You can subscribe to my YouTube channel if you want to check out my new stuff."
* After working together on the film "Shut Up and Play the Hits," Reggie is hoping to team up with LCD Soundsystem frontman James Murphy:
"Yea, James and I have talked about doing something together but he's such a busy guy it will happen when it happens naturally."
* Reggie's hair is not what it seems:
"It's holographic, so there's nothing to send." Also, it apparently tastes like "Angie Stone."
* Reggie has some collaborators in mind, including Robert Glasper, who he collaborated with at SF Sketchfest
"I would like to collaborate with…I don't know, maybe Jack White would be fun? Robert Glasper. Or Michael Mayer from Kompact Records." Later adding, "It would be an honor to work with Jack, he's a very complicated person who's capable of almost anything."
* He doesn't know where his inspiration comes from
"Yeah, I have no idea really. They just happen in the moment, whatever the dumbest shit is, that's what happens. For the inspiration for my latest video "If you're Fucking, You're Fucking" – the inspiration was just how dumb it is. The idea of how dumb it is to have a song that addresses a question that no one would ever ask…"
* Reggie also had some advice for aspiring improv performers
"Just don't be afraid to do really dumb shit."
* The most surprising thing we found out was that Reggie was on Bill Nye the Science Guy for something called "Cave Thing":
Read the whole AMA here. It's fun and will kill at least 25 minutes of the work day.
Want the latest news from Comedy Bang! Bang!? Like them on Facebook and follow them on Twitter@comedybangbang and use the hashtag #cbbtv.
Comedy Bang! Bang! returns to IFC this summer/em>