Scott Aukerman on Comedy Bang! Bang!, SXSW and the worst job ever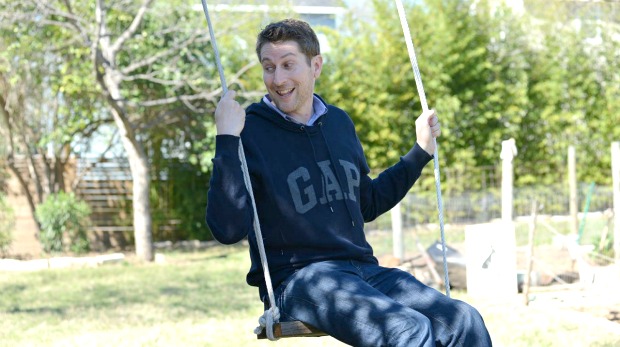 Posted by Melissa Locker on
During this year's SXSW festival, Scott Aukerman couldn't stick around Austin for very long because he had to get back to Los Angeles to continue working on the second season of Comedy Bang! Bang! He took some time out of his schedule of podcast tapings, Comedy Bang! Bang! live and panel discussions to chat about Comedy Bang! Bang!, being drunk and the worst job he's ever had.
Hi Scott, how do you think season two is going so far?
Great! The stuff we've shot is really amazing. It feels bigger this year. We've shot a couple of huge, huge pieces that are really technically impressive.
You have always been good at Green Screen.
This is stuff that's not even on Green Screen. This is huge builds and massive crews and special effects and stuff. It's been pretty cool. We taped one show, which is kind of a dream come true show for me, which I can't really talk about what it is. But it's a crazy show. Some of the IFC people were actually on set that particular day and they were blown away by it. It's a really incredible episode. So yeah, season two has been going great. We are about six episodes in so far and we have 14 more to do.
Was such a large order daunting or exciting?
It wasn't daunting when they first told me about it because I kind of am of the mindset that you just say to yes to everything and then just figure out how to do it, how to work it into your life somehow. So I said yes and I didn't think much of it until week one or two of writing. Well, the first few weeks of writing we just wrote pieces and put cards up on the board, but after two weeks I made the cards for 201, 202, 203 all the way through 220 and realized the slots that we would need to fill and that's when it started to feel really daunting to me. Like, oh there are nine or ten slots per episode that we need to fill, if there are 10 slots per episode that we need to fill, we need 200 cards. That's when it started to fill daunting, like we've been working for two weeks and we have 20 cards. But by the end of the writing we had more stuff than we needed and realized we could cut stuff. We didn't have to use something just because it was there.
How is the process different between the show, the video podcast and your regular podcast?
Obviously we put a ton of work into the TV show. The podcast for me is 100% improvisational, so I put no thought into it other than the catchphrase and the engineer picks the plug song from the internet. That is just completely improvisational, I just show up and do it and fly by the seat of my pants. Same with the video podcast, they are just filming what I am doing. As for the TV show there's just way more work going into it, but at the same time, half of it is improv'd as well. That's the part that always give me a knot in my stomach on the day that we do it, like, 'oh man, how is this going to go. I have this celebrity on the show and I've never met them before and I'm supposed to improv a whole interview with them and do bits with them.' But it always turns out great.
Does grapefruit vodka help? [Ed note: Scott is drinking a grapefruit vodka.]
Yes, I'm drunk the entire show. It's a lot like Match Game 77 like that. I am completely obliterated the entire time and that helps. So if you're reading this, just get drunk! It helps! It helps you through life. You know, just self medicate. What I want to get out there to people is that you can bury your issues down so far that they never have to come to the surface.
Joking aside, your job does seem incredibly hard, because you're improv'ing but you're also in charge and have to keep the show moving along and on track.
Thank you so much for noticing!
You're welcome, but really it seems like a stressful job.
It's not stressful for the podcast any more, but it is interesting when I am on other people's shows or podcasts, I can just be funny and be myself. If I'm on Doug Loves Movies, for instance, I can just lay out and tell a joke and I don't have to be constantly talking. When you're the host of the show you have to be constantly steering. Sometimes people tell me, 'Oh wow, I heard you on another show and you were much funnier than you are on your show.' Which is a lovely compliment, by the way. When you're the host of something you do have to be mindful of the whole and keep it moving in the direction that you want it to go and you can't just be the sarcastic jerk who says funny things.
Well you could, but it probably wouldn't make great television.
Right, you could have as an interview style that you ask someone a question and whatever they say, just make fun of it and then stare at them.
You have been growing your Earwolf network, maybe there's a space in it for a show like that.
Yeah, there could be a show like that. I'm not sure how I would get anyone to agree to be on it, but it could be a show.
Speaking of Earwolf, you have been building an empire for yourself there.
An empire? Oh you mean my house. Yes, I did set out to build the largest house in America, bigger than the "Queen of Versailles" house. The documentary inspired me, but not build a house solely of rooms, but comprised solely of bathrooms. I have a one-bedroom, 450-bath house, and I'm slowly adding more. Sometimes I'll just think, 'I need to add another bath.'
I agree. You should only use a bathroom once.
Exactly! I don't want to use a toilet after I've already used it! That's just diz-gusting.
It also seems that you have a great diaspora of talent coming out of your shows. Do you feel sort of paternal watching James Adomian get bigger and bigger or Chelsea Peretti writing on "Saturday Night Live"?
Well, James Adomian has been on my show a lot. I've been a fan of him forever. I saw him do an improve show back in 2000. It's hard to feel paternal when you see a guy like that and you think, 'Oh that guy is going to be huge.' It's more like you as a producer want to work with him because you know he is going to be successful. I wouldn't take any credit for his success, because I'm just a guy who recognized that he was going to be incredibly successful and said, 'Please do it on my show and not anyone else's!' Most of the people I work with would be incredibly successful without me and I'm just happy to be able to go along for the ride.

What is an awkward high school experience that you are willing to share?
An awkward time for me was day one of Freshman year through last day of senior year. I used to work at Knottsberry Farm…
Really?
I used to work at Disneyland as well.
Were you in costume?
I was in costume at Disneyland as Goofy and Brer Bear and Captain Hook.
Who is Brer Bear?
From the "Song of the South," which is the DVD that the Disney Corporation would prefer you not see,

Oh right, they keep trying to make it less and less racist.
I don't think they are trying to make it less and less racist. I don't think they are altering the film every year. I don't think can make it less racist. I think it just is racist and they buried in the Disney vault.
But you dressed up as Brer Bear.
Yes. It was probably the worst job I ever had, but I also worked at Knottsberry Farm in security. They don't have costumed characters at Knottsberry Farm. I worked security there during the Halloween years and we had a system there where my friend, who was a really good-looking, hunky guy, a really popular guy in high school – he was the lead singer in my band – he worked in one of the mazes as a monster. If he ever saw two good-looking girls, he would jump into their car, take off his mask, show that he was handsome and talk to them and ask them out on a date. He would tell them to go give their number to his friend who was working security outside. I would constantly be working security and girls would come up to me and say, 'Give my number to Dave!' So we were going on one of these dates once. It was Dave, these two girls and me and we chatted for a while and we said, 'Okay let's go!' and we got up to go and the girls said to me, 'Oh you're coming too?'
Ouch. That must have stuck with you for awhile.
Well, yes, when you asked me for an awkward moment, that was the first thing that popped into my mind. I probably have 30 or 40 other ones.
Is there anything that you can tell us about season two?
I think people can look forward to a beginning and then several episodes shall occur and then there will be an end. But it really will be bigger than what we did last year. It's more ambitious. The guest stars are incredible. I had my dream guest on the show and I think people are going to be really excited to see that one. I think the writers this year were at the top of their game and came up with really funny sketches. I'm just really proud of the show and the way it's grown.