Re-live the good times: Weird Al Yankovic and Jon Heder on Comedy Bang! Bang!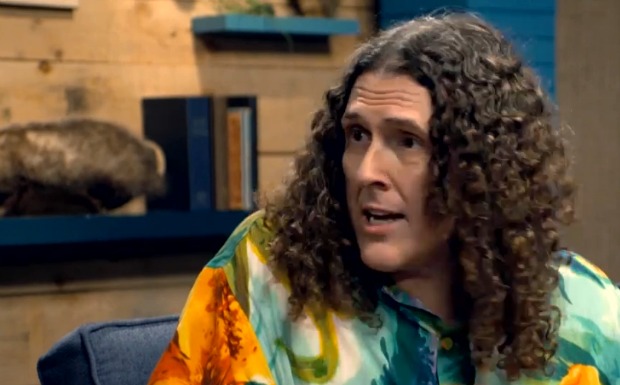 Posted by Melissa Locker on
Boys don't cry. big girls don't cry. But we'll admit it: We miss Comedy Bang! Bang! and there is a tear in our beer 'cause we're wishing it was still here. Luckily we have re-airings to help us get through these tough times. And when the show is off the air, we'll always have the clips of Scott Aukerman and Reggie Watts making their incomparable guests (Jon Hamm! Amy Poehler! Seth Rogen!) feel right at home on the lovely set of Comedy Bang! Bang! The clips are a treasure trove of some of the best bits from the show's first season, including, of course, the entire web series Reggie Makes Music featuring the mad musical skills of Tenacious D, Ed Helms, and Paul Rudd among many other excellent guests.
So when we are not crying into our pillows or lighting candles at our Scott Aukerman shrine praying for one more installment of Celebrity Advice with Andy Samberg, Patton Oswalt, and Bob Odenkirk, we're watching clips. Which is when we realized that we hadn't posted this delightful clip of Weird Al Yankovic and Jon Heder. It's like Christmas in August! Please to enjoy:
Facebook and follow them on Twitter@comedybangbang and use the hashtag #cbbtv.
Check the schedule for re-airings of Comedy Bang! Bang! airs on IFC