Five reasons to watch Weird Al on Comedy Bang! Bang! this Friday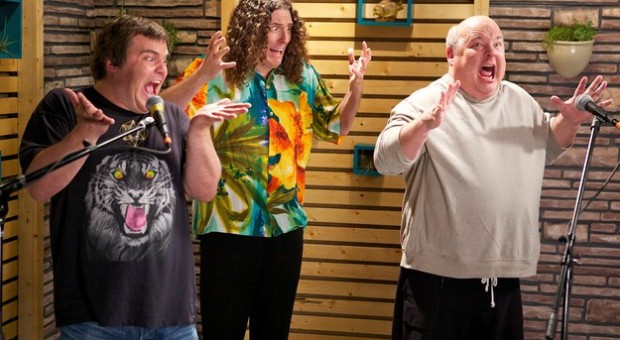 Posted by Melissa Locker on
On the final week of this season of Comedy Bang! Bang! host Scott Aukerman welcomes guest "Weird Al" Yankovic. Yep, the polka king with a knack for parody is stopping by to smash all musical conventions, as he does every time he picks up his accordion. But you may have guessed that Weird Al was the guest because of his awesome appearance on our web series Reggie Makes Music. If you watched the video, you may have noticed some other surprises, too. (In fact, you should feel free to watch it over and over again just in case you missed anything.) Did you spot the special guest? Yep, Jack Black a.k.a. Tenacious D stops by the Comedy Bang! Bang! set to play a new song with bandleader Reggie Watts. Sounds great, right?
If you need more convincing because you are a slow learner, here are five great reasons to tune in to Comedy Bang! Bang! on Friday at 10/9c:
1. "Party in the CIA"
2. "Trapped in the Drive Thru"
3. "Fat"
4. "Weasel Stomping Day"
5. "White & Nerdy"
Want the latest news from Comedy Bang! Bang!? Like them on Facebook and follow them on Twitter@comedybangbang and use the hashtag #cbbtv.
Comedy Bang! Bang! airs on IFC on Fridays at 10/9c