Comedy Bang! Bang! gets into presidential politics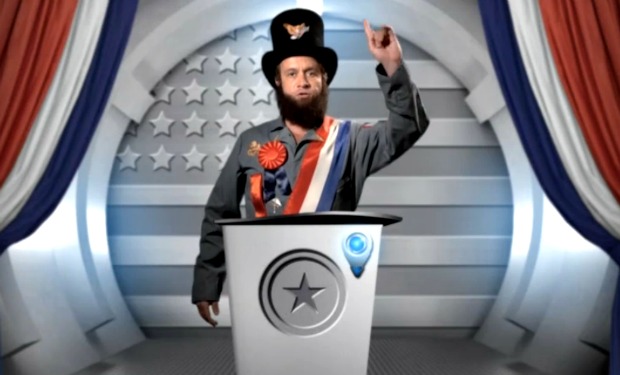 Posted by Melissa Locker on
We know we spend a lot of time watching television (which we are proud of because it is the American thing to do) but sometimes we set our DVRs and step outside and take note out of the outside world. It's hard, but it's the sacrifice we must make to know things such as the fact there is an impending presidential election. Yep, you heard it hear first (or last, depending) America is a electing a new president. Come November, the Oval Office is going to be occupied by either the guy who is in there now or the guy who isn't in there now. Politics are thrilling stuff and the allure of an election is hard to ignore, which is why we were not at all surprised when Comedy Bang! Bang! entered the political arena and promoted a presidential candidate of their own. After all Comedy Bang! Bang! is one of the oldest entertainment institutions around. So who are Scott Aukerman and Reggie Watts rooting for? President Weasel, of course. It's what's right for America. In about 40 years.
Watch the latest clip and be sure to tune in to Comedy Bang! Bang! on Fridays at 10/9c:
video player loading
.
.
.
Want the latest news from Comedy Bang! Bang!? Like them on Facebook and follow them on Twitter@comedybangbang and use the hashtag #cbbtv.
Comedy Bang! Bang! airs on IFC on Fridays at 10/9c