Watch Reggie Watts on NPR's Tiny Desk Concert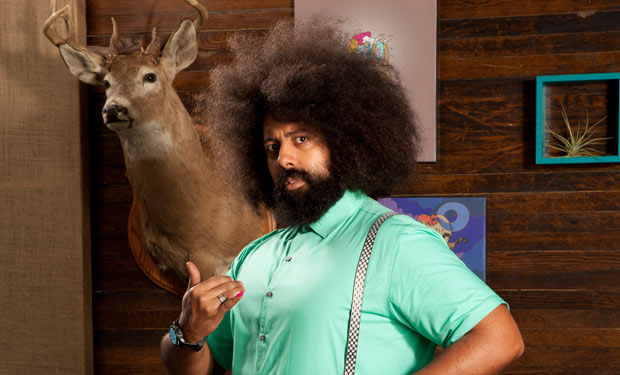 Posted by Melissa Locker on
We know and love comedian, musician, and one-man Scott Aukerman foil, Reggie Watts, so we are always glad to see him getting to leave his corner of the Comedy Bang! Bang! set and do something fun. Sure he gets to hang out and sing songs with Jon Hamm, Michael Cera and Casey Wilson while he works, but we have to let him out occasionally. Not for naps, of course, because he can do that at work, but for fresh air or something. There are laws after all. So during a break from Comedy Bang! Bang! Reggie recently visited the NPR offices with his loop and delay pedals and microphone in tow and set up shop for one of their Tiny Desk Concerts. The result is two minutes of musical magic with Reggie at the helm.
Watch Reggie make synth magic and be sure to tune into Comedy Bang! Bang! on Friday at 10/9c to show Reggie that you appreciate all his hard work:
Want the latest news from Comedy Bang! Bang!? Like them on Facebook and follow them on Twitter@comedybangbang and use the hashtag #cbbtv.
Comedy Bang! Bang! airs on IFC on Fridays at 10/9c