Five reasons to watch Ed Helms on Comedy Bang! Bang! this Friday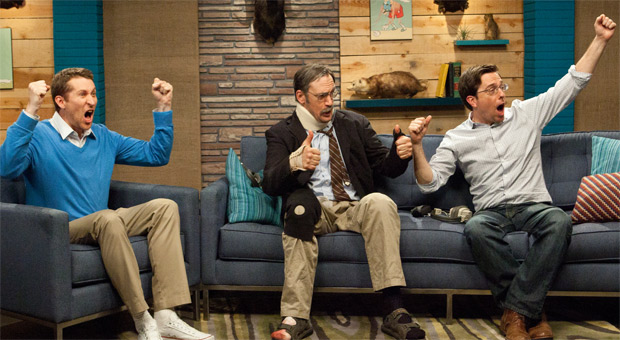 Posted by Melissa Locker on
Ed Helms is coming to Comedy Bang! Bang! this Friday. Host Scott Aukerman invites "The Hangover" star to show off his famed banjo prowess. But that's not all! Scott also gets the former Daily Show correspondent and current head honcho on "The Office" to make animal noises. You know, as one does. We've been looking forward to this week's episode ever since we saw his subtle yet powerful performance in the Ultimate Comedy Bang! Bang! Teaser Trailer. If his acting in that doesn't convince you to watch him on Comedy Bang! Bang!, perhaps his rendition of the Once-ler in "The Lorax," his excellent announcing on Childrens Hospital or his turn in "Cedar Rapids" will convince you to tune in. Need more reasons because you are drunk/stubborn/brain-damaged/needy? Here are five really good reasons to watch Ed Helms on Comedy Bang! Bang! this Friday at 10/9c:
1. He was in "The Hangover":
2. He isn't above playing banjo with a bobblehead of himself:
3. He loves "Deliverance" almost as much as he loves playing banjo:
4. He cares about marginalized members of society:
5. He wrote a song about Fifty Shades of Grey:
Want the latest news from Comedy Bang! Bang!? Like them on Facebook and follow them on Twitter@comedybangbang and use the hashtag #cbbtv.
Comedy Bang! Bang! airs on IFC on Fridays at 10/9c