Coming up on Comedy Bang! Bang!: Seth Rogen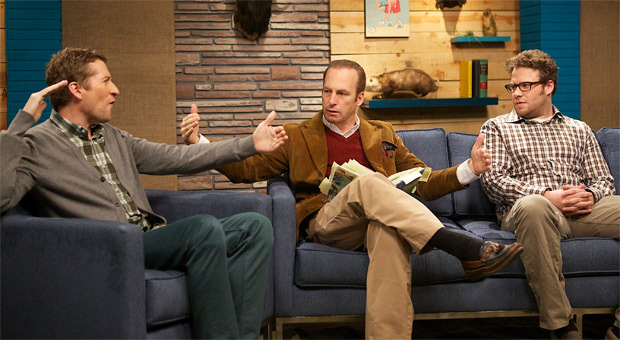 Posted by Melissa Locker on
Clear your schedule. Set the DVR. Set the back-up DVR. Why? Because Seth Rogen is coming up on this Friday's episode of Comedy Bang! Bang! Yep, the talented writer and star of Freaks & Geeks, Undeclared, "The Pineapple Express," "Knocked Up," "Superbad" and so many more is going to be spending some time on Scott Aukerman's couch this Friday. Scott asks Seth about his recent vacation and then Scott uses his psychic powers to listen in on people's most private thoughts. Then the world's top child bird caller visits and performs, but resident one-man band Reggie Watts interrupts the show to paint a portrait of Scott, because who doesn't want a portrait of Scott in their house? Sounds like a good reason to invest in a back-up DVR to us.
For a taste of what's to come, watch this interview with Seth Rogen and Scott Aukerman from Comedy Death Ray and be sure to tune in to Comedy Bang! Bang! on Friday at 10/9c:
video player loading
.
.
.
Want the latest news from Comedy Bang! Bang!? Like them on Facebook and follow them on Twitter@comedybangbang and use the hashtag #cbbtv.
Comedy Bang! Bang! airs on IFC on Fridays at 10/9c