Busted: Comedy Bang! Bang! stole Ed Helms sound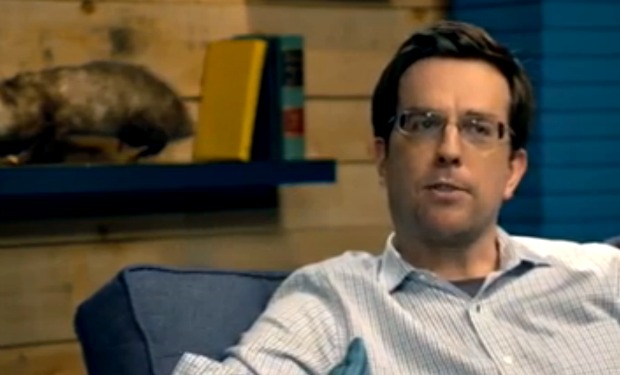 Posted by Melissa Locker on
Ed Helms (The Office) joins host Scott Aukerman this Friday on Comedy Bang! Bang! as they discuss the Wild Wild West, Ed's banjo playing skills and create a one-of-a-kind sound effects soundtrack. Tune-in for a surprise guest appearance from one of Hollywood's A-listers!
Ed Helms will never know what hit him. Here at Comedy Bang! Bang! we take comedy and sound effects seriously. Where would we be without the Bang! Bang! in our name? We shudder to think. It would be like Batman without the Ka-POW! or the Three Stooges without the DOINK! or Scooby Doo without the the ZOINKS. In short, we just wouldn't be Comedy Bang! Bang! without the BANG! BANG!.
However, we are on a small network and in order to continue making Comedy Bang! Bang! we occasionally need to get industrious and do some small fundraisers to help make sure Scott Aukerman and Reggie Watts can stay on the air forever and ever amen. Luckily we have no shortage of incredible guest stars stopping by. And if we take a little something when they aren't looking and can make a little profit from it, who's to argue? All for the greater good of Comedy Bang! Bang!
Watch this clip to see what we mean and be sure to tune in to Comedy Bang! Bang! on Friday when Ed Helms stops by, if he's still talking to us:
video player loading
.
.
.
Want the latest news from Comedy Bang! Bang!? Like them on Facebook and follow them on Twitter@comedybangbang and use the hashtag #cbbtv.
Comedy Bang! Bang! airs on IFC on Fridays at 10/9c