We know that sometimes you can't watch Comedy Bang! Bang! when it airs on Fridays at 10/9c. Sometimes you just can't watch TV when you want. Sometimes people (family even!) force you to leave the house on a Friday night when all you want to do is put on your man-size footie pajamas and let Scott Aukerman and Reggie Watts entertain you. Luckily we are a full service operation here at IFC and not only do we re-air our broadcasts of both Comedy Bang! Bang! and Bunk during the week (check the schedule here), but on occasion we can also recap the episode for you. And when Jon Hamm and Nick Kroll stop by the set, we're all over reliving the episode via recapping. But instead of just an ordinary written recap, we're doing it gif style. We raided our Tumblr and can now present the Comedy Bang! Bang! gif recap.
As you know, Jon Hamm, star of Mad Men, stopped by Comedy Bang! Bang! and Scott had a few ideas to get the conversation going.
That gave Jon Hamm some ideas to get the conversation going with Scott Aukerman:
Then, Nick Kroll, or shall we say El Chupacabra, also stopped by for some couch time:
Then they gave the camera over to a new film student who brought some much needed drama to the show's cinematography:
And then they talked some more, everyone laughed uproariously, Reggie Watts played some tunes, and that's all folks!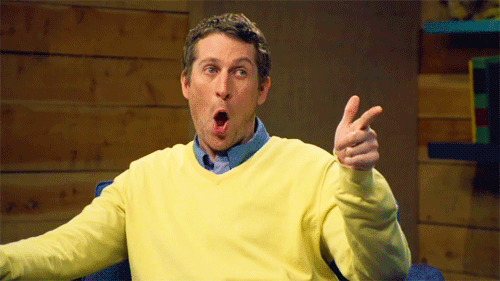 Want the latest news from Comedy Bang! Bang!? Like them on Facebook and follow them on Twitter@comedybangbang and use the hashtag #cbbtv.
Comedy Bang! Bang! airs on IFC on Fridays at 10/9c