The Best of Scott Aukerman's Comedy Death Ray on IFC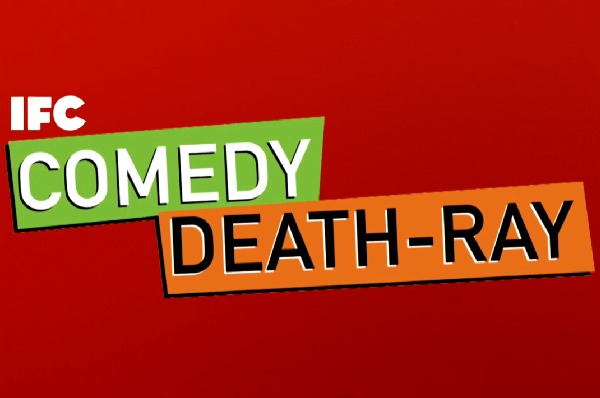 Posted by Melissa Locker on
Scott Aukerman is bringing his hilarious new talk show Comedy Bang! Bang! to IFC on June 8th at 10 p.m. ET. (Pro tip: order your snack trays now to avoid the rush!) But as some of you more ardent, loyal, and devoted fans of IFC (read: our favorite people in the universe) already know, Scott Aukerman is no newbie that we can shove into his locker and give wedgies and/or swirlies too. Nope, Scott's been here for awhile now via his interstitial series Comedy Death Ray. Did you somehow miss the series? Don't worry, it's still alive online right there alongside all the spinning pigeon videos, Perfect Strangers video games, and LOLcats.
Comedy Death Ray had the noble goal of being a safe space for funny people to be funny about being funny. During the course of the show, host Scott Aukerman sat down with some of the most entertaining people in America, including Zach Galifianakis, Judd Apatow, Paul Feig, Sarah Silverman, Andy Dick, Michael Cera, Janeane Garofalo, Brian Posehn and Bob Odenkirk to talk about life, work, and, of course, television. What was created was a peek behind the screen at some of the best TV shows around including IFC favorites "Arrested Development," "Freaks and Geeks," "Mr. Show" and "Undeclared." We picked a few of our favorite moments from the series for your viewing pleasure and also to give you even more of a taste of what's to come on Comedy Bang! Bang! when things get wackier, funnier, and even more fun to watch. Please to enjoy.
Zach Galifianakis on Gerbils
video player loading
.
.
.
Bob Odenkirk on "Undeclared"
Judd Apatow on "Larry Sanders"
Sarah Silverman on "Freaks and Geeks"
Andy Dick on "Arrested Development"
Michael Cera on "Arrested Development"
Comedy Bang! Bang! premieres on IFC on Friday June 8th at 10/9c