A brief chat with Scott Aukerman of Comedy Bang! Bang!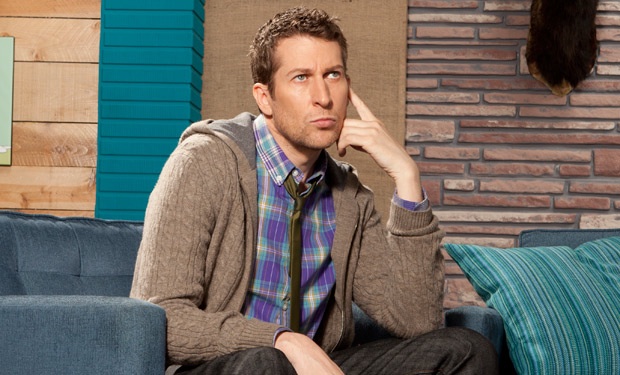 Posted by Melissa Locker on
As we wait for Comedy Bang! Bang! to premiere on June 8th at 10 p.m. ET, we find ourselves constantly devising new ways to kill time until the show starts. We've watched Reggie Watts sing with Jon Hamm and Will Forte. We've watched a full episode online and, of course, watched Scott Aukerman and Amy Poehler talk about topical humor. Then we realized we still had over a week to kill, so we did the only logical thing for someone in our position to do: We made the host sit down for an interview. Yesterday we chatted to Scott Aukerman about what gets lost in translation, Adolf Hitler, the truth about Paul F. Tompkins, and what he really thinks of Zach Galifianakis.
Nice to speak with you again. I was planning on asking the exact same questions from our interview last year and just swapping the name Comedy Bang! Bang! for Comedy Death Ray.
Oh that would have been good. Just to see if I noticed. "There's something about this interview….."
Maybe next time. When you were working on Comedy Bang! Bang!, what didn't translate well between the podcast and the show?
The big problem in translating is that we had to translate the language. People may not know that we record the podcast in Japanese, translate it to English and then actors play us on the podcast. I'm not actually Scott Aukerman, I'm the actor who plays his voice on the podcast. Unfortunately, it's cost prohibitive on a television show.
There were other issues that came up, too. The podcast is an hour and the show is only half an hour. We considered taping for an hour and then speeding it up and just running the show in fast forward. People don't balk at slow motion in a show, why not fast motion? We would be pioneers.
Which podcast guests are you sad didn't get to be on the show?
Jesse the Mind Ventura or I guess his nickname is Jesse the heart Ventura now. I wish we could have had Jason Mantzoukas on, but he was filming "The Dictator" the entire time and we all know how that turned out. We know he regrets it too. It's the biggest regret of his life. I would have liked to have Marissa Wompler on, but she was off appearing on BFF the entire time.
Who is your dream guest?
Any guest living or dead? I guess I would have Adolph Hitler, so I could assassinate him on air. After I got a couple of questions in. I actually have a gun underneath my seat cushion just in case any guest is going to be a dictator in the future. That way I can assassinate them immediately. That is the Comedy Bang! Bang! promise.
Oh is that where the "bang! bang!" in the title comes from?
Yes.
Is working with Paul F Tompkins exhausting or fun?
Well, I'm always exhausted …from laughing so hard! One thing about Paul that you wouldn't know because we cut it out of the show is that he's great at making you laugh but also at making you cry. We edit it out of the show because he doesn't want to be known for that. He's really a nihilist. He just goes off about the inanity of life and how pointless everything is. He really goes off. But we cut that out of the show.
How much improv is used in the show?
It's 150% improv. If that sounds impossible, it's not. We just cram it in there.
That's where the fast forwarding comes in?
No. It's just that when we think we've finished, we're not. We just keep going. Using the French art of improv until it reaches 150%.
The French art?
Yes, the French perfected it. Before they invented improv we would all just carry scripts around all day. When you woke up in the morning you would just Xerox — or in olden times mimeograph — your scripts and then people would read from scripts for every conversation. Then the French invented improvisation and a whole world or conversation was opened up. This show is an homage to that. That's another French word "homage." The French also invented homages. Before that there were no homages allowed. So this show is an homage to that.
How much more scripted is the TV show versus the podcast?
The television show is completely scripted. That may sound like the exact opposite of what I just said, and it is. I leave it up to the readers of your article to determine which answer is completely full of shit.
How hard is it to not laugh when you are filming the show?
I actually have someone pinch me if I look like I'm even going to start to crack a smile. One hint of a smile and I get a pinch on my bottom. I am quite black and blue down there and not black like you want to be down there, if you know what I mean.
I really don't.
Oh. Well then I will give you hints throughout the course of this article. You can follow the clues Encyclopedia Brown style.
I look forward to finding the answer. In a recent article the New York Times called you a "curator of comedy." Do you feel like that's an apt title?
I would prefer they call me a king of comedy because they made a lot of money on that tour. I mean, Bernie Mac, rest in peace, but I could slip in there now with Cedric [the Entertainer] and who else? Oh of course Steve Harvey. I would like to consider myself the new slightly paler Steve Harvey. That's what I wish the New York Times had called me, but you can't control the media. You know that.
Yes, yes I do. In that same article Zach Galifianakis called you "a den mother." Is that more appropriate?
I think he's a very rude person. He knows I'm a man. I have proved to him that I am a man on more than one occasion. For him to call me a "mother" when he knows that is not true, is just rude. You know I don't like him very much. He's just not for me. I'm glad that there are some people who appreciate his look-at-what-I-grew-on-my-face thing, but he's just not for me.
I asked CBB fans via Twitter and Facebook for some questions. At least one would like to know if there are any "Taint Magazines" still in circulation?
I gathered up all Taint Magazines in existence and have a secret stash in my basement. While many men have large collections of Playboy in their basement, I have Taint. I keep copies because the only way I can achieve orgasm is to look at pictures of myself.
Will "Harris' Foam Corner" make its way onto the show?
Harris fans –if there are any — will be very very happy for one episode for about ten seconds.
I'm looking forward to the show. Thanks for chatting.
I will see you next year when I change the name of the show again and we have to do another interview.
Want the latest news from IFC? Like us on Facebook and follow us on @IFCtv. You can also like Bunk and Comedy Bang! Bang!.
Comedy Bang! Bang! premieres on IFC on Friday, June 8th at 10 p.m. ET