Tenacious D's 10 Most Insane Live Performances
Catch The D at Festival Supreme Saturday, October 10th.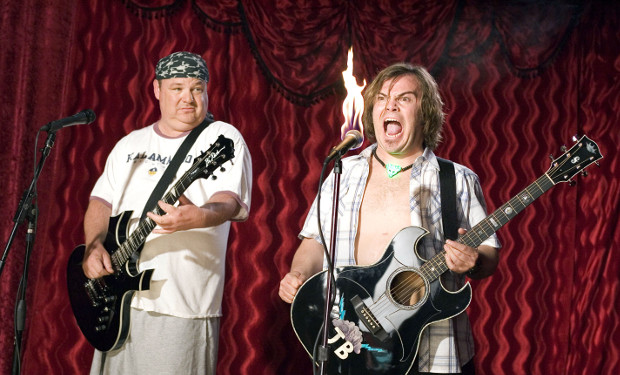 Posted by Brian Steele on
Tencious D knows how to rock. Hard. And they'll be melting faces with the power of their rocking this Saturday, October 10th, at Festival Supreme in Los Angeles. As a tribute to The D and their awesome comedy and music festival, check out some of their most mindblowing-ly insane live performances below. How will their Festival Supreme appearance compare? Better grab tickets and find out.
---
10. Wonderboy on Late Night w/ Conan O'Brien
The boys get to play dress up in this classic Conan clip.
---
9. Ben Stiller Joins The D (NSFW)
It's all fun and games until Ben Stiller crushes your dreams.
---
8. "Throw Down" on The Late Late Show
The boys' religious history lesson is a bit more Metal than your typical Sunday school class.
---
7. "Dude (I Totally Miss You)" Live (NSFW)
KG threatens to leave the band, but can't resist the silken voice of best friend Jables.
---
6. "Tribute" feat. Dave Grohl from MADtv
You don't often think of rock when it comes to MADtv, but when they let The D loose the result was TV gold.
---
5. All Jazz, All The Time in Milan
Jack announces that Tenacious D is now a jazz band, and somehow still makes it sound hardcore.
---
4. "Roadie" at SXSW (NSFW)
"Coming to you live at the…what is this place?," the boys take a moment to honor the unsung heroes of rock.
---
3. "Beelzeboss" on Late Night with Jimmy Fallon
Lead guitarist John Konesky is possessed by the Devil, and the only way to save him is to rock!
---
2. "F*ck Her Gently" at Blizzcon (NSFW)
JB teaches us how to make love The D way in this classic performance from the 2010 Blizzcon.
---
1. "The Metal" Live and Uncut
The only way this could be more metal is if it were not a video clip, but a bar of iron.