10 Funniest Road Trip Movies
Follow IFC's Comedy Road Tour to this year's funniest comedy festivals.
Posted by Brian Steele on
Photo Credit: Warner Bros. Pictures/Everett Collection
There's nothing more American than baseball and apple pie, but a close third has to be the road trip. We've all been there…crammed into the back of some godforsaken station wagon, driving endless hours in a smell best not identified, you're only escape a filthy gas station bathroom or the world's biggest ball of yarn. In honor of IFC's Comedy Road Tour, which kicks off on April 20th at Moontower Comedy Fest, we thought we'd take a look at some of the best road trip comedies ever made. Trust us, they're a heck of a lot funnier than dad's corny road sign jokes.
10. Road Trip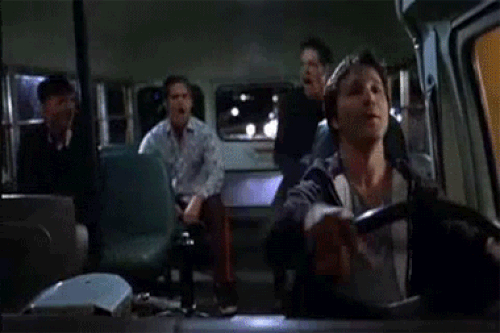 An obvious choice (it's right there in the title), but while Road Trip may not be winning any awards, it did help revive the teen comedy genre for a raunchier age. Todd Phillips even promised that Amy Smart's topless scene would make her the Phoebe Cates of her generation. Not sure that happened, but you have to admire a man for trying.
---
9. Dumb & Dumber
Want to hear the most annoying sound in the world? Well, you should watch this road trip comedy about two imbeciles following the dumbest plan for a shot at something that will never happen. Jim Carrey went from star to comedy sensation here, with his third blockbuster in a row, defining an era of movie comedy and inspiring some forgettable sequels.
---
8. Sideways
You should never drink and drive, but let's be honest, there's nothing wrong with driving to a drink. That's the idea Miles and Jack had in this Oscar-winning comedy, about two middle-aged men in search of meaning on a wine-soaked road trip. Lessons learned include live each day like it's your last and that merlot is basically toilet water.
---
7. Midnight Run
Sometimes the best trips are the ones with a little spontaneity. There you are, comfortable in your life, and then a friend (or, let's say, bounty hunter) shows up, and suggests you handcuff yourselves together and get out of town. This 1988 cult comedy classic, about a mob accountant being curried across the country, proved Robert De Niro was a natural at comedy decades before he met any Fockers.
---
6. Beavis and Butt-head Do America
Their 1996 big screen outing found Beavis and Butt-head hitting the road in search of their stolen TV and encountering everyone from Bruce Willis to a roadie who sounds suspiciously like David Letterman (and might also be their dad) along the way. Sometimes the open road is the only place to find TP for your bunghole.
---
5. The Blues Brothers
They were on a mission from God. "Joliet" Jake Blues and Elwood Blues needed $5000 dollars to save the orphanage they grew up in, and that meant one thing. Getting the band back together. What do you do when it's 106 miles to Chicago, you've got a full tank, half a pack of cigarettes, it's dark out, and you're wearing sunglasses? What do you think? You hit it.
---
4. Pee-wee's Big Adventure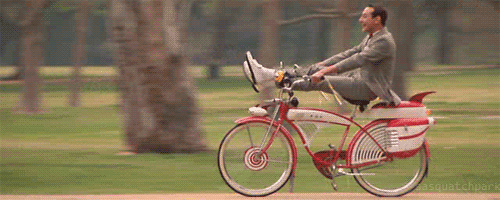 I know you're a Pee-Wee fan, but what am I? Well, I'm a fan too! The dapper nerd in the red bowtie may be back in his Netflix movie Pee-Wee's Big Holiday, but it all started with this big adventure. Pee-Wee refused to sell his beloved bicycle, even for "a hundred million, trillion, billion dollars," so when it was stolen, he was forced to strike out in search of it. Insanity ensues in this one-of-a-kind classic, which launched star Paul Reubens and director Tim Burton's careers, and introduced America to its favorite man-child. And remember, if you get a chance to give it a watch one more time, tell 'em Large Marge sent ya.
---
3. Planes, Trains and Automobiles
If you take anything away from this movie, it's that you should never stick your hand between two pillows. Ever. For any reason. Steve Martin plays the human hand-warmer whose trip to get home for Thanksgiving is ruined by loudmouth-with-a-heart-of-gold John Candy in this comedy that has become a holiday staple.
---
2. Borat
In November of 2006, Sacha Baron Cohen announced to the world that he was done playing by the rules. Borat was a cultural phenomenon, inspiring more bad impressions that an Austin Powers screening at a frat party. By taking his befuddled foreigner character into the real world, Cohen helped expose the underside of America, while also creating one of most genuinely laugh-out-loud comedies in years.
---
1. National Lampoon's Vacation
The movie that defines the genre, Vacation is the ultimate send-up of every road trip your family made you go on as a kid. Chevy Chase plays dorky dad Clark Griswold to perfection, as a patriarch who loves his family, if only they'd stop being so darn annoying. One of the great comedies of the '80s, an era filled with great comedies, this movie will make you want to take the ol' station wagon out for a spin. Just make sure there aren't any dogs tied to the bumper.