Adulting Like You Mean It
Commuters makes its debut on IFC's Comedy Crib.
Posted by Ben Cochran on
Jared Warner, Nick Ciavarella, and Tim Dean were once a part of Murderfist, a group of comedy writers, actors, producers, parents, and reluctant adults. Together with InstaMiniSeries's Nikki Borges, they're making their IFC Comedy Crib debut with the refreshingly-honest and joyfully-hilarious Commuters. The webseries follows thirtysomethings Harris and Olivia as they brave the waters of true adulthood, and it's right on point.
Jared, Nick, Nikki and Tim were kind enough to answer a few questions about Commuters for us. Here's a snippet of that conversation…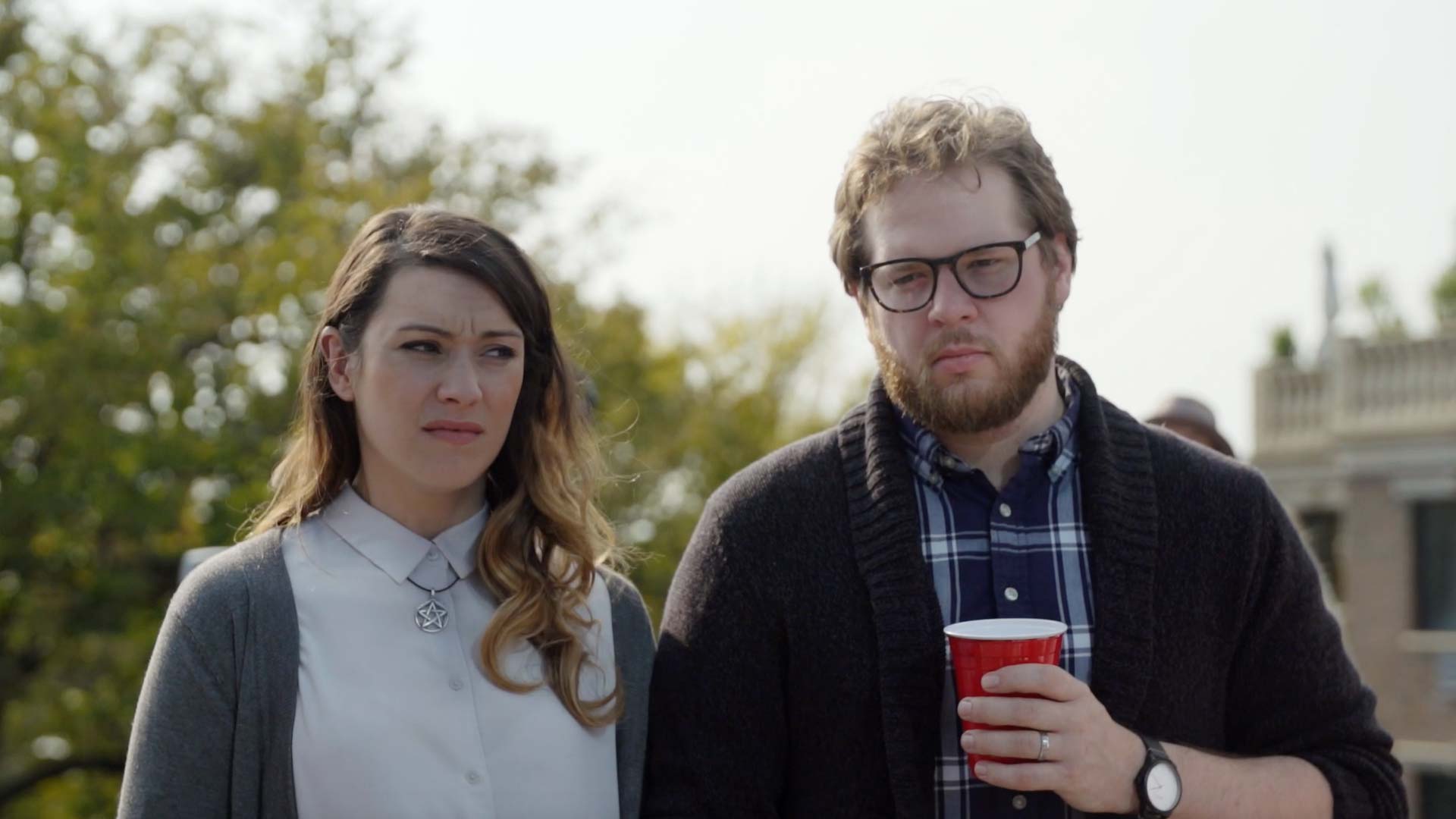 IFC: How would you describe Commuters to a fancy network executive you met in an elevator?
Nick: Two 30-somethings leave the Brooklyn life behind, and move to the New Jersey suburbs in a forced attempt to "grow up." But they soon find out they've got a long way to go to get to where they want to be.
IFC: How would you describe Commuters to a drunk friend of a friend you met in a bar?
Jared: It's a show about how f*cking stupid people who think they are smart can be.
IFC: What's your origin story? When did you all meet and how long have you been working together?
Jared: Nick, Tim, and I were all in the sketch group Murderfist since, what, like 2004? God. Anyway, Tim and Nick left the group to pursue other frivolous things, like children and careers, but we all enjoyed writing together and kept at it. We were always more interested in storytelling than sketch comedy lends itself to, which led to our webseries Jared Posts A Personal. That was a show about being in your 20s and embracing the chaos of being young in the city. Commuters is the counterpoint, i guess. Our director Adam worked at Borders (~THE PAST!!~) with Tim, came out to a Murderfist show once, and we've kept him imprisoned ever since.
IFC: What was the genesis of Commuters?
Tim: Jared had an idea for a series about the more realistic, less romantic aspects of being in a serious relationship.  I moved out of the city to the suburbs and Nick got engaged out in LA.   We sort of combined all of those facets and Commuters was the end result.
IFC: How would Harris describe Olivia?
Jared: Olivia is the smartest, coolest, hottest person in the world, and Harris can't believe he gets to be with her, even though she does overreact to everything and has no chill. Like seriously, ease up. It doesn't always have to be 'a thing.'
IFC: How would Olivia describe Harris?
Nikki:  Harris is smart, confident with a dry sense of humor but he's also kind of a major chicken shit…. Kind of like if Han Solo and Barney Rubble had a baby.
IFC: Why do you think the world is ready for this series?
Nikki:  I think this is the most accurate portrayal of what a modern relationship looks like. Expectations for what your life is 'supposed to look like' are confusing and often a let down but when you're married to your best friend, it's going to be ok because you will always find a way to make each other laugh.
IFC: Is the exciting life of NYC twentysomethings a sweet dream from which we all must awake, or is it a nightmare that we don't realize is happening until it's over?
Tim: Now that i've spent time living in the suburbs, helping to raise a two year old, y'all city folk have no fucking clue how great you've got it.
Nikki: I think of it similar to how I think about college. There's a time and age for it to be glorious but no one wants to hang out with that 7th year senior. Luckily, NYC is so multifaceted that you can still have an exciting life here but it doesn't have to be just what the twentysomethings are doing (thank god).
Jared: New York City is a garbage fire.
See the whole season of Commuters right now on IFC's Comedy Crib.