Last-Minute Holiday Gift Guide
The '90s Are Back
We know what you're thinking: "Why on Earth would anyone want to reanimate the decade that gave us Haddaway, Los Del Rio, and Smash Mouth, not to mention Crystal Pepsi?"
Thoughts like those are normal. After all, we tend to remember lasting psychological trauma more vividly than fleeting joy. But if you dig deep, you'll rediscover that the '90s gave us so much to fondly revisit. Consider the four pillars of true '90s culture.
Boy Bands
We all pretended to hate them, but watch us come alive at a karaoke bar when "I Want It That Way" comes on. Arguably more influential than Brit Pop and Grunge put together, because hello – Justin Timberlake. He's a legitimate cultural gem.
Man-Child Movies
Adam Sandler is just behind The Simpsons in terms of his influence on humor. Somehow his man-child schtick didn't get old until the aughts, and his success in that arena ushered in a wave of other man-child movies from fellow '90s comedians. RIP Chris Farley (and WTF Rob Schneider).
Teen Angst
In horror, dramas, comedies, and everything in between: Troubled teens! Getting into trouble! Who couldn't relate to their First World problems, plaid flannels, and lose grasp of the internet?
Mainstream Nihilism
From the Coen Bros to Fincher to Tarantino, filmmakers on the verge of explosive popularity seemed interested in one thing: mind f*cking their audiences by putting characters in situations (and plot lines) beyond anyone's control.
Feeling better about that walk down memory lane? Good. Enjoy the revival.
And revisit some important '90s classics all this weekend during IFC's '90s Marathon. Check out the full schedule here.
Inspiration For Die Hard Dads
Yippee ki-yay, everybody! It's time to celebrate the those most literal of mother-effers: dads!
And just in case the title of this post left anything to the imagination, IFC is giving dads balls-to-the-wall '80s treatment with a glorious marathon of action trailblazer Die Hard.
There are so many things we could say about Die Hard. We could talk about how it was comedian Bruce Willis's first foray into action flicks, or Alan Rickman's big screen debut. But dads don't give a sh!t about that stuff.
No, dads just want to fantasize that they could be deathproof quip factory John McClane in their own mundane lives. So while you celebrate the fathers in your life, consider how John McClane would respond to these traditional "dad" moments…
Wedding Toasts
Dads always struggle to find the right words of welcome to extend to new family. John McClane, on the other hand, is the master of inclusivity.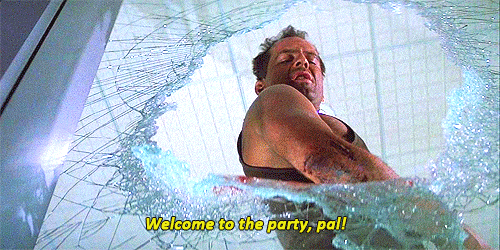 Using Public Restrooms
While nine out of ten dads would rather die than use a disgusting public bathroom, McClane isn't bothered one bit. So long as he can fit a bloody foot in the sink, he's G2G.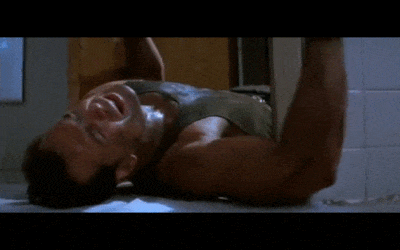 Awkward Dancing
Because every dad needs a signature move.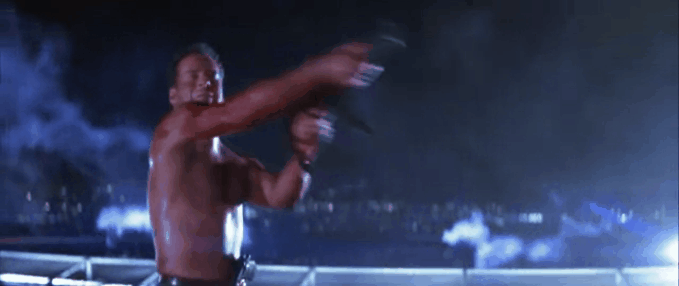 Writing Thank You Notes
It can be hard for dads to express gratitude. Not only can McClane articulate his thanks, he makes it feel personal.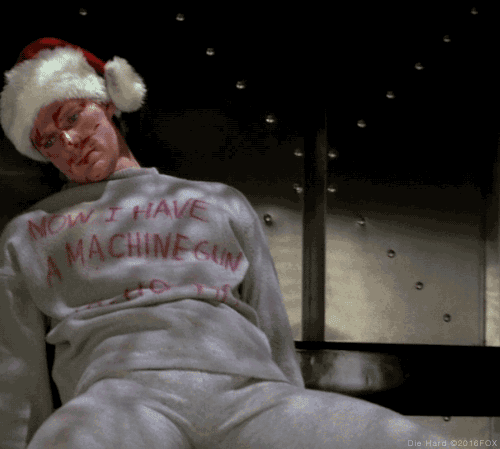 Valentine's Day
How would John McClane say "I heart you" in a way that ain't cliche? The image speaks for itself.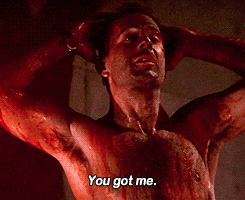 Shopping
The only thing most dads hate more than shopping is fielding eleventh-hour phone calls with additional items for the list. But does McClane throw a typical man-tantrum? Nope. He finds the words to express his feelings like a goddam adult.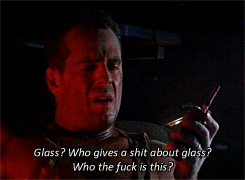 Last Minute Errands
John McClane knows when a fight isn't worth fighting.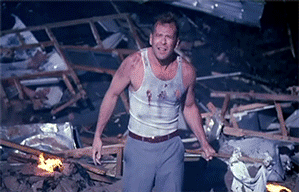 Sneaking Out Of The Office Early
What is this, high school? Make a real exit, dads.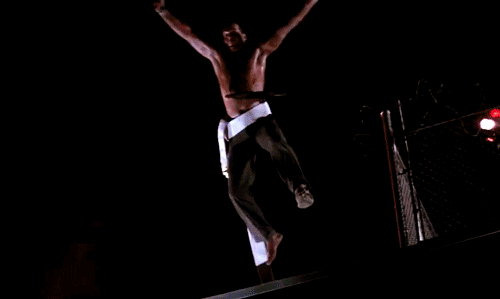 Think you or your dad could stand to be more like Bruce? Role model fodder abounds in the Die Hard marathon all Father's Day long on IFC.
Know Your Nerd History
That we live in the heyday of nerds is no hot secret. Scientists are celebrities, musicians are robots and late night hosts can recite every word of the Silmarillion. It's too easy to think that it's always been this way. But the truth is we owe much to our nerd forebearers who toiled through the jock-filled '80s so that we might take over the world.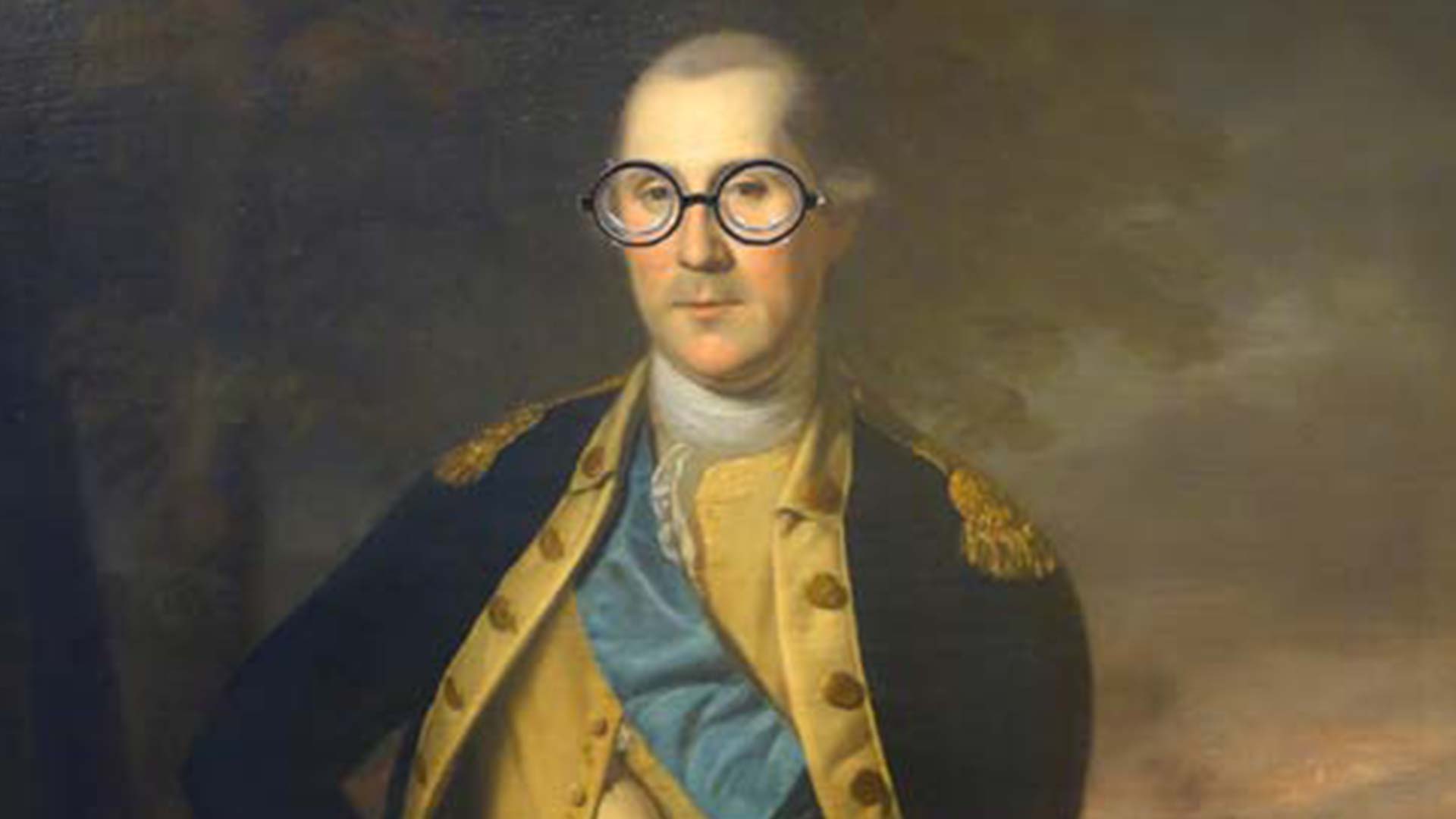 Our humble beginnings are perhaps best captured in iconic '80s romp Revenge of the Nerds. Like the founding fathers of our Country, the titular nerds rose above their circumstances to culturally pave the way for every Colbert and deGrasse Tyson that we know and love today.
To make sure you're in the know about our very important cultural roots, here's a quick download of the vengeful nerds without whom our shameful stereotypes might never have evolved.
Lewis Skolnick
The George Washington of nerds whose unflappable optimism – even in the face of humiliating self-awareness – basically gave birth to the Geek Pride movement.
Gilbert Lowe
OK, this guy is wet blanket, but an important wet blanket. Think Aaron Burr to Lin-Manuel Miranda's Hamilton. His glass-mostly-empty attitude is a galvanizing force for Lewis. Who knows if Lewis could have kept up his optimism without Lowe's Debbie-Downer outlook?
Arnold Poindexter
A music nerd who, after a soft start (inside joke, you'll get it later), came out of his shell and let his passion lead instead of his anxiety. If you played an instrument (specifically, electric violin), and you were a nerd, this was your patron saint.
Booger
A sex-loving, blunt-smoking, nose-picking guitar hero. If you don't think he sounds like a classic nerd, you're absolutely right. And that's the whole point. Along with Lamar, he simultaneously expanded the definition of nerd and gave pre-existing nerds a twisted sort of cred by association.
Lamar Latrell
Black, gay, and a crazy good breakdancer. In other words, a total groundbreaker. He proved to the world that nerds don't have a single mold, but are simply outcasts waiting for their moment.
Ogre
Exceedingly stupid, this dumbass was monumental because he (in a sequel) leaves the jocks to become a nerd. Totally unheard of back then. Now all jocks are basically nerds.
Well, there they are. Never forget that we stand on their shoulders.
Revenge of the Nerds is on IFC all month long.
Mommie May I?
The cult-classic movie Mommie Dearest is a game-changer. If you've seen it even just once (but come on, who sees it just once?), then you already know what we're talking about.
But if you haven't seen it, then let us break it down for you. Really quick, we promise, we'll even list things out to spare you the reading of a paragraph:
1. It's the 1981 biopic based on the memoir of Christina Crawford, Hollywood icon Joan Crawford's adopted daughter.
2. Faye Dunaway plays Joan. And boy does she play her. Loud and over-reactive.
3. It was intended as a drama, but…
4. Waaaaaay over-the-top performances and bargain-basement dialogue rendered it an accidental comedy.
5. It's a cult classic, and you're the last person to see it.
Not sold? Don't believe it's going to change your life? Ok, maybe over-the-top acting isn't your thing, or perhaps you don't like the lingering electricity of a good primal scream, or Joan Crawford is your personal icon and you can't bear to see her cast in such a creepy light.
But none of that matters.
What's important is that seeing this movie gives you permission to react to minor repeat annoyances with unrestrained histrionics.
That there is a key moment. Is she crazy? Yeah. But she's also right. Shoulder nipples are horrible, wire hangers are the worst, and yelling about it feels strangely justified. She did it, we can do it. Precedent set. You're welcome.
So what else can we yell about? Channel your inner Joan and consider the following list offenses when choosing your next meltdown.
Improperly Hung Toilet Paper
Misplaced Apostrophes
Coldplay at Karaoke
Dad Jokes
Gluten Free Pizza
James Franco
The list of potential pedestrian grievances is actually quite daunting, but when IFC airs Mommie Dearest non-stop for a full day, you'll have 24 bonus hours to mull it over. 24 bonus hours to nail that lunatic shriek. 24 bonus hours to remember that, really, your mom is comparatively the best.
So please, celebrate Mother's Day with Mommie Dearest on IFC and at IFC.com. And for the love of god—NO WIRE HANGERS EVER.
Bill Murray On Repeat
Democrats, Republicans and Millennials agree: 2017 is shaping up to be a spectacle — a spectacle that really kicks into high gear this Friday with the presidential inauguration. Not only will the new POTUS swear in, but all the Country's highest offices will be filled. It's a daunting prospect, and to feel a little anxious about it is only normal. But if your anxiety is snowballing into panic, we have a solution:
Bill Murray.
He's the human embodiment of a mental "Happy Place", and there's really no problem he can't solve. So, with that in mind, how about we all set aside reality for a moment and let Bill take the pain away by imagining a top-shelf White House cabinet filled exclusively by his signature characters. Here are a few hypothetical appointments for your consideration…
Secretary of Defense:
Bill Murray from Stripes
His incompetence is balanced by charm, and dumb luck is inexplicably on his side. America could do worse.

Secretary of State:
Bill Murray from Lost In Translation
A seasoned globetrotter steeped in regional traditions who has the respect of the whole wide world. And he kills Costello in karaoke, which is very important.

Press Secretary:
Bill Murray from Ghostbusters
"Cats and dogs, living together. Mass hysteria." Dude knows how to brief a room.

Secretary of Health and Human Services:
Bill Murray from What About Bob.
A doctor-approved people person who knows that progress is measured in baby steps.

Secretary of Energy:
Bill Murray from Groundhog Day
Let's be honest, this world is going to need a lot of do-overs.

Feeling better? Hold on to that bliss. And enjoy a healthy alternative to the inauguration brouhaha with multiple Murrays all Friday long in an IFC movie marathon including Kingpin, Zombieland, Ghostbusters, and Ghostbusters II.
The Four-Day Sweatsgiving Weekend On IFC
This long holiday weekend is your time to gobble gobble gobble and give heartfelt thanks—thanks for the comfort and forgiveness of sweatpants. Because when it comes right down to it, there's nothing more wholesome and American than stuffing yourself stupid and spending endless hours in front of the TV in your softest of softests.
So get the sweats, grab the remote and join IFC for four perfect days of entertainment.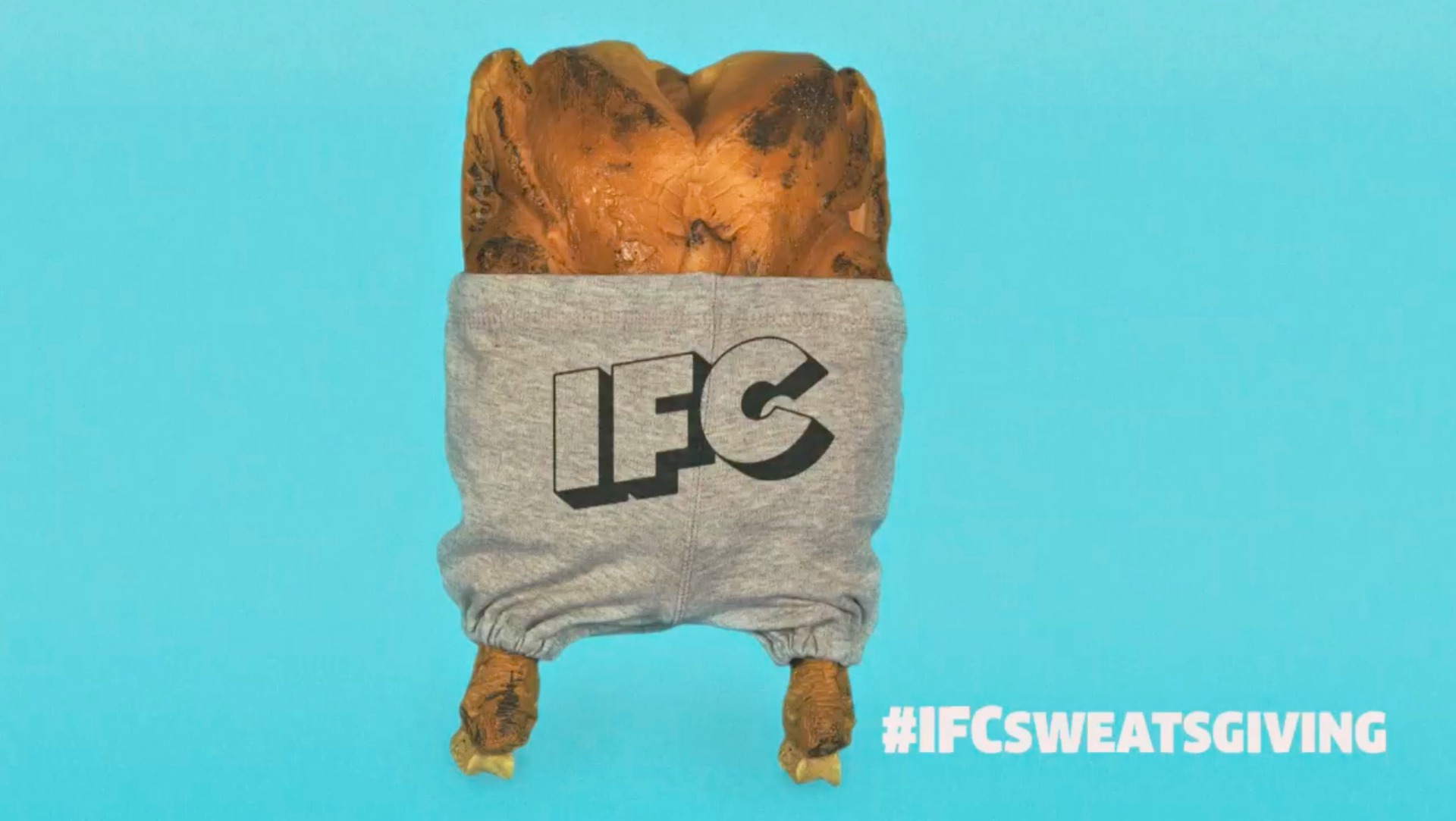 It all starts with a 24-hour T-day marathon of Rocky Horror Picture Show, then continues Friday with an all-day binge of Stan Against Evil.
By Saturday, the couch will have molded to your shape. Which is good, because you'll be nestled in for back-to-back Die Hard and Lethal Weapon.
Finally, come Sunday it's time to put the sweat back in your sweatpants with The Shining, The Exorcist, The Chronicles of Riddick, Terminator 2, and Blade: Trinity. They totally count as cardio.
As if you need more convincing, here's Martha Wash and the IFC&C Music Factory to hammer the point home.
The Sweatsgiving Weekend starts Thursday on IFC
10 Rotten Movie Twists
A plot twist is like a complicated haircut; impressive when done right, a disaster when incorrectly executed. In honor of Orphan's twist ending this Rotten Friday, we've compiled our favorite Rotten movies (scoring 59% or less), all served up with a twist.  Spoilers ahead.
Lucky Number Slevin (2006) 51%
Josh Hartnett's Slevin gets caught up in a case of mistaken identity with two crime bosses: the Rabbi (Sir Ben Kingsley) and the Boss (Morgan Freeman). Bruce Willis is an assassin named Mr. Goodkat.
The Twist: Psych! In a "Kansas City Shuffle," or a confusing double bluff, Slevin has been on a revenge mission the whole time. And guess what? Goodkat spared Slevin's life as a child and then raised him as his own son. What you taking 'bout, Willis?
---
Now You See Me (2013) 49%
"The Four Horsemen" are illusionists who pull off a bank heist and shower the audience with the stolen cash. But how did they do it? FBI Investigator Dylan Rhodes (Mark Ruffalo) is on the case.
The Twist: Turns out there was a Fifth Horseman. And his name was Dylan Rhodes. Now that's…magic?
---
Saw (2004) 48%
Two men wake up in a room next to a dead body. They soon realize they are victims of the Jigsaw Killer. Lessons are learned, a limb is removed.
The Twist: The dead body was really alive the whole time and is John, the Jigsaw Killer! Who Saw that coming?
---
Secret Window (2004) 46%
Johnny Depp plays Mort Rainey, an author who is stalked by John Shooter (John Turturro) who claims Rainey has stolen his novel. Shooter burns down Rainey's house, kills his dog, and eventually his ex-wife.
The Twist: There is no John Shooter. Rainey has dissociative identity disorder. Shooter was just his desire to shoot his ex-wife, to SHOOT HER. Boo.
---
What Lies Beneath (2000) 46%
Claire Spencer (Michelle Pfeiffer) discovers that her husband, Dr. Norman Spencer (Harrison Ford) had an affair with a young woman, Madison (Amber Valletta). As Claire starts to put the pieces back together, she becomes suspicious that there is more to the story.
The Twist: Norman killed Madison and tries to kill Claire too. Claire is saved by the ghost of Madison.
---
The Village (2004) 43%
It's the story of a 19th century secluded community with a big problem. There's a creature lurking in the woods, threatening the safety of the villagers. But the elders are hiding a secret: they take turns wearing costumes to scare people into compliance. A blind villager, Ivy (Bryce Dallas Howard) is permitted to leave to get medicine.
The Twist: The village is actually set in modern times. The elders have been lying to everyone to preserve old timey traditions. So, definitely no texting.
---
Vanilla Sky (2001) 42%
There's a reason science fiction romantic thrillers aren't a thing. Tom Cruise plays David Aames, a narcissistic publisher who is badly disfigured in a car accident. Things get weird and really complicated (we'll spare you), and he eventually jumps off a building.
The Twist: David opens his eyes, revealing that after the accident, he has been in a cryogenic sleep, living a fantasy life.
---
Basic (2003) 21%
John Travolta is a DEA agent who investigates the death of a feared sergeant (Samuel L. Jackson) and his Special Forces unit.
The Twist: Travolta's character is leading a con to make everyone think his unit went rogue; nobody's actually dead. They pretended to kill Samuel L. Jackson.
---
The Happening (2008) 18%
A true low point for twist-o-phile M. Night Shyamalan. Mark Wahlberg and the ever low-energy Zooey Deschanel play a couple facing a mysterious force that causes people to commit suicide.
The Twist: It's the trees.
---
The Number 23 (2007) 8%
Walter Sparrow (Jim Carrey) receives a book called The Number 23. He starts obsessing over the murderous story. The book ends at chapter 22, where could 23 be?
The Twist: It's on a hotel wall and it's a confession of how Sparrow murdered a girl in college. He is the author of the book! Talk about a real page turner.
Catch the "Too Rotten to Miss" movie Orphan this Friday at 8P on IFC.
5 Reasons Rocky IV Is Too Rotten to Miss
When Rocky IV was released in 1985, the critics were not kind. (While it wasn't around back then, the film's 39% ranking on Rotten Tomatoes speaks for itself.) Less of a movie than a jingoistic music video starring a robot and a steroid-addled, monosyllabic Russian baddie, Rocky IV is a far cry from the Italian Stallion's humble origins.
Still, more than any movie ever made, it exemplifies the whole "so bad its good" genre. This movie was made for us, the great-unwashed masses of the 1980s, who loved the band Survivor and hated those Commie bastards. Before you catch Rocky IV on IFC's Rotten Fridays, let's take a look at some moments that make this flick a "too rotten to miss" classic.
5. That Opening Shot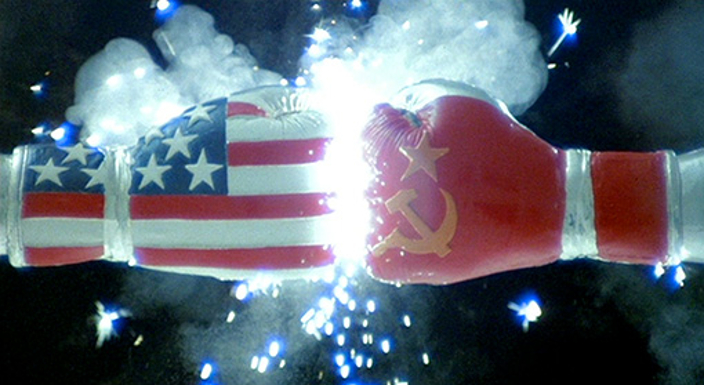 United Artists
It takes all of 30 seconds for the audience to know they're in for one ridiculous rollercoaster ride through a Cold War conniption fit of good vs. evil. Gone is the subtle tone and grounded reality of the first Rocky. In its place we see two gloves, one emblazoned with the American flag, the other with the Soviets', hurtling toward each other. When they collide, sparks fly, and we witness an explosion decades in the making.
In case the symbolism is too subtle for you, director/writer/star Sylvester Stallone is trying to hint that this movie will be the clash of civilizations we'd all been waiting for, but instead of nuclear bombs, a humble palooka from the streets would be duking it out in the ring with the ultimate representation of coldhearted Communism. If it were up to us, this opening shot would've won Best Picture all by itself.
---
4. So Many Montages
Rocky IV has a running time of 91 minutes and 20 seconds. Its eight montages (yes, EIGHT) run a total of 29 minutes and 10 seconds. That is one third of the movie solely dedicated to montages. (Considering Stallone's contempt for all things Soviet, we have to wonder if he knows it was a dirty Ruskie who invented the montage.)
During one of the many, many montages, director Stallone actually flashes back to a scene that had happened a minute and half prior, creating the impression that he might actually flashback to the montage we were just watching in the same montage. Stallone clearly loves a good montage set to an inspirational '80s song, and so do we. Which brings us to…
---
3. A Soundtrack Full of Pumped Up '80s Jams
Speaking of montages, they are set to the score of some of the cheesiest hits from the mid-'80s. For once, we're spared tracks from Frank Stallone, with Stallone replacing his rocker brother with synth-y singles from Survivor, John Cafferty and Kenny Loggins. And of course, Robert Tepper, possessor of an '80s mullet that could topple empires, crooning "No Easy Way Out." The music in this movie is one step away from being a parody of the music in this movie. If you ever want to know what cocaine can do to the human mind, just listen to this soundtrack.
---
2. Rocky Ends the Cold War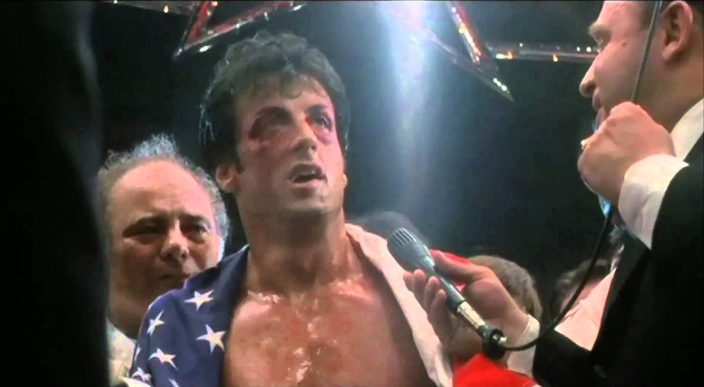 United Artists
In one of the most misguided, self-congratulatory, and immediately dated moments in cinema history, good ol' galoot Rocky Balboa single-handedly ended the Cold War four years before the Berlin Wall came down.
To quote the Italian Stallion himself: "In here…there were two guys… killing each other. But I guess that's better than millions. What I'm trying to say is… if I can change… and you can change…everybody can change!" And just like that the Soviet public, generals and even the Premier himself rose to their feet in applause, realizing what fools they'd been. This guy beat Mr. T for Heaven's sake. He knows what he's talking about!
---
1. Paulie's Robot
Okay, let's all take a deep breath and really consider this for a moment. Rocky IV has a robot butler in it. A movie franchise that began back in 1976 exploring the gritty reality of a bum fighter trying to prove himself somehow limped along long enough to turn into a weak Short Circuit rip-off in which an alcoholic mooch with a history of domestic abuse now gets his coffee served to him by a robot. A robot that he has programmed with a "sultry" lady voice!
Stallone was inspired to include the real life robot Sico in Rocky IV because of the work it did to help autistic children like his son Seargeoh. That's all very moving, but doesn't explain why he decided to write a scene where Paulie dubs poor Sico "the love of my life." It's a testament to Rocky IV's "too rotten to miss" status that Paulie's robot girlfriend/personal servant isn't even the craziest thing that happens to Rock and the gang.
Catch the "Too Rotten to Miss" movie Rocky IV this Friday at 8P on IFC. 
10 Reasons Why Rocky IV Is the Ultimate Rocky Movie
Sure, most people love the first Rocky for its heart, gripping boxing scenes and the classic training montage. Or, you might love Creed for being both a return-to-form and a new exploration of the Rocky mythology. Maybe the thrill of seeing Mr. T and Hulk Hogan in the same movie makes Rocky III your top pick. Well, sorry, you're wrong: Rocky IV is the greatest of all the "Italian Stallion"'s movies.
Before you watch the all-day Rocky movie marathon this Friday, September 30th on IFC (with Rocky IV airing at 8P as part of Rotten Fridays), check out a few reasons to appreciate the fourth installment as the king of the series.
1. The Greatest Opening Ever
How many openings are able to sum up the entire conflict of the film in less than a minute and without a single line of dialogue? And how many of those movies have exploding boxing gloves? Just try to watch the opening sequence above and not be completely psyched for the pumped-up flick to come.
---
2. Montages!
We all know that the best part of any sports movie is the montage, and Rocky IV doesn't give you one measly montage. There's a recap of the previous films montage, a getting to Russia Montage, two training montages and an ending fight montage. That's five montages! There's probably a montage of montages snuck in there, too.
---
3. There's a Full James Brown Musical Number
This movie is so packed with memorable moments, it's easy to forget one of the first things that happens in the film: Apollo comes out to fight Drago dressed as a shirtless Uncle Sam, while James Brown and a full band play "Living in America." To drive home the number's patriotism, there are dancers in tuxedos and top hats, weird unitards and bowler caps, and bedazzled showgirls with headpieces for miles. Oh, and don't forget the giant tentacled dragon statue on the stage. This is how every boxing match should start. Heck, this is how we always want to enter a room.
---
4. The Soundtrack
The Rocky IV soundtrack doesn't just feature James Brown — it has rock anthems galore, all of which make you immediately want to hit the gym. From "Heart's on Fire" by John Cafferty and the Beaver Brown Band to "Sweetest Victory" by Touch to multiple Survivor jams, you'll get pumped and stay pumped. Even the instrumental score rocks! Sure, sometimes it sounds like it was made on a kids Casio, but this soundtrack never quits and — to quote Robert Tepper — never takes the easy way out.
---
5. Abs!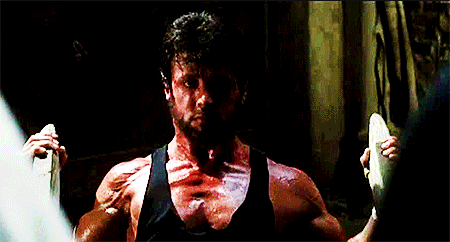 Every Rocky movie shows off Stallone's incredible physique, but Rocky IV really ups the game. Not only do we get Dolph Lundgren mostly shirtless looking like a man machine, but we get a wide variety of scenes of Stallone doing impossible tasks. Stallone's crazy dragon fly crunches, aka a thing no human should be able to do, automatically take this movie to the top.
---
6. Two words: Ivan Drago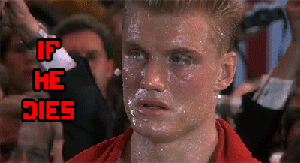 United Artists
Not only does Rocky IV explore the global conflict between the US and the Soviet Union, but it encapsulates all of our fears of the Cold War in one perfect villain. Ivan Drago only trains with machines and science and looks like he stepped out of an Aryan Nations recruitment poster. He also only responds in short, cold phrases like "If he dies, he dies," or "I must break you." There's never been a villain who we so clearly want to get the crap beat out of than Ivan Drago.
---
7. Rocky Makes Chores Look Badass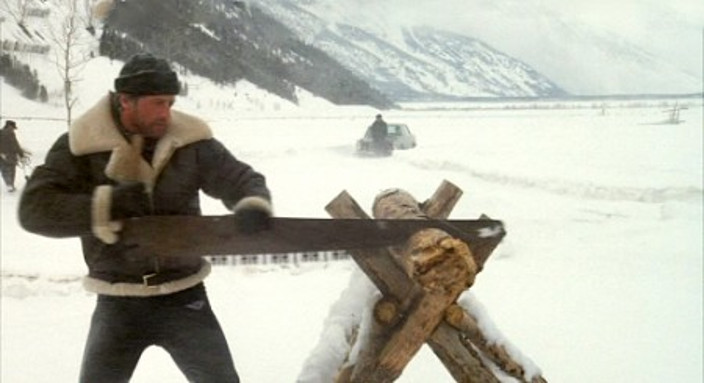 United Artists
Rocky doesn't need to be hooked up to machines to become the perfect fighter. All he needs are huge tires and some outdoor chores to do. No one's ever looked cooler chopping wood and using tractor parts. Half of his training is lifting an old wagon, probably to fix a broken axle. If anything, this film inspires us to take care of that gardening work we've been neglecting.
---
8. Rocky's Beard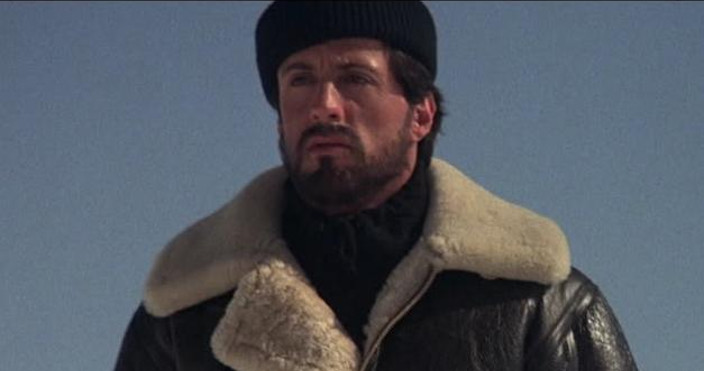 Stallone's beard game is truly on point in Rocky IV. And this isn't some "I forgot to shave, here's a little stubble" look. No, we get full out, lumberjack-style beard action. Does any other Rocky movie have our hero looking like an old Russian aristocrat? Another point for Rocky IV.
---
9. There's a robot!
Again, there's so much to Rocky IV, you probably forgot about the robot. Well, Rocky has some money now and he's not going to spend it on frivolous things for himself. He's going to buy Paulie a robot! The best part of this scene is how truly disturbed Paulie is by this new technology until he gives it a sexy lady voice.
---
10. Rocky Ends the Cold War
If you're still not convinced that Rocky IV is the greatest, answer this question: Does any other Rocky movie bring peace between the US and Russia?
By the end of the film, Rocky rises up to beat the seemingly undefeatable Drago. He fights so well, that even the Russians begin to appreciate his skills. Then, instead of using his victory to prove America's superiority, he gives a rousing speech of "If I can change and you can change, everybody can change!" The whole crowd goes wild, including all of the Russian government, who we assume give up Communism immediately based solely on Rocky's words. Stallone's call for international reconciliation through brutal fighting and a variety of montages makes this if not one of the greatest films of all time, certainly the greatest Rocky of them all.
Catch the "Too Rotten to Miss" movie Rocky IV this Friday at 8P on IFC.