5 Reasons Rocky IV Is Too Rotten to Miss
Catch Rocky IV Friday at 8P during IFC's Rotten Fridays.
Posted by Brian Steele on
Photo Credit: MGM/UA/YouTube
When Rocky IV was released in 1985, the critics were not kind. (While it wasn't around back then, the film's 39% ranking on Rotten Tomatoes speaks for itself.) Less of a movie than a jingoistic music video starring a robot and a steroid-addled, monosyllabic Russian baddie, Rocky IV is a far cry from the Italian Stallion's humble origins.
Still, more than any movie ever made, it exemplifies the whole "so bad its good" genre. This movie was made for us, the great-unwashed masses of the 1980s, who loved the band Survivor and hated those Commie bastards. Before you catch Rocky IV on IFC's Rotten Fridays, let's take a look at some moments that make this flick a "too rotten to miss" classic.
5. That Opening Shot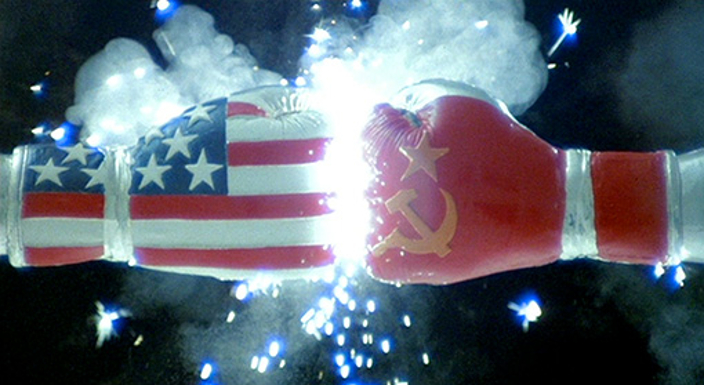 United Artists
It takes all of 30 seconds for the audience to know they're in for one ridiculous rollercoaster ride through a Cold War conniption fit of good vs. evil. Gone is the subtle tone and grounded reality of the first Rocky. In its place we see two gloves, one emblazoned with the American flag, the other with the Soviets', hurtling toward each other. When they collide, sparks fly, and we witness an explosion decades in the making.
In case the symbolism is too subtle for you, director/writer/star Sylvester Stallone is trying to hint that this movie will be the clash of civilizations we'd all been waiting for, but instead of nuclear bombs, a humble palooka from the streets would be duking it out in the ring with the ultimate representation of coldhearted Communism. If it were up to us, this opening shot would've won Best Picture all by itself.
---
4. So Many Montages
Rocky IV has a running time of 91 minutes and 20 seconds. Its eight montages (yes, EIGHT) run a total of 29 minutes and 10 seconds. That is one third of the movie solely dedicated to montages. (Considering Stallone's contempt for all things Soviet, we have to wonder if he knows it was a dirty Ruskie who invented the montage.)
During one of the many, many montages, director Stallone actually flashes back to a scene that had happened a minute and half prior, creating the impression that he might actually flashback to the montage we were just watching in the same montage. Stallone clearly loves a good montage set to an inspirational '80s song, and so do we. Which brings us to…
---
3. A Soundtrack Full of Pumped Up '80s Jams
Speaking of montages, they are set to the score of some of the cheesiest hits from the mid-'80s. For once, we're spared tracks from Frank Stallone, with Stallone replacing his rocker brother with synth-y singles from Survivor, John Cafferty and Kenny Loggins. And of course, Robert Tepper, possessor of an '80s mullet that could topple empires, crooning "No Easy Way Out." The music in this movie is one step away from being a parody of the music in this movie. If you ever want to know what cocaine can do to the human mind, just listen to this soundtrack.
---
2. Rocky Ends the Cold War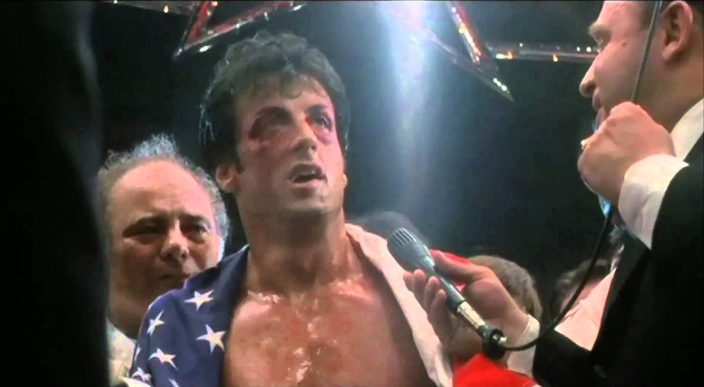 United Artists
In one of the most misguided, self-congratulatory, and immediately dated moments in cinema history, good ol' galoot Rocky Balboa single-handedly ended the Cold War four years before the Berlin Wall came down.
To quote the Italian Stallion himself: "In here…there were two guys… killing each other. But I guess that's better than millions. What I'm trying to say is… if I can change… and you can change…everybody can change!" And just like that the Soviet public, generals and even the Premier himself rose to their feet in applause, realizing what fools they'd been. This guy beat Mr. T for Heaven's sake. He knows what he's talking about!
---
1. Paulie's Robot
Okay, let's all take a deep breath and really consider this for a moment. Rocky IV has a robot butler in it. A movie franchise that began back in 1976 exploring the gritty reality of a bum fighter trying to prove himself somehow limped along long enough to turn into a weak Short Circuit rip-off in which an alcoholic mooch with a history of domestic abuse now gets his coffee served to him by a robot. A robot that he has programmed with a "sultry" lady voice!
Stallone was inspired to include the real life robot Sico in Rocky IV because of the work it did to help autistic children like his son Seargeoh. That's all very moving, but doesn't explain why he decided to write a scene where Paulie dubs poor Sico "the love of my life." It's a testament to Rocky IV's "too rotten to miss" status that Paulie's robot girlfriend/personal servant isn't even the craziest thing that happens to Rock and the gang.
Catch the "Too Rotten to Miss" movie Rocky IV this Friday at 8P on IFC.