5 Reasons Epic Movie is Too Rotten to Miss
Catch Epic Movie Friday at 8P during IFC's Rotten Fridays.
Posted by Brian Steele on
Photo Credit: 20th Century Fox/Everett Collection
There are rotten movies, and then there is Epic Movie. From the "minds" behind Meet the Spartans and Vampires Suck comes yet another movie that mistakes dated pop culture references and cameos from the flavor of the moment for an actual plot or clever jokes. With IFC and Rotten Tomatoes celebrating this "too rotten to miss" movie Friday night at 8P, we thought we'd look back at five of the many reasons Epic Movie (2% on Rotten Tomatoes!) along with those vampires, truly sucks.
5. One Rotten Cast

20th Century Fox
It's hard to explain why Crispin Glover does things. Sometimes he takes a part in Charlie's Angels and refuses to speak, and sometimes he slaps on some pancake makeup, reminds himself he was once in Back to the Future and stifles the screams with piles of cash. That seems to be his thinking here, because there's no way he read the "script" and thought, "Now this is a project I want to be a part of!" Nor did he look through the cast list, and realize his lifelong ambition was to share the screen with Carmen Electra, Playmate Sara Jean Underwood and a Michael Jackson impersonator.
---
4. White People Rapping

20th Century Fox
How do you spoof a spoof? If you're writer/directors Jason Friedberg and Aaron Seltzer, the answer is as lazy as possible. "Lazy Pirate Afternoon" takes the clever premise, tight rhymes and inventive spark of the original SNL Digital Short, "Lazy Sunday," and adds pirates. Because remember when Johnny Depp in eyeliner in Pirates of the Caribbean was a new thing?? It's this sort of hack comedy math (reference + reference = joke?) that is Epic Movie's bread and butter. But, hey, SNL's Taran Killam shows up as a pirate! That's, uh, something, right?
---
3. Truly Rotten Jokes

20th Century Fox
Good jokes take a premise and subvert it in some way that's surprising, and God willing, humorous. The Epic Movie gang could use someone to lay out that simple premise, because they clearly wake up in flop sweat every morning, trying to understand what causes people to emit those laughing noises from their mouths. Their solution to this confusion seems to be ending every single shot with someone getting punched in the face, knocked to the ground or nailed in the nards. Sometimes, a Z-list celebrity is on the receiving end of the punishment. But really, it's the audience who is suffering.
---
2. Dated Pop Culture Parodies

20th Century Fox
Great parodies (like, say, Airplane! or Documentary Now!) lovingly recreate a genre and add a uniquely absurd twist. Epic Movie has a Cribs parody set in Narnia. It's two dated pop culture references in one! Watching this movie now, with years of distance between us and Tim Burton's forgettable Willy Wonka movie, just makes Epic Movie's spoof all the more bewildering. This is a disposable movie mocking other disposable movies, creating a void where it is virtually impossible to remember a single detail the minute the film comes to an end.
---
1. Seriously, So Many Rotten Parodies…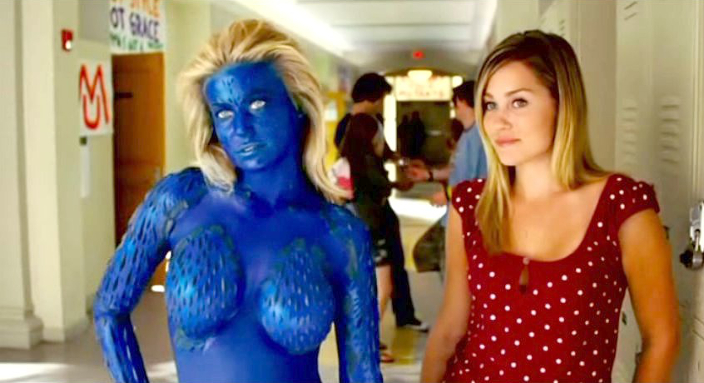 20th Century Fox
After working on all of the Scary Movies, Date Movie and other cheap parodies, Friedberg and Seltzer clearly ran out of gags. How else do you explain the scene where Carmen Electra parodies Rebecca Romijn as Mystique several years after she played the role in the X-Men movies? Also, did we mention the scene is set to the overplayed Nelly Furtado song "Promiscuous"? And that Lauren Conrad from MTV's The Hills is also there, because why not at this point? This one moment sums up everything rotten about Epic Movie.