10 Things You Didn't Know About the Naked Gun Movies
Catch a Naked Gun movie marathon Friday, August 12th starting at 6P during IFC's Rotten Fridays.
Posted by Brian Steele on
Paramount Pictures/Everett Collection
Comedy may be subjective, but if you don't find The Naked Gun movies hilarious, you are dead inside. Sorry, the truth hurts. Maybe not as much as jumping on a bicycle with the seat missing, but it hurts. So, like a blind man at an orgy, let's feel things out, and do a deep dive into everything Naked Gun.
10. Frank Drebin Didn't Start Out On The Big Screen.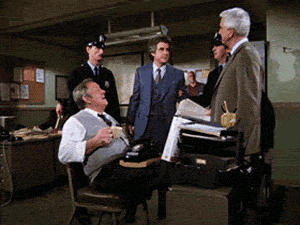 Paramount Television
The Naked Gun wasn't the first time viewers got a chance to ride along with the intrepid Lt. Frank Drebin. He first appeared in Police Squad!, an ABC comedy series that was ahead of its time. Airing for only six episodes in 1982, it was canceled despite rave reviews from critics. Then ABC entertainment president Tony Thomopoulos told Entertainment Tonight that it was cancelled because viewers "had to watch it in order to appreciate it." Um, we think what he meant was, unlike most of the sitcom landscape at the time, you actually had to pay attention to Police Squad! to enjoy it. The Simpsons creator Matt Groening was a fan, saying "if Police Squad! had been made 20 years later, it would have been a smash."
---
9. The Naked Gun Was Legendary Actor John Houseman's Final Movie.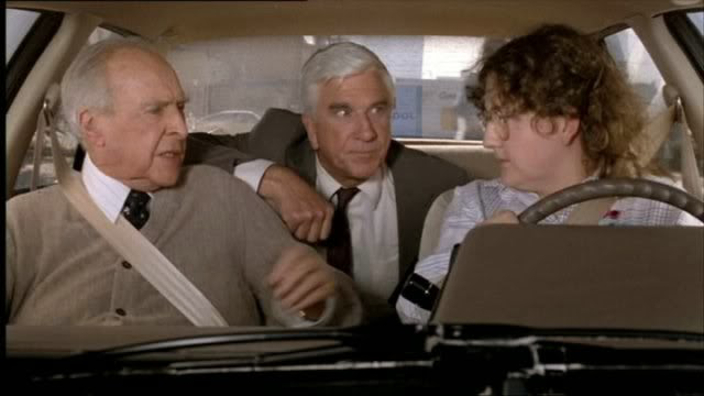 Paramount Television
Academy Award-winning actor John Houseman was coming to the end of his legendary career by the time he appeared in The Naked Gun, but no one knew how close the end actually was. From a cameo as himself in Scrooged, to his work helping to shape the screenplay for Citizen Kane, few have had as long and distinguished a career in Tinseltown as the legendary thespian. He was, unsurprisingly, the perfect pick to play the part of the droll driver's ed teacher who found himself sucked into Frank Drebin's orbit. Sadly, it would be his last part before passing away in 1988.
---
8. Superfan "Weird Al" Used His Naked Gun Roles To Impress Dates.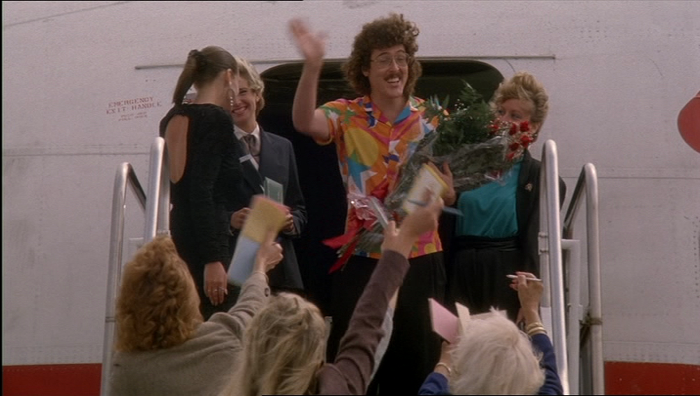 Paramount Pictures
Song parody genius and Comedy Bang! Bang! bandleader "Weird Al" was a massive fan of Police Squad!. So when writers Jim Abrahams and brothers David and Jerry Zucker heard about this, they immediately added a quick cameo for the "Eat It" singer. Al would go on to appear in each of the three Naked Gun films, and would even take dates to the movies without telling them he was in them, just to see their reaction. He would even wear the same shirt he had on in the flick just to mess with their minds. Oh, Al. Always the prankster.
---
7. Leslie Nielsen's Funeral Paid Tribute to Frank Drebin.

Paramount Television
Leslie Nielsen passed away in 2010 at the age of 84. A cutup behind the scenes, Nielsen was particularly famous for carrying around a fart machine, and letting it go off at the most inopportune times. So he surely would have loved his own funeral, which saw the Naked Gun theme play as Canadian Mountain Police carried his coffin.
---
6. Slapstick Master Mel Brooks Contributed a Gag.

20th Century Fox
It shouldn't come as a surprise that Mel Brooks was a fan of The Naked Gun movies. In fact, he even pitched a joke that made it into the first flick. When Frank Drebin went undercover as a Major League umpire all sorts of delightful hijinks ensued, including a bit where he gets hit in the head with a player's bat. That's right. Brooks himself came up with that joke, just to kill some time.
---
5. Robert Goulet Had An Odd History With His Leading Lady.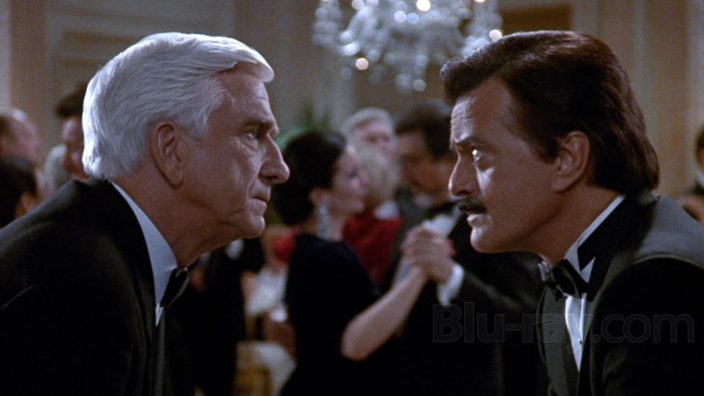 Paramount Pictures
Priscilla Presley was an outside-the-box choice to play Frank's love interest, considering she was best known as Elvis Presley's ex-wife. So it must have been especially awkward when she found herself taking part in a love triangle with none other than Robert Goulet in The Naked Gun 2 1/2: The Smell of Fear. Elvis once famously shot his own TV, because he didn't want to watch Goulet singing on it. The King supposedly hated Goulet, who boasted of "personally taking care" of Elvis' girlfriend Anita Wood while Presley was away in the Army. Fun fact: that TV has since become a collector's item.
---
4. O.J. Simpson Scored a Razzie in 1995. Also, some other stuff happened…

Paramount Pictures
When O.J. was cast in the first Naked Gun movie, he was a sports legend and burgeoning movie star. By the time Naked Gun 33 1/3: The Final Insult came out, he was famously on trial for murder. The Golden Raspberry Awards honored him for Worst Supporting Actor in what would be his final film role.
---
3. Naked Gun 4 Almost Happened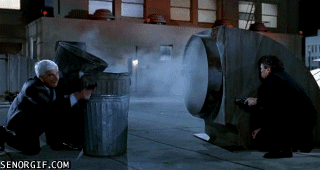 Paramount Pictures
David Zucker and Pat Proft, two of the writers behind all three Naked Gun movies, actually did write a script for a fourth Frank Drebin outing with the working title The Naked Gun 444.4. The plot would have centered on Drebin being paired with a new young female partner. Unfortunately, the two decided to take over the Scary Movie franchise instead. Still, Proft and Zucker may have a trick or two up their sleeves. In 2013 they wrote a script called Counter Intelligence, which they described as a Naked Gun take on the Mission: Impossible and Bourne movies, so Frank Drebin-style puns could live again.
---
2. Flashback Or Cost Cutting?

Paramount Pictures
When the filmmakers decided they wanted to flashback to Frank and Jane's wedding in Naked Gun 33 1/3: The Final Insult, they had a trick up their sleeve. The scene had actually been shot for The Naked Gun 2 1/2: The Smell of Fear, but was cut for time. But much like Native Americans, the Zucker Brothers believe in using all parts of the animal, or in this case, finding a way to work in a previous movie's gags to save money.
---
1. Ed Helms Almost Played Frank Drebin.

Warner Bros. Pictures
A few years ago, Ed Helms was announced as the next in line to play Frank Drebin. Unfortunately, little new information has come out since then. David Zucker himself turned down a chance to produce the film, which he said was veering away from the spoof style he had helped make so famous.
Helms wasn't so sure what the movie would be, or if it would ever happen, telling Yahoo Movies, "[The new Naked Gun movie] is kind of in the grinding gears of Hollywood…You have to make something that a contemporary audience is going to like. We haven't seen many of those slapstick movies in a while, so I'm not sure what the right angle is on it." With Helms' Vacation remake come and gone, we may have to wait awhile for any further exploits from the Police Squad!.