10 Rotten Third Movie Installments
Catch Austin Powers in Goldmember during IFC's Rotten Fridays.
Posted by Amber Petty on
Photo Credit: New Line Cinema/Everett Collection
Few things are as sad as two great chapters of a trilogy and then a supremely disappointing ending. Sure, there are tons of lackluster sequels, but what about the unfulfilling threequels? Inspired by Austin Powers in Goldmember airing this week as part of Rotten Tomatoes and IFC's Rotten Fridays, here are some truly rotten movies that prove that good things don't always come in threes.
1. Blade: Trinity
Despite the efforts of Parker Posey and Ryan Reynolds, Blade: Trinity was a real mess. Reynolds delivered most of his lines to a stand-in because star Wesley Snipes was in a feud with director David Goyer. Since Snipes wouldn't come to set, Reynolds had a lot of time to improvise some funny lines that were left on the cutting room floor. Sadly, a great blooper reel does not a good film make.

Tomatometer: 25% Rotten
---
2. Alien 3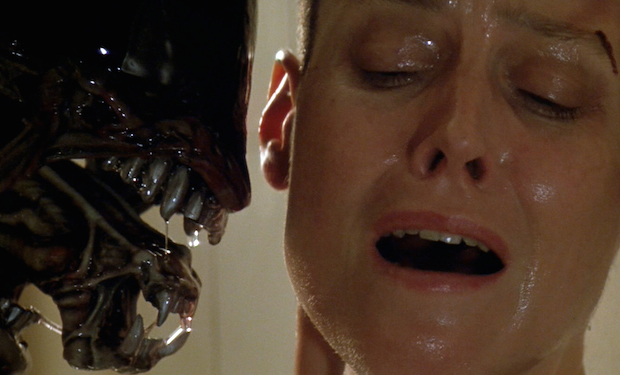 20th Century Fox
The Alien franchise was going strong, until Alien 3 came along. Hey, remember Newt, that little girl you loved so much from Aliens? Well, she's dead. So started this grim sequel. It was David Fincher's first feature film, but he came on as a replacement director after Vincent Ward's concept involving monks living on a planet made of wood was abandoned. The "making of" documentary featured a scathing interview with Fincher criticizing nearly every aspect of the process. That interview was subsequently cut before release and now is nowhere to be found.

Tomatometer: 44% Rotten
---
3. Jurassic Park III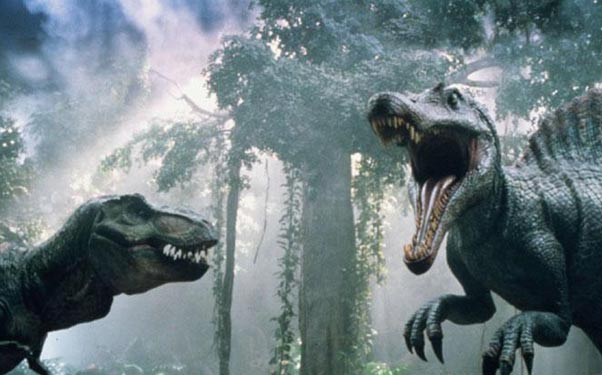 Universal
Though The Lost World: Jurassic Park already went way downhill by having a girl beat a dinosaur with gymnastics, Jurassic Park III managed to be even worse. Even with the return of Sam Neill and an addition of William H. Macy, the film still manages to be surprisingly boring and instantly dated. (Released in 2001 when cellphones were a hot new thing, a major plot point revolves around a ringtone.) If a ringtone is the most memorable part of a movie involving dinosaurs attacking humans, then something went awry.

Tomatometer: 50% Rotten
---
4. Austin Powers in Goldmember

New Line Cinema
In hindsight, Austin Powers is a concept that could only carry one film. Yet he still got two sequels brimming with recycled gags and gratuitous celebrity cameos. Even the presence of Beyonce during the phase of her career where she popped up in random comedies and Michael Caine as Austin's pop, Goldmember features Mike Myers as yet another character (the dull gold-obsessed title villain) and an overall feeling of been there, done that.

Tomatometer: 54% Rotten
---
5. The Matrix Revolutions

Warner Bros.
The Matrix changed cinema when it was released in 1999. The two sequels, not so much. Though The Matrix Reloaded has its fans, moviegoers collectively scratched their heads at the confusing plot and incessant action sequences in the third installment. We love Neo. Super Neo? Not so much.
Tomatometer: 36% Rotten
---
6. Scream 3
With its snarky postmodern take on the slasher genre, Scream was one of the most beloved horror films of the '90s. But by the time that Scream 3 rolled around in 2000, it was just another horror franchise spinning out diminishing sequels. The Jay and Silent Bob cameo says all you need to know about this forgettable tri-quel.
Tomatometer: 36% Rotten
---
7. The Hangover Part III
Though Hangover II did poorly critically, it earned $586 million worldwide. But Hangover Part III made a little over half that and all critical goodwill for the movie was gone. Since the movie opens with a giraffe getting decapitated, it's pretty clear why it wasn't a favorite.

Tomatometer: 20% Rotten
---
8. Home Alone 3

20th Century Fox
Home Alone 2 was just Home Alone but in New York, yet it still had a lot of charm and fun moments for kids. Meanwhile, Home Alone 3 was the first of the trilogy to lose director Chris Columbus, star Macaulay Culkin and the Sticky Bandits.
This time a kid named Alex (Alex D. Linz) accidentally gets a remote control car with a computer chip from a North Korean terrorist group. Already sounds like a fun filled family romp. Then, Alex gets chicken pox and has to stay home from school while his Mom is at work. For some reason the criminals come only during school hours to get back their chip, and booby trap-filled antics ensue. Though it does feature a young Scarlett Johansson as Alex's sister, this movie was bad even by '90s John Hughes-produced kid movie standards.
Tomatometer: 27% Rotten
---
9. X-Men: The Last Stand
X2 was an enormous hit and helped to set a high bar for X-Men films to come. Brett Ratner took over for Bryan Singer for Last Stand, and while it wasn't a flop, it was a critical and fan disappointment. X-Men: Apocalypse even made a reference to Last Stand when Jean Grey says that the third film is always the worst of the trilogy (and frankly that film deserves to be on this list too).
Tomatometer: 58% Rotten
---
10. Superman III
When you think about what was missing from the first two Superman films, you probably don't think of Richard Pryor. Yet, in the third film he plays a computer programmer who creates a synthetic Kryptonite which causes Superman to become really horny, moody and eventually just so depressed he blows out the Olympic flame and straightens the Leaning Tower of Pisa.
Released in 1983 (and it shows), Superman III's comedy is super wacky, its villain lackluster (Robert Vaughn's generic rich dude is no Lex Luthor) and its story lacks the serious tone of the previous Superman films. And for once, Richard Pryor isn't funny! How that's possible, one may never know, but Superman III proved that Superman's true Kryptonite is a terrible screenplay.
Tomatometer: 26% Rotten

Catch "too rotten to miss" movies every Friday on IFC!