5 Reasons Naked Gun 33 1/3: The Final Insult Is Too Rotten to Miss
Posted by Brian Steele on
The Naked Gun movies are a lot like sex — a guilty pleasure that brings a smile to your face, before inevitably ending in a bunch of lousy reviews. And the third installment, Naked Gun 33 1/3: The Final Insult, may have been good for a laugh, but compared to the classic that was The Naked Gun: From the Files of Police Squad!, it was an inauspicious way to go out. (55% on Rotten Tomatoes. Yikes!)
With IFC and Rotten Tomatoes teaming up to celebrate movies too rotten to miss, we thought we'd look back at this rotten triquel, and figure out why such a lousy movie still makes us laugh so hard.
5. Weirdest Collection of Cameos in Movie History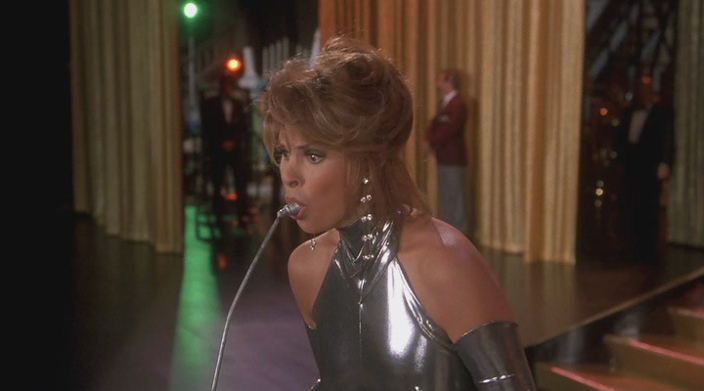 Paramount Pictures
Can you name another movie with Shannen Doherty AND Florence Henderson? How about "Weird Al" Yankovic AND James Earl Jones? Elliott Gould AND Vanna White? Any movie that squeezes in Olympia Dukakis, Morgan Fairchild, Mary Lou Retton, Raquel Welch and Ann B. Davis as "Alice" from The Brady Bunch, and still has room for a legitimately funny bit with Pia Zadora, has to be doing something right.
---
4. Anna Nicole Smith In Her Biggest Role Ever

Paramount Pictures
Anna Nicole Smith was known for a lot of things. Marrying ancient billionaires. Starring on a short-lived reality show. But right at the peak of her tabloid notoriety, she got her one shot at a legitimate acting role, thanks to The Naked Gun franchise, and she did, er, okay? Still, you can't deny she draws your eyes to her, um, talents. Watching her in Naked Gun 33 1/3 is a flashback to a simpler time, when her biggest tragedy was earning a Razzie nomination for Worst New Star.
---
3. A Reminder of the days when O.J. Simpson Was a Movie Star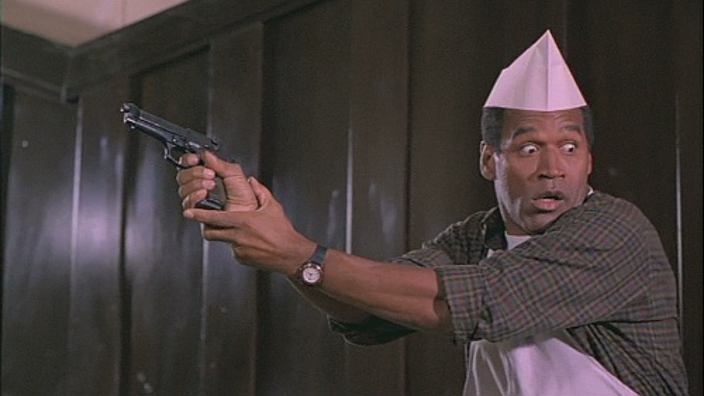 Paramount Pictures
Not to be outdone by the former Playmate of the Year, O.J. Simpson took home a Razzie nomination for Worst Supporting Actor in 1994. Granted, that may have had something to do with the fact that he was on trial for double homicide right after the movie came out. After all we've learned about the rampaging running back in the years since The Naked Gun movies, it certainly adds a whole new dimension to his performance as hapless police officer Nordberg, who never seemed to catch a break. Guess he was saving up all that karma for the trial of the century.
---
2. An Untouchable Untouchables Parody
No one can deny that even by the franchise's standards, Naked Gun 33 1/3 is an uneven movie. The Zucker Brothers (Airplane!) went back to the well one too many times, and most of the jokes had been used up. Thankfully, there were a few bits designed for earlier movies that were cut due to time or budgetary concerns, and could be plucked from the trash heap and reworked. That's how the filmmakers ended up with a legitimately clever parody of the classic train shootout from The Untouchables, which in itself was a homage to the "Odessa Steps" scene in Sergei Eisenstein's famous 1925 silent movie Battleship Potemkin. So, if you're in the mood for a heady send-up of the inventor of the montage, well, maybe this Leslie Nielsen joint is for you.
---
1. So Many Dumb Jokes That Make Us Laugh
Sure, this film franchise may have been running on fumes, but if you breathe enough fumes, you're likely to laugh hysterically. This is far from the best Naked Gun movie, but when you spit out a joke a second, you're bound to hit a few of them out of the park. The quotes! ("Like a midget at a urinal, I was going to have to stay on my toes." "I like my sex the way I play basketball, one on one with as little dribbling as possible.") The sperm bank scene! (Watch it above.) Rotten or not, Naked Gun 33 1/3 is still pretty chuckle-worthy.
Strap in for puns and pratfalls when Rotten Fridays kicks off Friday, August 12th starting at 8P!