10 Leslie Nielsen Comedies Ranked From Best to Worst
Catch the Naked Gun movies this month on IFC.
Posted by Amber Petty on
Photo Credit: Paramount Pictures/courtesy Everett Collection
Leslie Nielsen has had a long and varied career with his comedies being some of the best of all time. But not every film was a winner, with his Rotten Tomatoes scores ranging from 97% to 0%. So, as you enjoy The Naked Gun movies this month on IFC, you can reflect upon the highs and lows of everyone's favorite straight man.
1. Airplane!

Paramount Pictures
Airplane! is one of the best comedies of all time and managed two historic feats: It popularized the film parody genre and introduced the world to the comedy side of Leslie Nielsen. Though Nielsen was already a very successful actor — playing mostly romantic leads, captains and cops — Airplane! was the first example of his stellar deadpan delivery. With a bevy of classic quotes, critics and audiences agreed that this was surely a seminal comedy. But don't call him Shirley.
---
2. The Naked Gun: From the Files from the Police Squad!
Based on the underrated freeze-frame filled TV show Police Squad!, Leslie Nielsen honed his performance of Lt. Frank Drebin in The Naked Gun. His most definitive character, the first Naked Gun is just as funny today as it was in 1988. The memorable moments are endless, from "Nice beaver" to Drebin's enthusiastic appearance as a baseball umpire. Though many more parody films were made, none ever topped this take down of cop dramas. (Click here to see all airings of The Naked Gun on IFC.)
---
3. The Naked Gun 2 1/2: The Smell of Fear

Paramount Pictures
Though the sequel doesn't match the original, it still features tons of the high-level slapstick and absurd dialogue that we came to love from the Leslie Nielsen parody genre. Plus, this one features Robert Goulet as a criminal mastermind, so it certainly gets point for that.
---
4. The Naked Gun 33 1/3: The Final Insult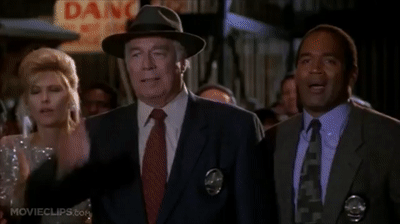 Paramount Pictures
Usually, comedy trilogies end on a disappointing note. (Looking at you, Hangover III!). But even though Naked Gun 33 1/3 was critically panned, its mix of crass jokes and "celebrity" cameos helped it to be chosen as one of IFC and Rotten Tomatoes' movies that are "too rotten to miss." Fans of the series get great moments of Frank going undercover in jail and ruining a dance routine at the Academy Awards. Most importantly, it has the best sequel title since Breakin' 2: Electric Boogaloo.
---
5. Wrongfully Accused

Warner Bros
Airplane! and the Naked Gun series were outliers in the parody genre that got both great reviews from critics and audience acclaim. Now we come to the first of Nielsen's comedies that didn't fare so well amongst the critics. Sure, this 1998 spoof from Naked Gun cowriter Pat Proft only got 22% on Rotten Tomatoes, but you can't help but enjoy some great riffs on the "falsely accused man on the run" genre. Mostly parodying The Fugitive (though there's a Titanic parody thrown in because, you know, late '90s), Wrongfully Accused has a great train chase scene and silly, absurd sight gags akin to the Naked Gun series. Plus, Nielsen nails it as always.
---
6. Dracula: Dead and Loving It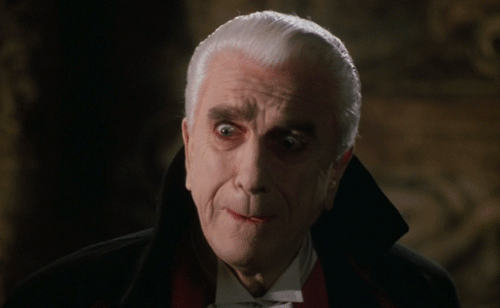 Warner Bros
Sure, this isn't Mel Brooks' greatest film, but it's still Mel Brooks. Here, Nielsen plays Dracula with Brooks as Van Helsing and the perfectly cast Peter MacNicol as Renfield. This parody veers a little bit more towards puns and Borscht Belt-style punch lines, but Nielsen makes for a pretty great Dracula. Honestly, if Gary Oldman and Leslie Nielsen were pitted against each other in a '90s Dracula-off, one, that would be amazing and two, our vote would go for Nielsen.
---
7. Spy Hard

Disney
Released in 1996 after the Naked Gun films had sputtered out at the box office, Spy Hard is mostly an action movie parody with a bit of James Bond thrown in. (And a catchy theme song from Comedy Bang! Bang! bandleader and musical parody genius "Weird Al" Yankovic.) Partially because of the movie's lack of focus and specificity, the jokes never quite work. Plus, the Hot Shots! movies did action parody better and Austin Powers came along a year later to perfectly send up James Bond. Despite the film's poor reviews, no one said a bad word about Nielsen. They just wanted better for him.
---
8. Repossessed

New Line Cinema
A lame spoof of The Exorcist, Repossessed has a rare honor of a 0% Rotten Tomatoes rating. (That's right, Adam Sandler's Jack and Jill fared better than this thrown-together parody.) Linda Blair gets possessed by the devil again and seeks out Nielsen's Father Mayii to exorcise her. There's not much to say about this other than it was made 17 years after The Exorcist came out and no one was clamoring for more gags about Linda Blair's pea soup vomit. While an abysmal movie by every definition, there are a few chuckles here and there for Nielsen completists.
---
9. Mr. Magoo

Walt Disney Productions
With a whopping 4% score on Rotten Tomatoes, the 1997 big screen adaptation of the cartoon character of the same name was offensive to both the blind and Nielsen fans alike. Basically 87 minutes of tasteless jokes at the expense of sightless people and the elderly, Mr. Magoo is a low point even by the standards of the '90s trend of big screen versions of forgettable TV shows. (It makes McHale's Navy look like a comedic masterpiece.)
---
10. An American Carol

Vivendi
Though Mr. Magoo and Repossessed technically have lower Rotten Tomatoes ratings than An American Carol (which comes in at 11%), this political-themed "parody" from Airplane! and Naked Gun director David Zucker is offensive garbage, which kicks it to the bottom of the list. The story, so to speak, is about Michael Malone (a Michael Moore proxy), a filmmaker who hates America and wants to cancel the 4th of July. Eventually he's visited by ghosts and is asked to make movies for terrorists. While a parody of Michael Moore could be great, this film sadly paints every liberal like a moronic, terrorist-loving hippy and indulges in other base stereotypes. Luckily for Nielsen, his part is small. Unluckily for us, he plays a dual role of Grandpa and Osama Bin Nielsen. Yes, Osama Bin Nielsen. Sadly, An American Carol was one of a number of subpar parodies Nielsen popped up in towards the end of his career.