The 10 Funniest Zombie Movies
Catch Zombieland this month on IFC.
Posted by Luke McKinney on
Photo Credit: Columbia/courtesy Everett Collection
Zombie movies are based on our fear of mortality, but if there's one thing action heroes do best it's laugh in the face of death. The rotting, easily-shotgunned face of death. We're enjoying undeath this month on IFC with Zombieland, so we're also counting down the 10 funniest zombie movies. Run!
10. Army of Darkness

Universal Pictures
Ashley J. Williams is the hardest working blue-collar demon fighter in movie history. (Even though he causes most of the problems he solves in the first place.) When he's not defeating the Deadites, he's delivering hilarious quips with typical deadpan flair.
---
9. Fido

Lionsgate Films
Fido is a fantastic comedy, but you should expect that with stand-up superstar Billy Connolly in the title role. A nightmarish 1950s-esque world of white picket fences and decaying flesh sets the scene for painfully funny interactions between the living and the dead — and it's quickly revealed that the zombies are better family figures than many of the upstanding citizens.
---
8. Dead Snow
Dead Snow ramps up the camp with an isolated group of teenagers battling an entire zombie Nazi division, and it doesn't skimp on the gore in the process. One of our heroes looks really badass when he amputates his own arm to escape the effects of a zombie bite — only to look down in despair when a zombie chomps on his crotch.
---
7. Dead and Breakfast

Anchor Bay Entertainment
Dead and Breakfast is a musical zombie comedy, and even with all that you might not expect what happens next. You always knew a zombie movie would have to do a "Thriller" moment. You might not have expected the filmmakers to turn the Michael Jackson hit into a country-style line dance.
---
6. Dead Alive
Lord of the Rings-meister Peter Jackson cut his teeth on gory, outrageous horror comedies, and his 1992 New Zealand film Braindead (known as Dead Alive in America) is one of his best. It also can claim the definitive zombie baby scene.
---
5. Warm Bodies

Summit Entertainment
Warm Bodies takes Romeo and Juliet to a new, gorier level. The warm and loving Julie falls for the mono-syllabic "R," whose dead heart really is brought back to life by her affection. There's a great parody of teen romance movies with a musical montage makeover sequence where the zombie is transformed into an attractive date.
---
4. Return of the Living Dead Part 2

Lorimar Entertainment
Return of the Living Dead Part 2 is, true to its name, the revenge of the original brain-eating zombie movie. Part 2 goes all-out on the comedy, and while some super-serious fans may balk, there are a lot of great gags to enjoy. Our favorite has to be the zombie literally saying what's going through its head, a hilarious moment as brain munchers rarely get great lines despite being the whole point of these films.
---
3. Dawn of the Dead

Universal Pictures
Dawn of the Dead is an unrelenting attack of undead horror and despair, but that doesn't mean there isn't time for fun. Because when you've got an infinite supply of zombies and ammunition while chilling on the roof of your gun store, you can kill time and celebrity look-a-likes.
---
2. Shaun of the Dead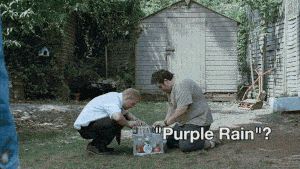 Universal Pictures
Shaun of the Dead isn't just an excellent comedy — it's a love-letter to zombie movies. An early scene where the tired Shaun stumbles through a zombified wasteland as if it was another unpleasant work morning is wonderful, but the funniest bit has to be the life-or-death music reviewing scene, where our heroes decide which records can be spared or used to fight off a hungry undead.
---
1. Zombieland

Columbia Pictures
There are hundreds of zombie movies, but there was never any doubt which one was the funniest. Because only one has Bill Murray. His brief appearance as an actor whose zombie impersonation goes a little too well is an instant cinema classic. And also the funniest thing ever to happen because of Garfield.
For more laughs and scares, check out a sneak peek of IFC's Stan Against Evil, premiering November 2nd at 10P with back-to-back episodes, below.